Computers, printing and Wi-Fi in libraries
Every library has Windows 10 desktop computers, a flatbed scanner, printing facilities and free Wi-Fi (except Preston Harris). Wi-Fi printing is being introduced across the county.
Every offers access to the internet, word processing, spreadsheet, presentation and database applications and printing using the People's Network computers. Computers may be used for up to two hours a day but may be restricted at peak periods like school holidays. You may be able to use a computer for longer if demand allows.
Children under eight can use the computers but they must be accompanied at all times by a responsible adult who logs in using their own library card number and PIN.
Reserve a computer
People's Network computers in libraries can be reserved in advance. You will need your library card number and PIN. Just logon, select the library you want and book a session.
Please note that the computers are switched off 10 minutes before the library closes.
Scanners
Scanning facilities are available in all libraries.
Printers
Printers are available in all libraries. Printing charges apply. You can now make a cash deposit in advance so that you don't need to pay separately each time you print. Please ask staff if you wish to do this.
To find out if your library has Wi-Fi printing, go to our Find a Library page to see if 'Wi-Fi Printing' shows in their available services.
How to use our Wi-Fi Printing.
Using office
Our Windows 10 computers have Libre Office installed. This has most of the same features and functions as MS Office such as word processing and spreadsheets, the main difference that you will notice is that features are differently named and may be found in different locations. A brief guide to Libre Office is available (PDF 454kb).
Alternatively you can use cloud services such as Google Docs or Office Online to work with documents, but you will need a Google or Windows Live (Hotmail, Outlook) account to do so.
Saving your work
You will not be able to store or save work permanently on this PC as each PC is cleaned at the end of the session to ensure protection of users' privacy and security. Options for storage include:
Specialist equipment and headphones
Specialist adaptive equipment for customers with disabilities is available including text enhancement and screen reading facility. Other access devices can be provided if needed. If you have difficulty accessing the People's Network please ask a member of staff.
Over the ear headphones are available for loan for library IT courses only. You can bring in your own headphones or purchase them at the library.
Personal laptops and devices
You can use personal laptops and other devices in libraries providing that you do not disturb others.
You can't connect your laptop to the council's data network, however, if it is wireless enabled you can use the public Wi-Fi.
For students the Eduroam Wi-Fi network is also available at all of our libraries. This allows connection to university networks. You do not need to be a member of the library to use Eduroam.
You can plug in or charge your device at a library but only in pre-assigned sockets so you must ask first and use a residual current device (RCD) supplied at the library.
Wireless internet access (Wi-Fi)
Wireless internet access is available in all of our libraries. Anyone with a wireless enabled laptop, notebook, tablet, smartphone or other portable device can use it to connect wirelessly through the library's network.
You do not need to be a library member to use Wi-Fi, but you will need to provide some information to log on. For students the Eduroam Wi-Fi network is also available at all of our libraries. GovWifi is available for public sector workers and partners.
Our libraries are currently being migrated to a new network service which provides improved wireless connectivity. Library staff will be able to confirm if a specific library has not been migrated yet.
To connect to Wi-Fi in libraries that have been migrated, select the "LancsPublic Wi-Fi" network. You will be presented with a Captive Portal page enabling you to log into the Wi-Fi using a selection of social media options or by providing your email address and name.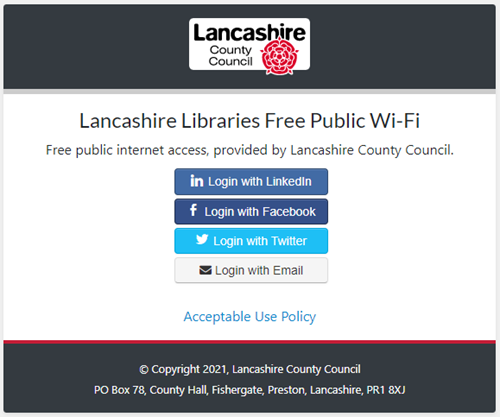 The LancsPublic Wi-Fi network is normally available between 8am and 7pm Monday to Saturday. There will be no access outside these times. Once connected you are assigned an 8-hour session which can be shared across a maximum of two devices. When this expires, you will need to log back on.
Wi-Fi printing is not yet available in all our libraries. To check your local library, visit their webpage and look under 'Services available here' for Wi-Fi printing.
You can use the Wi-Fi to download eBooks, eAudiobooks, magazines, newspapers and comics.
Staff at libraries cannot help you set up Wi-Fi access on your laptop/device. You are responsible for setting up your own equipment and staff cannot configure your laptop, wireless adapter or mobile device.
To connect to Wi-Fi in libraries, select the 'LCCPublic' or 'LCCLibrary' network then open your internet browser. An authentication page should automatically appear where you will be prompted to enter an email address before you continue. If the authentication page does not load or you get a "connection error" message, you will need to navigate to a non-secured (http NOT https) website in your browser to prompt the authentication to load (e.g. www.bbc.co.uk or www.lancashire.gov.uk).
Once you have completed the authentication, you will be re-directed to our main website. You will be able use the internet as normal and access both non-secured and secured services (e.g. email and social media).
We cannot guarantee that the Wi-Fi facility will be compatible with any device.
If you have problems accessing the Wi-Fi due to a weak signal, ask a member of staff for advice on better access areas.
Security, filters, and limits
The People's Network and Wi-Fi wireless networks are unsecured. Information sent over the network may be visible to others. We recommend that confidential information (for example passwords or credit card details) is not transferred over these networks. It is your responsibility to make sure your equipment has adequate security protection installed (including latest anti-virus and operating system updates) and that you configure your device with appropriate security settings to control access from other devices.
All access to the internet is filtered to prevent inappropriate access to material and sites. The internet service is filtered in order to block access to websites known to contain unsuitable or illegal content. However, filtering software does sometimes block material that is perfectly acceptable. The library service is willing to consider releasing any such site after careful checking. Similarly, some inappropriate websites may not be filtered. If you have any cause for concern regarding websites which you believe have been blocked/made available inappropriately, please speak to a member of staff or email us at library.online@lancashire.gov.uk.
Computer users can request unfiltered access to the network by speaking to a member of staff. This process may be done as a one-off procedure and all use of the computers require staff to make a booking.
The public ICT facilities offered by the county council must be used for lawful purposes only and this use must comply with relevant legislation. If unlawful action is involved users may be placing themselves at risk of prosecution.
We operate a "fair use" policy. If your usage is unfairly affecting other customers' use of the service we will attempt to contact you to let you know that your usage is likely to result in reduced service speeds for other users. If your usage continues we reserve the right to withdraw access to the service.
We retain logs of browsing activity because as providers of an internet service, the council is responsible for responding to official requests from the police, and for complying with legislation such as the Data Protection Act.
Stay safe online
Here are some key reminders about keeping safe online:
Never give out your personal details online. Details to be careful with include, your name, address, school, workplace etc. It is often suggested that it is best to use an online 'nickname', rather than reveal your own name
Never reveal your username and password to anyone. Never use another person's details
Block people who send nasty messages, (different email systems have different ways to do this, instructions are usually available online.)
Don't open attachments sent by people you don't know or open unknown links or attachments received. Delete emails received from people you don't know
If you start to get annoying, nasty or rude messages or texts don't reply but keep a record. Children and young people are advised to tell their parents or a trusted adult
If you decide to meet someone you have 'met online' never go alone and always ensure someone knows where you are
Children and young people are advised to tell their parents or a trusted adult if someone they have met online asks to meet up.  Never arrange to meet someone.
Sign up for a Learn my Way Online Safety course to help you shop, bank and socialise safely online.
Lancashire libraries have also prepared a list of useful websites to help you stay safe
CEOP offer help and advice to keep children safe online. Has someone acted inappropriately towards you online, or to a child or young person you know? You can report it to CEOP.