Mobile library
Help us name our new mobile libraries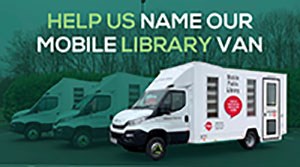 We are about to take delivery of our final 3 mobile library vans and we want you to help us name them. 
Vote now! 
You have until 5pm on Friday 27 July to cast your vote.
Mobile libraries cover the whole of Lancashire on a regular basis.
We have a fleet of five mobile vehicles based at Heysham, Garstang, Brierfield, Clayton Green and Ormskirk. They travel around the part of Lancashire where they are based, making a total of 780 stops across the county. 
Watch our short video here and hear from Lesley, one of our librarians and mobile library drivers and why she loves the job so much.

Services available
Mobile libraries carry a selection of books suitable for all ages, including large print, and in some cases talking books as well. Any item in stock anywhere in Lancashire can be provided on request. 
Like all our libraries, mobile libraries are free to join. Come on board and see what we have to offer.
Internet access is not available from mobile libraries. However, as a library member you will get access to thousands of titles, including eAudiobooks and eBooks to download anywhere, anytime.
Access
Every mobile library is fully accessible, with a lift for people who may need assistance with their mobility. Our mobile libraries are unsuitable for large motorised wheelchairs due to the limited space available.
Contact the service
To find out where your nearest stop is contact the library service on 0300 123 6703 or email library@lancashire.gov.uk.
If you know where your vehicle is based, contact your local library to find out the date of the next visit.
Telephone: 0300 123 6703 and ask for the mobile library base nearest to you.
Email:
Brierfield Library
brierfield.library@lancashire.gov.uk
Clayton Green Library
claytongreen.library@lancashire.gov.uk
Garstang Library
garstang.library@lancashire.gov.uk
Heysham Library
heysham.library@lancashire.gov.uk
Library Service
library@lancashire.gov.uk
Ormskirk Library
ormskirk.library@lancashire.gov.uk