Foster siblings
Could you provide a foster home to keep siblings together?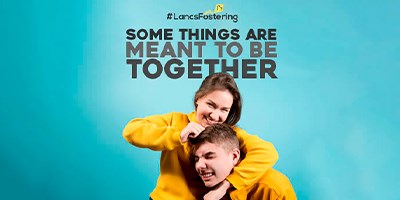 From Monday 22 November we're launching a new campaign to encourage more local Lancashire residents to consider fostering siblings.
We've launched the appeal as there are more brothers and sisters across the county that need loving families to provide a stable environment, allowing them to stay together.
To support the campaign we are running a number of in-person events hosted by our fostering team during November onwards and an online information evening on 8 December with staff from our fostering recruitment team, as well as foster carers.
We will also be sharing stories on our social media pages to highlight the rewards and demands of fostering siblings groups. Search #LancsFostering on our social media pages for the latest updates.
Fostering siblings with #LancsFostering
Fostering siblings is a huge decision and one not to be taken lightly. Hear from Melissa, one of our social workers explaining the fostering process and what to to expect when fostering with us.
Get in touch today
To be considered as a foster carer you need to be over 21, and living in or close to Lancashire.
There is no typical foster carer – we need people with stability, love and resourcefulness who can help a child with whatever needs they may have. 
If you are considering fostering, please get in touch with us to start your fostering journey.
If your circumstances have recently changed, you may now be well placed to provide a loving home for these children. If you have fostered with us previously please get in touch to offer the benefit of your experience.
Becoming a foster carer could also be an ideal opportunity for anyone who is looking for a new challenge. Could you provide a loving home for Emilia and Isobel?
Get in touch
Interested in fostering with us? We'd love to hear from you.
If you'd prefer to speak to someone then give us a call on
0300 123 6723

The Hamilton* brothers are looking for some loving foster parents to look after them. Could this be you? 
*Names and images have been changed to anonymise the identity of the family involved.