Foster siblings
Could you provide a foster home to keep siblings together?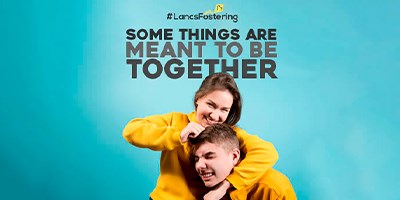 This National Siblings Day (Sunday, April 10) have you thought about fostering a family group? There are more brothers and sisters across the county that need loving families to provide a stable environment, allowing them to stay together. Being able to keep their ties with each other will help brothers and sisters to be able to thrive in the future.
Caleb and Tom
Caleb and Tom have been fostered together for 8 years and shared their thoughts on their unique bond.
Caleb: "It was really important that we were fostered together because he is my family. I love him because he likes cars, he is strange and he makes me laugh."
Tom: "It was massively important that we were fostered together, it's a big thing to me! If we had gone to different foster families it would have meant separation for us and we wouldn't have bonded as well together as we have. I love having him around – when he has a good day, he is genuinely nice."
Gemma's story
"After completing the Skills to Foster training, I decided I wanted to care for one, possibly two children . . . maybe one to start with until I felt more experienced (as I have no birth children and was a single carer). Three days later (just before Christmas) I had already agreed to a sibling placement of three children (girl (4), boy (5) and boy (8)) – the original plan was to separate them as they couldn't find a placement together. I was also told that there may not be a good sibling connection between them as they didn't play well together Just over three years later and I can honestly say it's the best decision I've ever made.
The three of them DO have a good connection, they were just not familiar with a loving environment. Seeing them play together, laugh together, read to each other, help each other with homework, encourage each other, run down the road holding hands or cuddle when watching a film is heart-warming. They keep each other company whether out for the day or playing indoors and are there for each other. We have a very happy house with lots of laughter and I wouldn't change that for the world.
My heart breaks when I think that they were so close to being separated as they really do have a great connection together and I know they would have missed each other, possibly causing future problems. I definitely made the right choice for them. Having three siblings in my care can feel like hard work some days but no different from having two and in fact it all feels very natural. I really cannot imagine not having all three here and wouldn't want to. They are now permanent with me but I do intend to care for more in the future and 100% would look for sibling groups to start with. To me it's been such a rewarding, positive experience and knowing that I not only helped give them a better life but kept them together makes it even more rewarding."
Fostering siblings with #LancsFostering
Fostering siblings is a huge decision and one not to be taken lightly. Hear from Melissa, one of our social workers explaining the fostering process and what to to expect when fostering with us.
Get in touch today
To be considered as a foster carer you need to be over 21, and living in or close to Lancashire.
There is no typical foster carer – we need people with stability, love and resourcefulness who can help a child with whatever needs they may have. 
If you are considering fostering, please get in touch with us to start your fostering journey.
If your circumstances have recently changed, you may now be well placed to provide a loving home for these children. If you have fostered with us previously please get in touch to offer the benefit of your experience.
Becoming a foster carer could also be an ideal opportunity for anyone who is looking for a new challenge. Could you provide a loving home for Emilia and Isobel?
Get in touch
Interested in fostering with us? We'd love to hear from you.
If you'd prefer to speak to someone then give us a call on 0300 123 6723

The Hamilton* brothers are looking for some loving foster parents to look after them. Could this be you? 
*Names and images have been changed to anonymise the identity of the family involved.