Fostering older children and teenagers
We need new foster carers to look after children and young people of all ages, but there is a particular need for foster carers for older children and teenagers. We know that teenage years are a crucial time of development for young people who are growing towards reaching independence and they need a safe, stable and loving home. Fostering teenagers brings both rewards and challenges but it can be more straightforward than fostering children who are younger, and the difference you can make to their life is very obvious and clear to see. You can help support a young person to achieve their goals, hopes and dreams with clear guidance and support as one of our foster carers.
Older children and teenagers are usually more independent
They are often in fulltime education or training
They need less practical care and supervision
The older children and teenagers who need foster carers require the safety and security of a caring, loving foster family. As a foster carer for Lancashire County Council you can help a vulnerable young person to:
Have the opportunity to learn important, practical and emotional skills needed for later life
Share their feelings or worries, to help them make sense of them
Support their achievement in education at school, college or guide their application to study at a higher level at university or within further education
Develop hobbies and interests through your encouragement and involvement
Learn vital life skills – in addition to guidance, you could help them to complete an application form for their first part-time job, and show them how to manage money
Develop their confidence to help them organise and stabilise their lives
Reach their full potential. By fostering a teenager you are helping to set them up for the rest of their life
Who can foster older children or teenagers?
There are no additional requirements to foster older children or teenagers. If you have the patience, time and space to care for a teenager please enquire with us today. We offer extensive training, generous allowances and a comprehensive package of support to all our carers.
Hear from our foster carers about why they foster older children and teenagers. If you have a spare room and think you have the relevant skills and experience to be able to foster a teenager, make an enquiry with our fostering team today. We will support you all the way.
Fostering teenagers: our carers tell us more
We spoke to our foster carers Kelly and Mandy and Fauz Hasware in our fostering team to find out more about fostering teenagers. Watch our series of videos below (click menu top right to view the full playlist).
Fostering teenagers: our carers in their own words
Our foster carers support teenagers to develop their confidence and reach their full potential. Read some of the experiences of our current foster carers who look after teenagers.
"Teenagers in care tend to think there is nobody out there willing to care for them or provide a nurturing home and future. I find it very rewarding to see a young person relax, feel secure and become part of your family. They also encourage us to take part in fun activities to help to keep us happy and healthy." Marie.
"I find that with teenagers once they feel loved and feel settled and you overcome that barrier, they are lovely to care for and it's rewarding seeing the changes you can make with them." Carol
"Fostering teenagers is something I never thought I would be doing. But, by understanding that it's not just the little ones that need us, I am proud to be a part of a teenager's journey into adulthood. I'm even more proud to have helped show her that the right path isn't always the easiest but it's the one with the most in return. She's transitioned herself from a kid getting kicked out of school, into a kid who wins subject awards and earns a place at Sixth Form. All because she realised someone was on her side." Kelly
"We've been foster carers for 3 years now. Our initial feeling was that we'd be suited to primary school age kids 5-11. After an initial short term placement of younger children, we took our first long term boy aged 10. Of course, 10 year olds eventually become teenagers! So now we have two boys with us permanently, aged 13 & 12. We've provided short term care/respite for an older teen and are about to take more. While teenagers may seem 'scary' and full of drama, the rewards are massive. It's never easy but being that person that a teenager needs and relies on is a real privilege. It takes work, trust and openness from both sides. And a sense of humour is a must!" Suzanne.
"I have been a foster carer for 10 years, in those 10 years I have fostered teenagers. I love fostering teenagers they are friendly you can chat to them you can build up a good positive relationship with them. All they want is someone to care for them and understand them and have fun and help them achieve there goals in life, for anyone who is thinking of fostering teenagers go for it, if like me you will enjoy their company and never look back, I am proud to foster teenagers." Gillian.
"We have found fostering a young person/teenager a very positive experience. M (aged 13) is fun and good company. It has been very rewarding seeing her flourish at school. M has enjoyed new experiences and her confidence has grown. We have had some challenges but we have received great advice, support and training." Marie.
M, Marie's foster daughter also shared her experiences of foster care, "I miss my mum and family and my friends. I want to see them more often. It's a long way to school but Mandy takes me everyday and I have done well at school. I enjoy going camping, swimming and shopping with Mandy and John. I like looking after Ned, the dog. Mandy has helped me to stop smoking and helped me to visit my friends. I have learned how to bake and make toffee pie." M, foster child.

If you've been inspired by these quotes, and want to know more, read our fostering teens foster care stories.
Fostering teens foster carer stories
Read more about the experiences of our foster carers who support older children and teenagers.
Get in touch
Interested in fostering with us? We'd love to hear from you.
If you'd prefer to speak to someone then give us a call on 0300 123 6723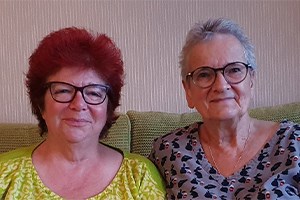 Foster carer diary: in their own words 
Dianne and Bev have fostered Susan and Ben for the past 8 years, and cared for Annabell, Adam and Milly via a Special Guardianship Order for the last 5 years.
Read about their experiences in their weekly diary or see all our fostering teenagers stories.