Transforming Friargate North and Ringway
Transforming Friargate North and Ringway is one of the first Preston Transforming Cities Fund schemes, aimed at boosting connectivity by bus, rail and active travel such as cycling and walking. The funding will be used towards a range of improvements in and around the city to promote public transport and active travel, encouraging more people to leave the car at home. 
It will also be designed to encourage people moving between the university and the Harris Quarter by regenerating the area and joining up both sides of the city. By bringing it up to date with other modern cities, we aim to make this area an attractive destination for residents and visitors to enjoy, generating more potential customers for businesses particularly along the northern end of Friargate. 
Following consultations as part of our city Masterplan development, and our engagement with you in March 2021 where we presented the concept designs, we've been working with a range of people who have helped us to fine tune these plans to make sure they work for Preston.
We have been developing some of the details based on this feedback over the last few months while also taking into account what is possible in engineering terms. We can now share what you can expect to see happening on the ground, and when, as we start to turn them into reality later this year. 
The measures we will be introducing include: 
A new signal controlled crossing point, public realm improvements and bus interchange stops at the Friargate/Ringway junction and Peace Garden area. Vehicle access at the Ringway-Friargate junction will be removed to enable this 
Pedestrianisation of Friargate between Ringway and Marsh Lane with access for service and delivery vehicles at restricted times of the day 
Creating a pedestrian and cycle friendly space with high quality paving, trees, and other features such as public seating, space for outdoor markets and alfresco dining opportunities 
Closing part of Corporation Street to general traffic and creating a bus gate to give priority to buses at the junction. This will allow buses, Hackney carriages and authorised vehicles through freely whilst discouraging other vehicles, similar to arrangements on Fishergate currently 
Improvements to the junction of Corporation Street and Ringway to provide better crossing facilities for pedestrians and cyclists 
New cycle paths along Ringway to help cyclists connect between the University, the railway station, the bus station and beyond as safely as possible 
A new cycle path along Butler Street between Avenham and Miller Parks and the railway station 
Benefits of the proposed measures
Transforming Friargate North and Ringway will have wide ranging benefits for Preston by increasing sustainable travel options and regenerating the public space for all to enjoy. Other cities which have introduced similar cycle and pedestrian friendly measures are already enjoying benefits such as a healthier communities, reduced local air pollution, lower road traffic accident levels and a boost to their economy by increased visitor spending. We hope to make Preston a healthier, safer and greener place for people to live, work and visit.
There are several parts to the scheme and below are some of the benefits for each.
Regeneration of Friargate North
Like the southern end of Friargate, removing traffic all day except for a short window for deliveries will create a safer environment for pedestrians and cyclists
Improved street scene with high quality paving, seating and tree planting will create a pleasant environment for people to sit, relax, shop and enjoy.
Regeneration of the street will encourage more people to use it, and help to generate more potential customers for businesses in the area
Opportunities for businesses to provide outdoor seating for eating and drinking
New spaces for outdoor markets and live events
Transforming Ringway Junction
Reconnecting the city either side of Ringway by upgrading the crossing facilities for cyclists and pedestrians
Opening up and improving the look and feel of this area will make it an attractive place to visit for leisure and shopping
New secure cycle parking and facilities to encourage more people to come into town on their bikes
New bus stops at the junction to service this area and make it easier for people to get here by bus
Encouraging people who are just passing through to choose more suitable routes other than directly through the city centre will enhance the experience for local residents and shoppers
Changes to Corporation Street North and local traffic routes
New segregated cycle lanes along Ringway and Friargate, connecting to the wider network, will help more people travel safely by bike
New bus stops for buses diverted from Friargate will maintain bus accessibility in the area
Discouraging traffic from using the university campus as a through route will make a more pleasant environment for students and local residents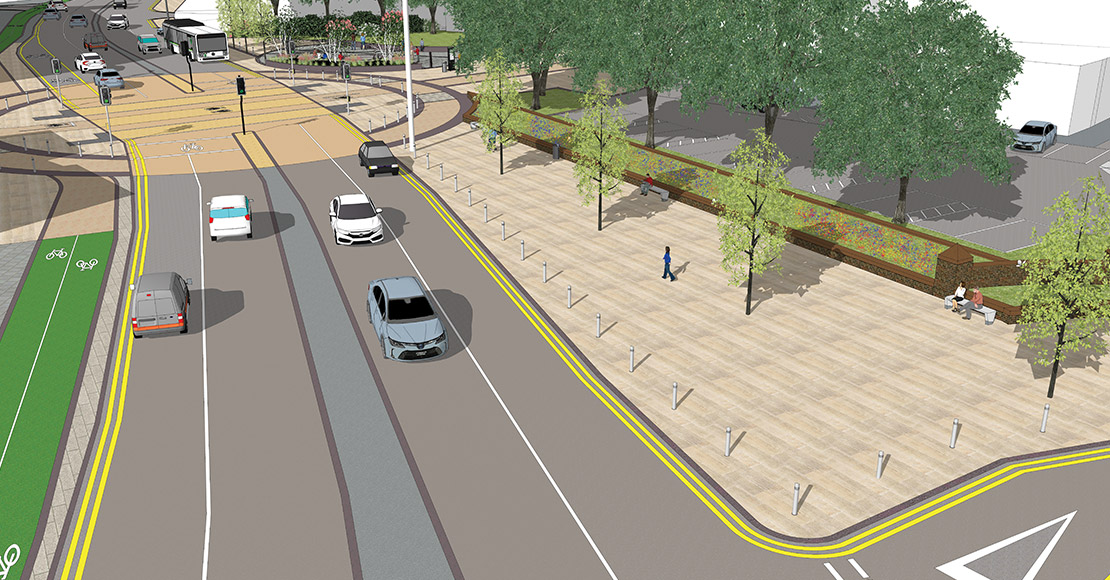 Changes to the Peace Garden
An attractive, open, welcoming plaza area will provide a more appropriate gateway into the city centre for people arriving from this direction
Encouraging people to stay by providing a calm and tranquil space separated from the traffic by planting and enhanced by new seating and artworks
Continue to honour the theme of Peace by incorporating the existing plaques and poetry as well as introducing new elements such as a dove-themed paving feature
We are planting additional trees to enhance the environment and also help improve local air quality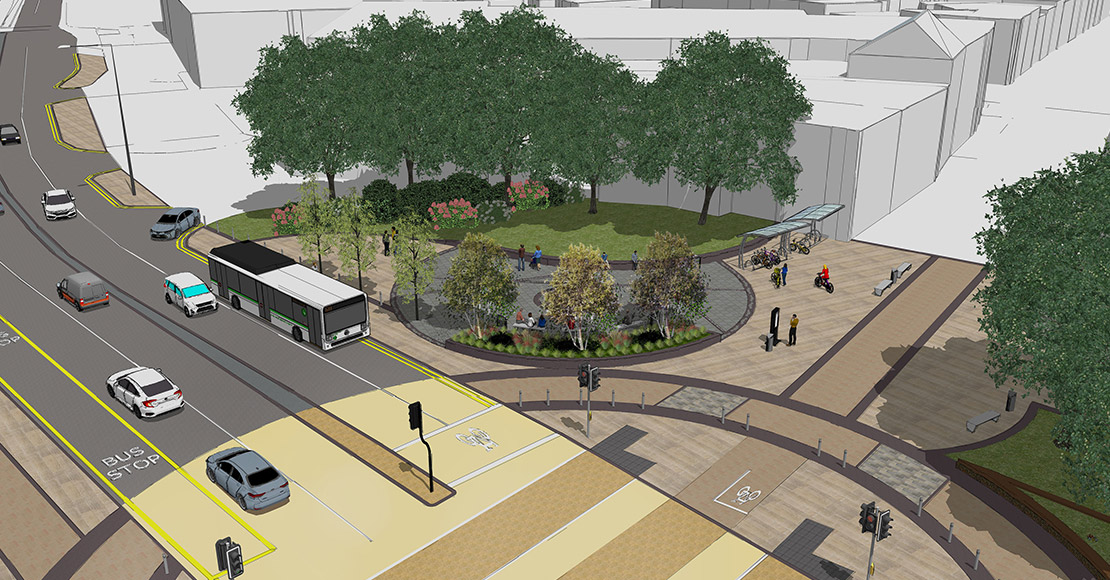 Butler street  
There has been a long-held ambition to connect the railway station on Butler Street to both Avenham Park and South Ribble by a direct route for both cyclists and pedestrians. There have always been difficulties with achieving this, but with the recent replacement of the East Cliff bridge, this has once again become a possibility. We are working with both the Fishergate Centre and with Network Rail and their franchisee Avanti to make this new route a reality. We have overcome a number of legal issues which were preventing this happening, and whilst we have still a lot of work to do until work can start on site, we are closer than we have ever been to creating this missing link.
Why we are doing this
As part of our ambitions for Lancashire's future prosperity, we are looking carefully at how we can plan our local infrastructure to serve the changing needs of our residents and businesses.  This means ensuring that we integrate new technologies and support sustainability and active travel options when designing our roads and urban areas. There will be more emphasis applied to the needs of all road users where previously private vehicles were given more prominence.
Find out more information about all the projects which are part of the Transforming Cities Fund
If you have any specific queries, please email us at: TransformingFNR@lancashire.gov.uk
What next?
The construction of the works started on 15 November 2021 on Corporation Street and is planned to be complete by spring 2023. 
The construction timetable is set out below. This may be subject to change if problems are encountered during works but we will regularly update as work progresses.
Phase 1 – Corporation Street North
Work is now complete on Corporation Street North so that all of the bus services can be moved to Corporation Street from Friargate, allowing Friargate to be pedestrianised.
Corporation Street North is now open with narrowed carriageways and temporary traffic signals between Heatley Street and Ring Way. These measures will continue until the Spring, when Heatley Street will need to close again to safely improve and surface the footways and carriageway on this very narrow road. This second closure will last for about three weeks.
Phase 2 – Ringway
On Monday 7 February work starts on moving the central reservation on Ring Way southwards to make room for a new two-way cycle path on the north side of the carriageway. These works will continue until Spring 2023 and will involve closing the outer lane of Ring Way in each direction to allow the works to take place safely. There will be traffic management measures in place on Ring Way, with right hand lane closures in both directions from Corporation Street to North Road. The lane closures will be in place 24 hours a day, 7 days a week for the duration of the works. The closures will be removed as soon as the alterations to the central island of Ring Way are complete.
Phase 3 - Friargate 
In Spring 2022 work will also start to bring about the pedestrianisation of Friargate. Between Ring Way and Marsh Lane, Friargate will be permanently closed to traffic, and the bus services currently running on Friargate will be moved to Corporation Street.  High-quality paving, trees, street furniture such as benches, and the central service routes/cycleways will be installed at this time.
The work will be carried out in sections and access for pedestrians and for deliveries to the businesses will be maintained throughout the construction phase. A dedicated business liaison officer will be working with the businesses to ensure that the impact to them will be minimised and any problems that arise are dealt with swiftly. Clearly marked pedestrian routes will help guide people through the area whilst the works are on site.
Updated plans and concept designs October 2021
How you can travel in and around Preston
The movement plans below show how you can travel around Preston by bus, car and bike when the works are complete. 
Cycle route map (PDF 1MB)
Bus route map (PDF 1MB)
Traffic movements map (PDF 1MB)
Once the final Transforming Friargate and Ring Way scheme is in place as shown on the movement plans here are our suggested routes for coming into and out of the city centre and accessing the main areas within it.  
Accessing the city centre from the north of Preston will be by 

Strand Road

 and Ring Way

 or Aqueduct Street and North Road 

depending on which side of the city you wish to reach. 

 

Fylde Road should mainly be used for access to the University campus and NOT as a through route.

 

Getting to the city centre from the east and the west will be by using current routes onto Ring Way such 

as

 Guild Way from the west and 

Ribbleton

 Lane, 

New Hall Lane and London Road from the east

.

 

Accessing the city centre from the south will 

again 

be 

by Guild Way and London Road

.

 
Friargate and surrounding shops and businesses – Pedestrians and cyclists will still be able to travel along Friargate. People arriving by car will be able to access the car park off Marsh Lane or Trinity car park off Market Street West for access to this area, including the shops, bars, food outlets and the theatre.  
Deliveries will be able to reach the businesses on Friargate during limited hours in the morning and will join Friargate by Hill St, Union Street or Heatley Street and join the one-way system to the delivery bays closest to the business they are delivering to and exiting via the Adelphi Quarter. 
Corporation Street and surrounding area - Only buses, hackney carriages and cycles will have a through route to Ring Way along Corporation Street North, as there will be a Fishergate-style bus gate between Marsh Lane and Heatley St. Private motorists wishing to access this area will need to use car parks such as St Mary's off Marsh Lane or Trinity car park, both accessible from Fylde Rd, or the car parks off Seed Street and Hill St, accessible from Ring Way. 
For the retail park on the corner of Corporation Street and Ring Way, car access will be from Ring Way, turning north on to Corporation St.  
On the opposite side of Ringway, you will use Lune Street to get in to and out of the Mobility Centre car park, as traffic will not be able to access this from Friargate.  
Traffic will no longer be able to get off Friargate on to Ring Way from the south, as this area will be a new public plaza with seating areas, landscaping, and cycle stands. Traffic that has accessed the south of Friargate from the Harris Quarter will now leave along Orchard Street and past the markets. 
Your questions
We have received a number of queries following the release of the latest information about the Transforming Friargate and Ring Way scheme and want to share the answers here, as it may answer questions that others may have about the scheme. If you do have a specific question about any of the proposals we have, please email TransformingFNR@lancashire.gov.uk as this goes straight to the team currently designing the works and who will be most able to answer your queries. Queries that come in via other routes are also forwarded to the design team but may take longer to reach us.
What is the rationale behind the scheme and changes to Corporation St, and how long has this been planned?
The Central Lancashire Highways & Transport Masterplan was consulted on, altered, approved and then adopted in 2014. It was later further developed by Preston City's Masterplan and UCLan's Masterplan. The fundamental aim was to reduce through traffic in the city centre to create a vibrant public realm and university campus in the centre of the city. To do this, it was necessary to redirect the traffic travelling through the university centre along alternative existing arterial routes.
To help achieve this, the signage around the city was altered, with the direction signs guiding traffic to use the arterial routes to the west (Water Lane and Strand Road) and to the east (Aqueduct St and North Road) of the area to access the city centre, with only university traffic being guided to use the route through the campus (Fylde Rd).
The current Transforming Friargate North and Ring Way scheme seeks to further build on these improvements by providing better access to the city centre for public transport users, cyclists and pedestrians.
Why are you planning on introducing a bus gate?
As part of providing better access to the city centre for bus users, we are trying to provide a clearer, less busy through route for buses along Fylde Road and Corporation St to Ring Way and vice versa. We propose to introduce a Fishergate-style "bus gate" on Corporation St, north of Ring Way between Marsh Lane and Heatley St. This will use cameras to enforce an exclusion of traffic except for buses, hackney carriages and cycles, as well as authorised vehicles such as refuse collections, emergency vehicles etc . Traffic will still be able to access the university campus and the car parks around the Friargate shopping area but discouraged by the bus gate from using this as a through route, making the campus area safer for pedestrians, students and residents.
If Friargate is closed where will I get on/get off the bus?
We are creating new bus stops on Corporation St to replace those lost by the pedestrianisation of Friargate, as well as a new centrally located bus stop on Ringway immediately next to Friargate, with new pedestrian and cycle crossings to help everyone access the city centre.
Will we be given a chance to comment further on the changes?
Whilst the principles behind the scheme have already been consulted on, the bus gate and other restrictions (such as one-way streets, speed limit changes and double yellow lines) will be individually consulted on before being introduced.
Will I still be able to access the railway station, St George's Centre and Fishergate Centre car parks?
Yes. Cars diverted around the proposed bus gate will be directed to use the east and west of the university campus area to access Ring Way using Strand Rd and North Rd. From there, cars will be able to travel up Corporation St (south of Ring Way) to access the railway station and Fishergate centre, or Fleet St and Lune St to access the St George's Shopping Centre car park, as they do now. Those who currently use the disabled parking at the Mobility Centre will now enter and leave from Lune St, as there will be no vehicular access from Friargate, to make that area safer for pedestrians. The recent roadworks for the UCLan improvements have already diverted a lot of the traffic that previously used this through route, and the upcoming improvement works on Corporation St North will prevent that traffic returning.
Will there be other works around the city centre not shown on the website?
This is a large and complex scheme with many measures being planned to support the main works detailed on the website. All of these measures will be consulted on individually before being introduced, and the routes would be monitored for increases in traffic flow with additional measures considered if they are not effective.
How will you stop rat running on Ashton Road and Wellfield Drive
In order to discourage "rat running" we are proposing to introduce traffic calming measures along both Ashton Road and Wellfield Drive to make them less attractive for through traffic, and to ensure lower vehicle speeds for residents. We are also proposing to introduce a short section of one-way northbound on Leighton St between Maudland Road and Pedder St, whilst reopening access along Maudland Bank so residents can access Fylde Road and from there Strand Road. All of these measures will be consulted on individually before being introduced, and the routes would be monitored for increases in traffic flow with additional measures considered if this is not effective.
Whilst there is also an existing "rat run" which goes along Walker St and Melling St, there is little that can be done to dissuade this, as any measures would affect many of the businesses in the area. Again, traffic levels will be monitored, and the situation reviewed once the proposals are introduced.
Why are you stopping people from coming into Preston in the car?
We are not asking people to stop using their cars when they need to. However, all of the changes we are proposing, as with any improvements, rely on all of us thinking about our behaviour and using the routes we recommend or consider whether our journey could be done in a better way. Increasing sustainable travel opportunities will provide a range of advantages to people who live, work or visit Preston. 
Public engagement March 2021
Thank you to everyone who commented or asked a question about the scheme in our recent public engagement. Here are some of the main themes and our response.
Will the cycle lanes be separated from vehicles and pedestrians?
Yes, for the majority of the proposals the cycle lanes will be separated from vehicles and pedestrians. There are some areas that we'll develop further in the detailed design to reduce any conflict points:
Corporation St – we will be installing painted cycle lanes from Ringway to Heatley St. From Heatley St to Marsh Lane cyclists will be on the carriageway, but this is where the traffic is restricted to buses and authorised vehicles only.
Ring Way - From Corporation St to North Rd Junction a two-way segregated cycle lane will be constructed on the Northern side.
Friargate – from Ring Way north to Marsh Lane cyclists will be encouraged to cycle along the centre of the pedestrianised area which will also be where deliveries and service vehicles will be allowed to drive at specific limited times.
Where Friargate meets Ring Way we will also separate pedestrians from cyclists, with each having their own route over the traffic signal-controlled crossing.
The proposals should connect to existing cycle routes further out from the Centre of Preston
These proposals connect to National Cycle Routes NCR6, NCR62 and to the train and bus stations whilst re-connecting the Adelphi Quarter to the city centre. The proposals also form part of a much wider strategic masterplan to improve cycle links throughout the county.
The cycle storage facility should be safe and secure
We're currently reviewing options for cycle storage. This will likely include cycle hoops along Friargate and we're also planning to install an open, highly visible, but covered cycle shelter near to the Peace Garden.
Local motorists are being disadvantaged by the proposals as there's a lack of alternative routes across Preston
The project aims to increase the sustainable travel options which will hopefully encourage local motorists to consider another form of travel into and out of the city centre. For those travelling through Preston, using the strategic routes such as Ring Way, North Road and Strand Road will be the best routes to use as, in addition to these works, there will be a smart signal technology package to optimise traffic flow.
The proposals will discourage visitors to Preston due to access via car being worsened.
We hope to create a more inviting city for people to visit, which has been successful in encouraging visitors in other cities which have done similar schemes. Locally, when traffic was discouraged from using Fishergate, and the street scene was changed to be more pedestrian friendly, visitor numbers (which had previously been dropping) actually increased and continued to do so until COVID-19 restrictions had an effect.
Parking facilities are far from the shops which is difficult for users with limited mobility
As part of this project you will still be able to access all current car parking facilities, which are adjacent to Friargate on Marsh Lane, Market St West, Heatley St and Hill St. We are maintaining and improving access to the Mobility Centre from Lune St, and providing a new level pedestrianised area along Friargate with public seating and clutter free footways next to the shops, as well as a traffic signal crossing to help cross Ring Way and access the area. This should improve facilities for all, including those with mobility issues.
Provide free car parking nearby for cars that is safe and secure
This is not within the county council's control, and is outside the scope of this scheme.
Parking restrictions must be enforced as the new paving will be damaged with parked vehicles
The Bus Gate on Corporation St will be enforced by camera, similar to the Fishergate Bus Gate. Along Friargate we will have loading bays which will be used during servicing hours in the morning and for the remainder of the day the paved areas of Friargate will be closed to vehicles. The Parking Enforcement Team will also be monitoring the area.
Old Tram Road Bridge needs to be repaired, without this, potential cyclists will use cars.
This is unfortunately outside the scope of this scheme.
Buses on Corporation St need adequate bus stops, the temporary ones, whilst the UCLan works were ongoing, were poor.
We have been speaking to the bus operators and will be providing new high quality bus shelters on Corporation St for the northbound routes. The facilities will be made more accessible with the kerbing upgraded
Public Transport methods are too expensive and unreliable
Bus ticket pricing is not within our control, but we are introducing measures similar to Fishergate on Corporation St, making this a through route for buses and authorised vehicles only. This will remove traffic queuing and improve journey times into and out of the city as a result, improving the reliability of the bus services.
Bus stops are far from the shops which is difficult for users with limited mobility
In addition to the new bus stops on Corporation St replacing those being lost due to the pedestrianisation of Friargate, we are also adding another bus stop on the corner of Ring Way and Friargate next to the new crossing point, which will greatly improve access to and from the whole of Friargate and the rest of the city centre.
Will there be standard signal-controlled crossings?
Yes. Where Friargate meets Ring Way there will be a new segregated traffic signal-controlled crossing. This means pedestrians and cyclists will be separate when crossing over Ring Way. In addition, you will be able to cross over in one movement unlike the current arrangement which is done in two phases.
Along Friargate there will be uncontrolled crossing points for use during the servicing hours, and for the rest of the time, there will be no motor vehicle traffic on Friargate.
Will there be plenty of benches, planting etc to create a nice street scene?
Yes, Friargate North and the Peace Garden area will have new public seating and new trees to make it a more inviting and pleasant place to be. This, and the pedestrianisation will have the added benefit of helping to improve air quality in the city centre.
The scheme focuses too heavily on UCLan Students.
Whilst the scheme naturally improves the links from the city centre to UCLan, the proposals have been designed to have benefits for all users, including students, to enjoy.
Archive plans and concept designs from public engagement March 2021