Pothole and road maintenance
We are working hard to keep Lancashire moving.
We have set ambitious targets and allocated extra funds to maintain your roads and our highways team are working hard to meet them.
Last year we fixed almost 36,000 potholes, but our continued investment has improved the condition of Lancashire's roads, and helped to reduce the number of potholes by 38% in the last 2 years.
This year we will aim to resurface 111 miles of roads, and fix 90% of reported potholes within 20 days. 
What causes potholes?
It is easy to assume that potholes are formed due to roads being poorly maintained but that is not usually the case. There are many factors that can cause potholes.
The following stages demonstrate how a combination of weather and wear and tear is one of the major causes of potholes on roads.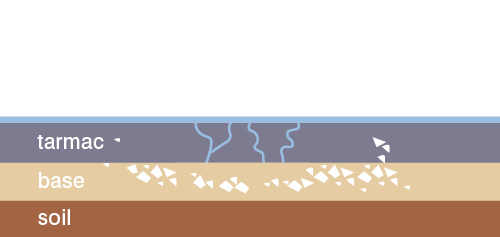 Stage 1
Water seeps in through cracks in the road surface, collecting underneath.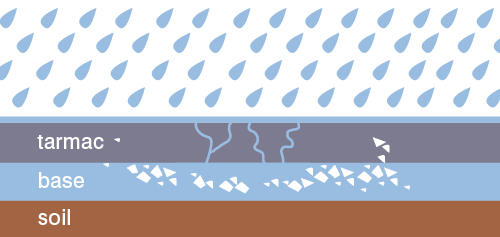 Stage 2
Over time, water continues to saturate the road base underneath, softening it.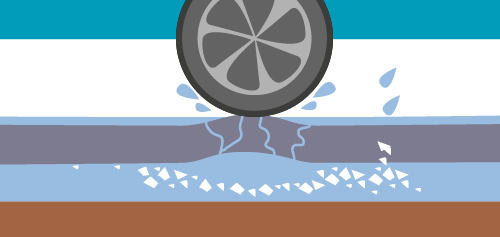 Stage 3
When the water freezes, it expands and forces up the road surface. Traffic adds stress.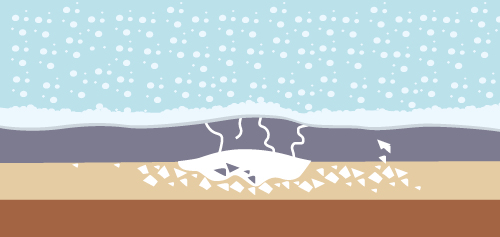 Stage 4
The cycle of freezing temperatures and thawing causes further cracks to appear.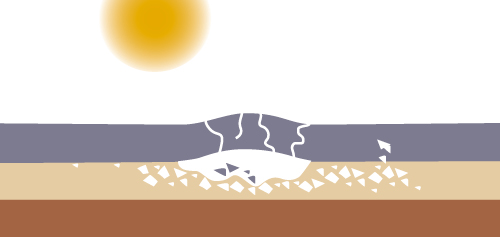 Stage 5
Potholes also form during the summer months where the foundations of the road have deteriorated. Stress from traffic causes potholes in isolated locations.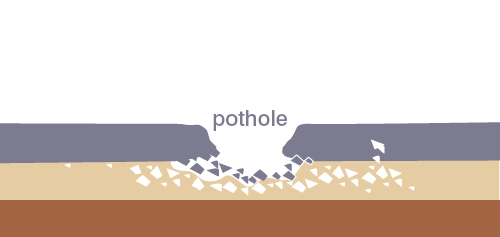 Stage 6
Weight of traffic breaks up the road surface to form a pothole. Wear from traffic expands the hole.
Stage 1 >>

1

Stage 2 >>

2

Stage 3 >>

3

Stage 4 >>

4

Stage 5 >>

5

stage 6

6
How we fix potholes
We aim to permanently repair potholes on our first visit.
Instead of just repairing the immediate pothole, we cut out the area around the pothole and fill it. This helps to reduce further potholes forming in the future.
Temporary measures
Sometimes for the safety of road users, temporary measures are used for a quick fix followed by a permanent repair. For example, on a busy road where traffic management is needed for the safety of road workers and members of the public.
In bad weather if there is a serious risk to the public caused by a pothole, we may have to patch it then come back when the weather improves.
Techniques used
We use a variety of techniques to repair potholes depending on the nature and size of a road defect and the type of road.
This ranges from the traditional method of removing debris around the pothole, filling with asphalt and compacting the surface, to new technologies such as jet patching which gives long lasting results on rural roads.
Numbers we fix
At peak times, we have up to 30 teams out fixing potholes, each fixing between 15 and 20 potholes a day depending on the size of each pothole and it's location.
What potholes we will fix
We are due to spend over £24m this year to maintain roads and pavements. But with 4,600 miles of highways and 5,300 miles of footways, this means we have to prioritise.
Inspections
Our highways inspectors regularly check major roads and footways for defects. They walk or drive all major routes monthly, secondary routes quarterly and local access routes at least once a year.
You may occasionally see a pothole which has been marked out in white paint. This means that our inspector has assessed that it meets our levels to be fixed. The defect will be repaired within our standard response times.
Potholes reported to us
We need you to report potholes to us, if you spot any in between our inspections that could cause a safety risk.
Report a pothole, or a problem with a road surface or footway, using our online Report It tool. 
We aim to assess all reported potholes within two working days and the most serious cases will be fixed immediately, with less serious cases repaired from 5 days on major routes up to 20 days on less used routes.
See our response times and the required level for us to repair a pothole.
Improving your roads
We don't just wait for potholes to form until we do something about them. Our highways team also do preventative work to help stop them forming.
We have prioritised our investment in the A, B and C road network across the county, based on highway condition, to prevent deterioration. By targeting work where it will deliver the biggest benefit, we can ensure the roads last as long as possible. We have already seen a 38% reduction of potholes on our roads in 2 years with this approach.
Find out more about our Transport Asset Management Programme
Our Road Maintenance Service carry out carriageway surface dressing work from May to August and reconstruction of roads and footways throughout the year.
Find out about planned road maintenance work near you.