Active Travel in Lancashire
We are urging people to consider walking and cycling for regular journeys, such as going to work, or to the shop. 
It's better for the environment and it's healthier too!
We're asking that if you do have to travel, to think about how you do it to help manage social distancing, and avoid contributing to congestion on the roads.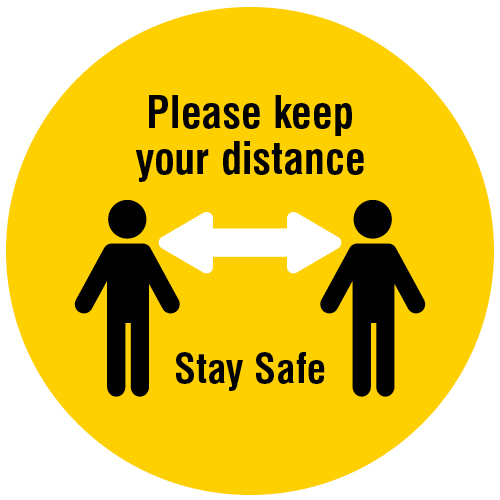 Current advice regarding Coronavirus
Advice from government is to: 
stay at home as much as possible
work from home if you can

consider all other forms of transport, such as cycling and walking, before using public transport
We are looking at measures which can be quickly introduced to encourage walking and cycling, and support social distancing in busy pedestrian areas.
Let us know
We've are introducing temporary measures across the county to reallocate road space so that more people can safely travel by walking and cycling as an alternative to public transport and also to help people be able to adhere to social distancing guidance when walking and cycling.
Unfortunately there is likely to be some inconvenience to road users, however we are monitoring these measures closely to limit these impacts.    
If you notice or experience any serious issues with these temporary measure, please let us know by completing our quick eform.
Walking and cycling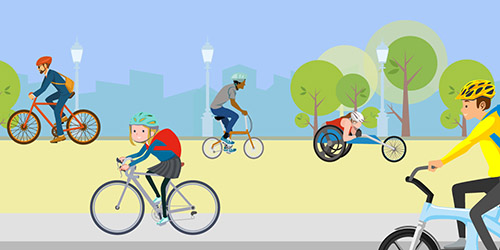 Lancashire is a great county to cycle in.
Ride along our traffic free routes, seaside promenades and canal towpaths. Networks of cycle routes are being developed in our urban areas, making it easier to cycle to work.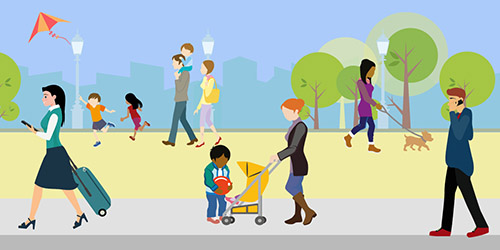 Lancashire has an abundance of walks, including countryside, canals, rivers, woodlands, coast and towns. 
Cycling

1

Walking

2
The benefits
Walking and cycling can help to:
improve your physical health
improve your mental wellbeing
save money
reduce congestion on our roads
reduce pressure on public transport
improve our air quality
Think about your journey and if you can do it by walking or cycling.
Active Travel schemes
We are putting a number of new measures in place to make it easier for people to walk and cycle in busy areas whilst maintaining social distancing.
We are reallocating some of our road spaces including constructing pop-up cycle lanes. This will help people who are choosing to travel in different ways rather than by public transport or car as lock down continues to ease.
Pop-up cycle ways are temporary cycling routes on existing roads, created by adding bollards, cones, or water barriers to separate cyclists from other traffic.
It will mean the loss of some parking, however they are a temporary measure as part of our response to the coronavirus crisis, and we will keep them under review.
There are temporary new measures at the following locations:
Lancaster
Dalton Square (temporary closure to traffic to aid social distancing, and assist the temporary relocation of the Charter Market from Market Square to Dalton Square)
South Road in Lancaster (both sides of the road)
Preston
Frenchwood Avenue (temporary road closure except for cycles and pedestrians)
Fishwick Parade(temporary road closure except for cycles and pedestrians)
Fletcher Road(temporary road closure except for cycles and pedestrians)
Fylde Road (two-way cycle route on both sides of the road)
Winckley Square (two-way cycle route on one side of the road)
Additional side road closure along Fishergate to reduce traffic and support social distancing
See diversions in place below. 
South Ribble
Shady Lane and Nell Lane (temporary road closure except for cycles and pedestrians)
Liverpool Road/Penwortham Hill (both sides of the road) 
West Lancashire
Pop-up cycle lane on the east side of St Helen's Road from Moor Street to the junction with Ruff Lane. 
Ruff Lane will be closed to through-traffic at its junction with St Helens Road to reduce the number of vehicles using Ruff Lane, making it a quieter route which is better suited for cyclists.
A barrier will be placed along the western edge of Railway Road from its junction with Leyland Way to Derby Street to create more space for pedestrians using this busy link between the town centre and the railway station. This will result in the temporary loss of some parking.
Future investment
We will be working with partners to look at how to make best use of funding from the government to encourage walking and cycling, as well as funding which district and borough councils have received to help to reopen high streets safely.
We have an ongoing programme of investment to improve Lancashire's cycling and walking infrastructure but we're currently looking at some proposals we hope be able to bring in very quickly to support everyday journeys as life begin to return to normal.
Actively moving forward
Our Vision is: "More people cycling and walking for everyday and leisure journeys in Lancashire".
Read more about our Vision, our targets, and how we aim to achieve these targets.
More information
We have had to do a number of things for the first time due to the coronavirus and the priority is to control the spread of the virus.
We would ask people to be patient with us as we introduce measures to help people social distance based on what's worked elsewhere, and monitor how they work.
We have provided further information about the pop-up cycle lanes, to try and answer any questions you may have.