Penwortham to Preston Cycle Superhighway
We are improving two sections of the Liverpool Road/Fishergate Hill corridor between Penwortham and the City Centre: the first at Penwortham Brow, which was the subject of our first public engagement in July 21; and the second at Broadgate junction and Fishergate Hill, which we will consult on later in the year. 
The Penwortham Brow scheme will improve facilities for those travelling the mile between the Cop Lane junction and Preston city centre. Proposed works would link the cycle track that was recently constructed as part of the Tesco development works on Liverpool Road with the section already in place across Penwortham Bridge.
What we are doing
Following on from a public consultation during the summer to introduce a one-way traffic restriction on Kingsway, a revised scheme has been developed which responds to many of the concerns raised and keeps the existing two-way traffic flow. The revised scheme will still deliver a segregated cycle track and has been designed with the safety of walkers and cyclists in mind, with a parallel crossing on a road hump and a central refuge island provided for safer crossing.
As well as providing safety improvements for pedestrians, cyclists and other vulnerable users, the new cycle track will encourage sustainable transport between Preston and Penwortham and improve local air quality.
Why we are doing this
Completion of the Penwortham Bypass (John Horrocks Way) in December 2019, delivered as part of the Preston, South Ribble and Lancashire City Deal, has resulted in a significant reduction in vehicular traffic through Penwortham and along Liverpool Road (formerly A59). This presents an opportunity to improve provision for pedestrians and cyclists along this corridor connecting residents with local facilities, education sites and Preston city centre.
Data captured through our monitoring of pop-up cycle lanes installed on Liverpool Road showed them to be well used by cyclists. This aligns with findings from the DfTs National Propensity to Cycle Tool (NPCT) which shows a high demand for cycling along this route. The route, identified in the emerging Central Lancashire Local Cycling and Walking Infrastructure Plan (LCWIP), is also a popular walking route for journeys into the city centre, which the new proposed infrastructure will make safer and more convenient.
Infrastructure improvements were recently delivered at the Cop Ln/Liverpool Rd junction and on Liverpool Rd across Penwortham Bridge, between Leyland Rd and Strand Rd/Broadgate. This section of Liverpool Rd, from just west of Hill Rd down to the Golden Way flyover, will complement these improvements towards a continuous stretch of safe cycle infrastructure leading from South Ribble into Preston.
More information
See the cabinet papers on the revised scheme which were approved at a meeting of the council's Cabinet on 2 September 21 (see item no 9)
See a plan of the proposed scheme (PDF 211KB)
How the new cycleway will look (please note they are only a visual representation of the proposed scheme).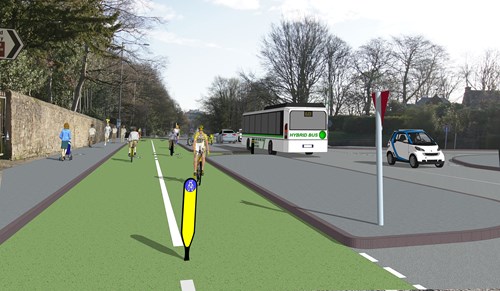 Next steps
2 September 21 – Political sign off following public engagement
Winter 21– start construction (subject to political sign off)
Winter/Spring 22 – scheme complete