Bathing water quality
Summary
The Environment Agency collects data on the cleanliness of bathing waters around the country and its website includes the bathing water data explorer. We have included a small map of the beaches in a Microsoft Power BI slide. Pointing your cursor at the dots will reveal the name and standard of the beach. If you click on the double-headed diagonal arrow near the bottom right of the slide the size of the map will be maximised to the full screen.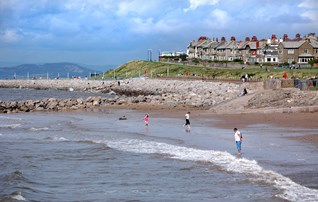 The latest results for 2021 that were published by the Department for the Environment, Food and Rural Affairs (DEFRA) in January 2022 were the sixth measured against standards required by the 2006/7 Bathing Water Directive. The classifications are based on a rolling average over four years, rather than just the last complete year of measurements which the previous classifications used. One of the beaches in Lancashire were classed as excellent, seven were classed as good, while the remaining two beaches only reached the 'sufficient' standard. Because of the effects of the Covid-19 pandemic there were no classifications published for 2020.
Blue Flag is an international award scheme which acts as a guarantee to tourists that a beach or marina they are visiting is one of the best in the world. The Blue Flag compares beaches throughout the world that meet high standards of cleanliness and management, promote coastal environmental care, are patrolled by lifeguards, accessible and have attained the higher guideline standard of water quality. It refers only to the busier 'resort' beaches. The 2022 results revealed 80 beaches across the country gaining the award, with none of these being in the North West. Blackpool South had won the award for three years running from 2016 to 2018 while been the only winner in the North West region. The Royal Albert Dock and Salthouse Dock Marina at Liverpool was awarded a Blue Flag, but it doesn't count as a beach.
The Seaside Award is focused on raising standards at the coast. The award is said to reflect the great achievements of England's beach managers and helps them in future planning for beach improvements and developments. In 2022, the Seaside Awards (in conjunction with Keep Britain Tidy) website showed 11 winners in Lancashire (which were the only winning beaches in the North West). The beaches are Morecambe North and South (Lancaster City Council), Ferry, Jubilee, Marine and Rossall (Wyre Borough Council), St. Annes Pier (Fylde Borough Council) and Bispham, Blackpool North, Central and South (Blackpool Council).
 Page updated June 2022