Funded childcare for 3 and 4 year olds
3. Hours and restrictions
We'll pay for up to 15 hours per week, over 38 weeks, up to a maximum of 570 hours per year. You can use the hours flexibly with one or more childcare provider.

Some providers will allow you to 'stretch' the hours over 52 weeks, using fewer hours per week. Your chosen provider will be able to discuss this possibility with you.

The first 15 hours a week are funded, you can pay for more hours to fit in with your family's needs. You can use one provider or divide the hours between a number of providers.

If your child attends for 15 hours a week at a state nursery school or nursery class, you cannot also have a funded place from another provider, unless you are eligible for an additional 15 hours as part of a 30 hours place. Funding is paid directly to the provider that your child attends.

We can only fund Ofsted registered childcare providers (including childminders), and state nursery schools or nursery classes. We cannot fund any other types of care, including family arrangements. If a relative or friend looks after your child during the week, they can't be paid for a funded place.
Getting the hours you want
You can take the funded hours flexibly.  For example, your child could attend for three hours a day over five days, or five hours a day for three days in a week, or they could take the offer over two days.
There are some rules that apply though. When you speak with a provider they will be able to explain these to you, or you can contact our Family Information Service.
The provider will work with you to consider your child's needs, your preferred hours/days, and the sessions where they currently have vacancies. They will do their best to give you the hours you want, but it is their decision whether to offer you exactly what you want.
If after talking it through, the provider is unable to take your child at the times you want, you will need to find another provider.
The Parental Agreement
Once you have agreed your hours or sessions for your child you will be asked to sign a Parental Agreement with your provider.  This provides you and the provider with a document which clearly shows the agreed hours or sessions that your child should attend. This helps to protect everyone if there is a dispute, particularly one that involves money (in rare circumstances the provider may ask you to pay for any hours that your child has mistakenly received from them).
Changes in circumstances
If you decide you want to change provider during a term, it's best in the first instance to speak to your current provider about this as we don't allow funding to move within a term. The Family Information Service can help you find new childcare but you may be expected to pay for the rest of the term if you do move your child.
Page 3 of 5
Funded places for 3 and 4-year-olds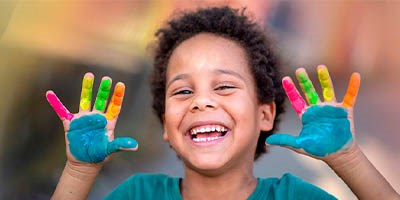 All 3 and 4-year-old children are entitled to up to 15 hours per week at a local nursery or with a childminder.
Hear from a Lancashire parent and an early years provider.