Diabetes
Diabetes is a major public health concern, with the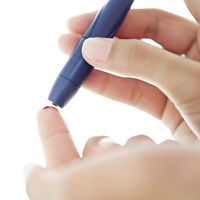 prevalence having increased greatly over the last three decades and showing no signs of abatement. It is a cause of serious morbidity and significant premature mortality, both in its own right and as a major risk factor for cardiovascular diseases (CVD), which include coronary heart disease (CHD), stroke and peripheral vascular disease.
There are two main types of diabetes: Type 1 and Type 2 diabetes. Type 1 diabetes results from an autoimmune destruction of the cells in the pancreas which produce insulin and it isn't linked to age or being overweight or obese. People with Type 1 diabetes must take daily injections of insulin for survival. 
Type 2 diabetes, which accounts for about 90% of all diabetes, is characterised by an inability on the part of the body to respond to insulin (insulin resistance) and/or abnormal insulin secretion. It is often linked with being overweight or obese. People with Type 2 diabetes may be treated with lifestyle changes (eating well, exercising and losing weight) and glucose lowering medication.
Key findings
The following figures are for all people aged 17+ and are for the 2018/19 period.*
The prevalence of diabetes in the Lancashire-12 area (6.9%) is similar to England (6.9%).
At a clinical commissioning group (CCG) level NHS Blackburn with Darwen CCG (8.5%), NHS Blackpool CCG (8.1%), NHS East Lancashire CCG (7.4%), NHS Fylde & Wyre CCG (7.3%) are higher than England. 
NHS West Lancashire CCG (7.0%) and NHS Chorley and South Ribble CCG (6.9%) are similar, while NHS Morecambe Bay CCG (6.8%) and NHS Greater Preston CCG (6.0%) are lower. 
*there is a data quality issue with these values. There is a potential underestimate of the values due to double counting of patients in QOF (Quality and Outcomes Framework). NHS Digital is working towards resolving this issue, but there is no date for the correction. This means the current data cannot be directly compared with previous years.
The estimated diabetes diagnosis percentage is defined as the observed number of people with a formal diagnosis of diabetes as a proportion of the estimated number in a population with diabetes. The higher the percentage, the closer the gap between those with a diagnosis and those expected to have diabetes. The lower the percentage, the more likely people are to be undiagnosed and be at risk of further health complications.
The Lancashire-12 area (78.2%) is statistically similar to England (78.0%) for the estimated diabetes diagnosis rate (persons, 17+ years) (2018).
At a district level, Fylde (67.4%),

 

Ribble Valley (67.6%), 

Chorley (73.0%) and Wyre (74.2%) have significantly lower rates than England, while Preston (88.5%), Hyndburn (87.1%), Burnley (83.9%) and Pendle (83.8%) are significantly higher. 
For the two unitary authorities, Blackburn with Darwen (82.3%) is significantly higher, while there is no difference for Blackpool (79.4%). 
For additional CCG, county and unitary data and further information please see below.
Page updated April 2020