Local government employees
Summary
The Local Government Association (LGA) publishes quarterly statistics on the number of local government employees in authorities across the country. The figures are available for all employees, full-time equivalents, by gender, and for full and part-time employees. Temporary and permanent employees results are also available from the LGA.  
In total, there were 50,582 employees in the 15 local authorities in the Lancashire sub-region in the second quarter of 2016. The county council employed 35,082 people, or 69.4% of the total, with the two unitary authorities of Blackburn with Darwen and Blackpool together accounting for a further 20.9% (10,568 employee headcount). For the 12 local authorities in the county council area, the employee headcount totalled 4,932, or 9.7% of the total, ranging from 975 in Preston City Council to 166 in Rossendale Borough Council.
There were, in total, 35,365 full-time equivalents (FTEs) for all 15 Lancashire authorities. The FTE number is much lower because of the large number of part-time employees, of which many are female. Overall, women accounted for 75.9% of the total employee headcount in the 15 local authorities in the Lancashire sub-region.
Figure 1 tracks the change in FTE numbers at Lancashire County Council between the second quarter of 2006 and the second quarter of 2016. The fall of 6,773 FTEs, from 30,809 FTEs in quarter 1 of 2009, to 24,036 FTEs in quarter 2 of 2016, represents a reduction of 22.0% over the period.
Figure 1: Lancashire County Council employee numbers (full-time equivalents), 2006 q2 to 2016 q2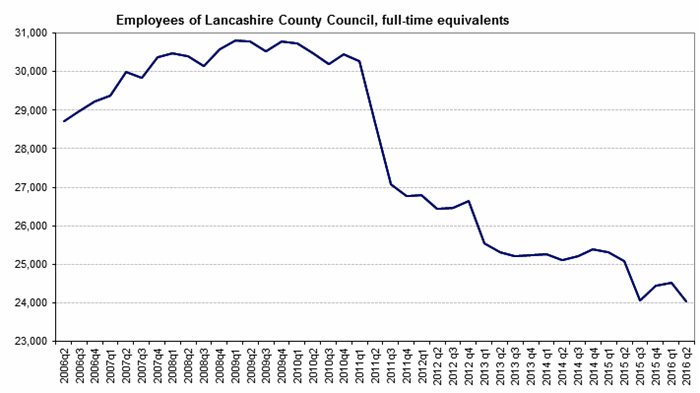 Source:Local Government Association: local government employment
The full report
The full report, which contains the related data table for quarter two of 2016, plus links to employment in state-funded schools and local authority expenditure, can be downloaded via the link below in the further analysis box.
Page updated October 2016