Preston Transforming Cities Fund
A range of schemes are planned that will transform Preston over the coming years. 
In March 2020 Lancashire County Council (LCC) and our partners were awarded £40.4m by the Department for Transport (DfT), which was granted under the Transforming Cities Fund (TCF).
The funding was based on enabling us to deliver a number of the schemes set out in our initial bid. This will allow us to progress these schemes that aim to fundamentally change the way we travel into and around Preston city centre and improve our environment.
The £40.4m received from DfT is the first stage of our vision to transform the wider Preston City Region to not only continue to be one of the most productive City Regions in the UK, but to also become one of the most environmentally sustainable, people-friendly and attractive places in the UK to live, work and enjoy.
As part of the Government's Industrial Strategy and the National Productivity Investment Fund, the fund's overall aims are to drive up productivity through improved connections between urban centres and suburbs. To do this, the fund is supporting an investment in infrastructure to improve public and sustainable transport connectivity.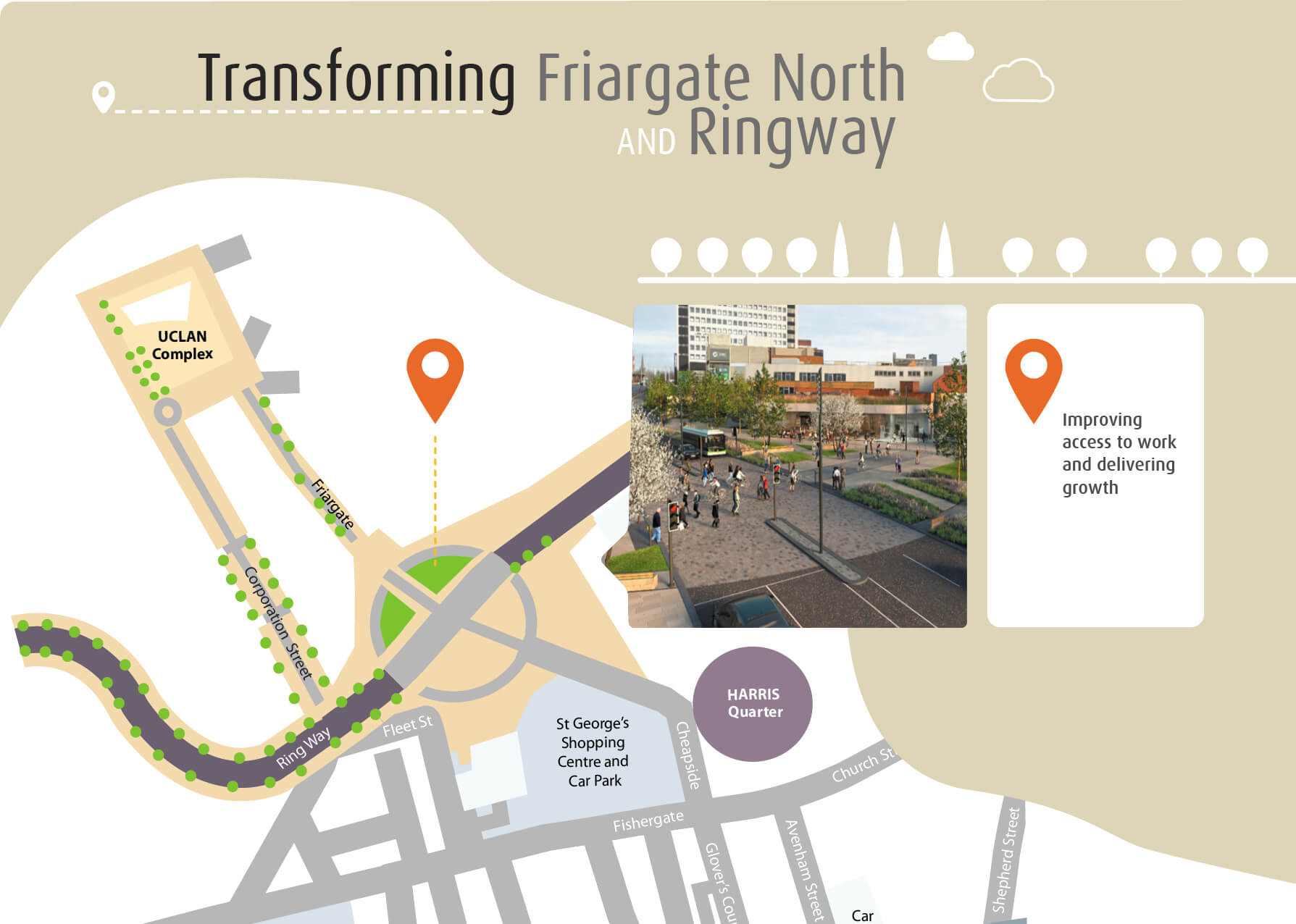 Encouraging an increase in journeys made by low carbon, sustainable modes is a key objective of the Fund as well as supporting priorities such as:
Improving access to work and delivering growth;
Improving mobility and encouraging the use of new mobility systems and technology;
Tackling air pollution and reducing carbon emissions;
Delivering more homes; and
Delivering apprenticeships and improving skills.
The fund will provide a range of advantages to people who work and live in the Preston City Region: reduced travel time and carbon emissions as well as improved reliability, safety, air quality, and accessibility to employment across the region.
The schemes planned under this funding stream should also encourage significant housing growth plans by incentivising more sustainable travel. It will also help us work towards our local ambition to make choosing sustainable travel modes, such as walking, cycling and public transport, easier and more attractive.
The Preston Transforming Cities Fund schemes
The funding will allow us to deliver three major schemes across Preston between now and the end of 2023. The schemes are currently being scoped out fully and we will consult on our plans before moving forward.
The £14.7m scheme is designed to enable more people to leave the car at home and increase opportunities to catch the bus, walk and cycle, fundamentally changing the way we travel into and around this part of Preston.
The updated Transforming Friargate North and Ringway package also looks to encourage the flow of people between the university and the Harris Quarter, reconnecting the city with the northern end of Friargate to give a joined up shopping and leisure experience.
Find out more about the Transforming Friargate North and Ringway scheme.
A package of new technology systems will be rolled out to improve the operation of the city-wide road network. The technology includes next generation Urban Traffic Management and Control technologies with bus priority systems installed along Ringway and sustainable travel corridors designed into the city to allow efficient flow of bus services.
We will establish a Hosted Operations Centre (HOC) where we will use data analytics and artificial intelligent techniques to improve our management of the network. Cloud-based systems will be brought together to create a simulation and operational environment that will, using the latest predictive traffic models, improve the operation of the network and allow a more proactive approach to tackling congestion.
Updating our infrastructure and traffic management systems will enable us to tackle the needs of the region today and prepare us for the developments and demands of the future of urban mobility. It will also support our aims of reducing congestion, improve air quality and support our economic recovery.
The TCF funding is also allowing for the development of a multi operator bus ticketing project which aims to allow passengers to benefit from a more simplified ticket purchasing mechanism when traveling by buses operated by various companies within Preston boundaries. We hope this will encourage greater bus use across the city region.
Cottam Parkway is a proposed new railway station on the north-west side of Preston, which aims to provide extra transport options for people travelling to and from the city centre, open up new opportunities for business and leisure journeys, and increase access to the mainline rail services.
It will also help to reduce congestion in Preston city centre through providing Park & Ride options by train. The station will serve existing residential areas, as well as areas of the city where new homes are being built. 
Access provided by the Preston Western Distributor Road and the new M55 junction two will help the station to serve a much wider area.
Find out more about Cottam Parkway
Many people contributed suggestions for themes for artwork to be included within the scheme, and we are reviewing these for use in the final detailed design where we can.
If you have any other comments or questions, please contact us on TransformingFNR@lancashire.gov.uk
How the schemes will be funded
The majority of the schemes planned will be delivered with the TCF funding received by the government.  Other funding will also be utilised including an investment from City Deal to support the Cottam Parkway development, from secured s106 money and from committed transport capital programme funding.
What we have done so far
Aspects of the Preston Transforming Cities Fund programme have gone through widespread consultation and publicity including:
Local Plan preparation
Central Lancashire Highways & Transport Masterplan
Further extensive consultation with stakeholders will take place as part of further development of the Programme and its projects
The planning application and the traffic regulation order processes have a statutory consultation process in which representations and objections can be made.
How this scheme links in with other economic development activity/local schemes
The transformation of Preston City Centre is already underway, centred around three anchor points which will drive regeneration. These are Preston Bus Station and Market, the UCLan Campus Masterplan, and the forthcoming Preston Station Gateway.
The TCF schemes for Preston City Centre aim to fill in the gaps between these anchor points to create a coherent, highly walkable and integrated transport network across the City Centre, underpinning transformed connectivity to, from and between major employment and housing sites across the City Region, delivered through a network of bus priority and active travel corridors.
You can find out more about the overall aims of the schemes including the initial proposals that were set out by reading our TCF bid document.  This document includes detailed information about how the scheme fits into a range of ambitions and programmes for our city and the wider Lancashire area
However the schemes have changed since that stage. To find out what the current proposals include read the Transforming Cities Fund Update to Department for Transport from June 2020.
Sign up for updates
If you would like to keep up to date with the latest news and information updates about the Transforming Friargate North and Ringway scheme you can subscribe for our email updates.