Cottam Parkway railway station
Cottam Parkway is a proposed new railway station on the north-west side of Preston, on the Blackpool to Preston railway line.


Artist's impression. Design subject to change.
The new station would deliver journey times of around 5 minutes to Preston and around 20 minutes to Blackpool. 
The project aims to:
Provide access to rail transport options for travel to jobs, business and leisure.
Reduce congestion into Preston city centre by providing a Park & Ride facility
Increase rail access between Preston and other parts of Lancashire, as well as the regional and national network
Connect directly to the new Preston Western Distributor - a road scheme currently under construction – the new station will have good access to new housing areas and a new junction on the M55
A planning application will be submitted in 2022. The station could open in 2024 or 2025 depending upon the approval timescales.
Funding comes from a successful bid to the Department for Transport's Transforming Cities Fund, as well as a local contribution and through the Preston, South Ribble and Lancashire City Deal.
The station is currently known as the Cottam Parkway Railway Station as a working title and could be subject to change.
About the new station


Artist's impression. Design subject to change.
The station building itself will feature a 'green' roof to encourage wildlife and solar panels. 
The whole facility has been designed to be fully accessible. A footbridge and lifts will link the platforms.
To encourage people to use sustainable transport, the plans include a bus stop and a new high-quality pedestrian and cycle link together with secure cycle parking. The whole facility is designed to be fully accessible.
Park & Ride facility
The plans include free-to-use car park with around 250 spaces, electric vehicle charging points, mobility and motorcycle spaces, and bicycle storage.
These facilities will reduce journey times for commuters, as well as reduce traffic and air pollution in the centres of Preston and Blackpool in particular.
Benefits of the station
Better rail access will help to support the delivery of new homes in north-west Preston and provide rail service to a catchment area of around 12,000 homes in areas such as Cottam, Ingol and Lea.
By providing alternative ways to get around, the new station would encourage a shift in journeys from the road to rail, which is predicted to help to reduce traffic at key congestion hotspots on Preston's road network.
There will be improved access via the Preston Western Distributor Road (scheduled to open in 2023) to existing and new employment opportunities at the Enterprise Zone at Warton, a centre of advanced manufacturing and high productivity.
The proposed station will provide more options for people to travel in and around the city and beyond, especially via Preston Railway Station which is a regional and national hub.
Potential upgrades in the future to the South Fylde and East Lancashire rail lines would improve journeys on the lines between Blackpool, Preston and Blackburn.
Location and access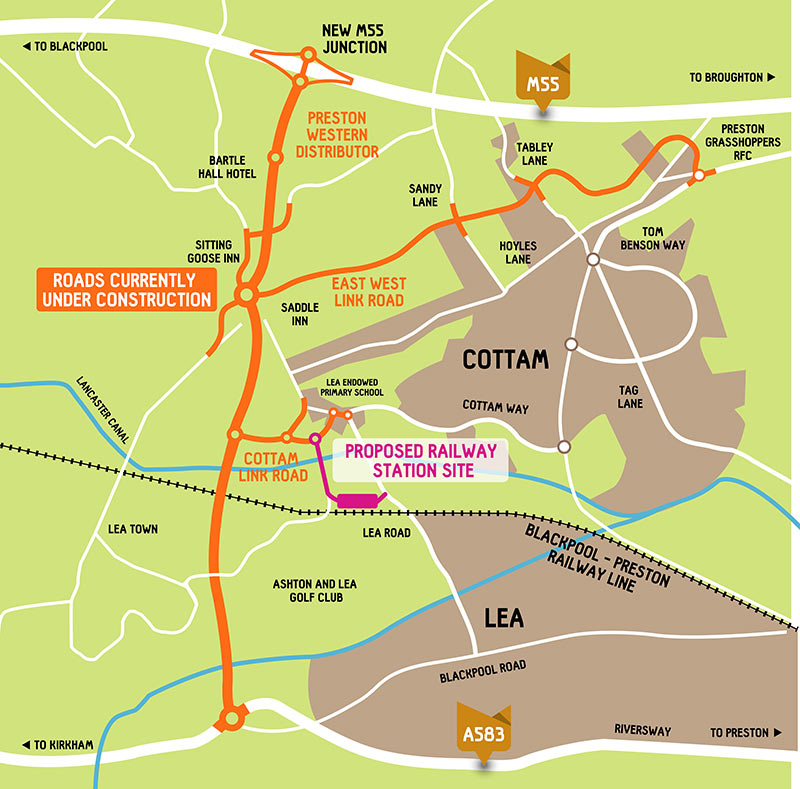 The proposed site for the new station is on land between Lea Road and Sidgreaves Lane, close to the former site of Lea Road station.
The main access to the station and a new car park would be north of the railway line.
Pedestrian, cycle and bus access will be created from Lea Road.
The station would be accessed from a new road connected to the Preston Western Distributor Road scheme via the Cottam Link Road. This new access road will be constructed on the west side of Sidgreaves Lane with a new bridge over the Lancaster Canal.
A segregated cycle track and footpath would be created along a section of the existing Sidgreaves Lane and over the Quaker Bridge. The cycle track would also link into Preston's local cycle network on the Preston Western Distributor Road scheme and along Darkinson Lane.
The station would have cycle storage and lighting to create a safe approach for cycling and walking journeys.
Draft plans and concepts
This section includes a series of draft plans and illustrations showing the proposed site, railway station, car park and access road:
Access road landscaping
(cross sections from locations AA and BB on the masterplan)
Car park and station landscaping:
(cross sections from location CC and DD on the masterplan)
3D (Isometric) views
Drawings of the proposed station building
Drawings of the proposed bridges
The planning application for the station will be accompanied by an Environmental Impact Assessment (EIA) report of the potential environmental effects of the development. Survey and analysis work for the EIA is being carried out and will be completed before the planning application is submitted.
Additional documents
Listening to your views
A pre-planning public consultation took place in December 2021 and January 2022 for people to give their views on the station proposals. Thank you for all the comments we received.
We're looking at the comments we received to help with finalising the planning application, which we will submit in 2022.
Keep updated
You can contact the project team by email to CottamStation@lancashire.gov.uk
Postal address:
Transforming Cities Fund - Cottam Station
Infrastructure Delivery Team
Lancashire County Council
County Hall
Pitt Street
Preston
PR1 0LD
Updates and information about the plans will be included on our twitter and facebook accounts.