Preston Western Distributor and East-West Link Road
We are building a major new road - the Preston Western Distributor, which will link Preston and southern Fylde to the M55 motorway.
Scheduled to open early in 2023, this £200m road scheme is the biggest new road programme in the Preston, South Ribble and Lancashire City Deal.
It will help to promote new housing and business development in the area, while increasing capacity on the existing local road network.
The Preston Western Distributor will link the A583 and the M55 motorway and will involve the construction of:
a new motorway junction
four new bridges
two viaducts.
The scheme also includes two new roads connecting to new and existing housing areas of North West Preston and Cottam. The new East-West Link Road and Cottam Link Road will provide convenient access to the Preston Western Distributor, avoiding already congested local routes.
Temporary change to the Guild Wheel route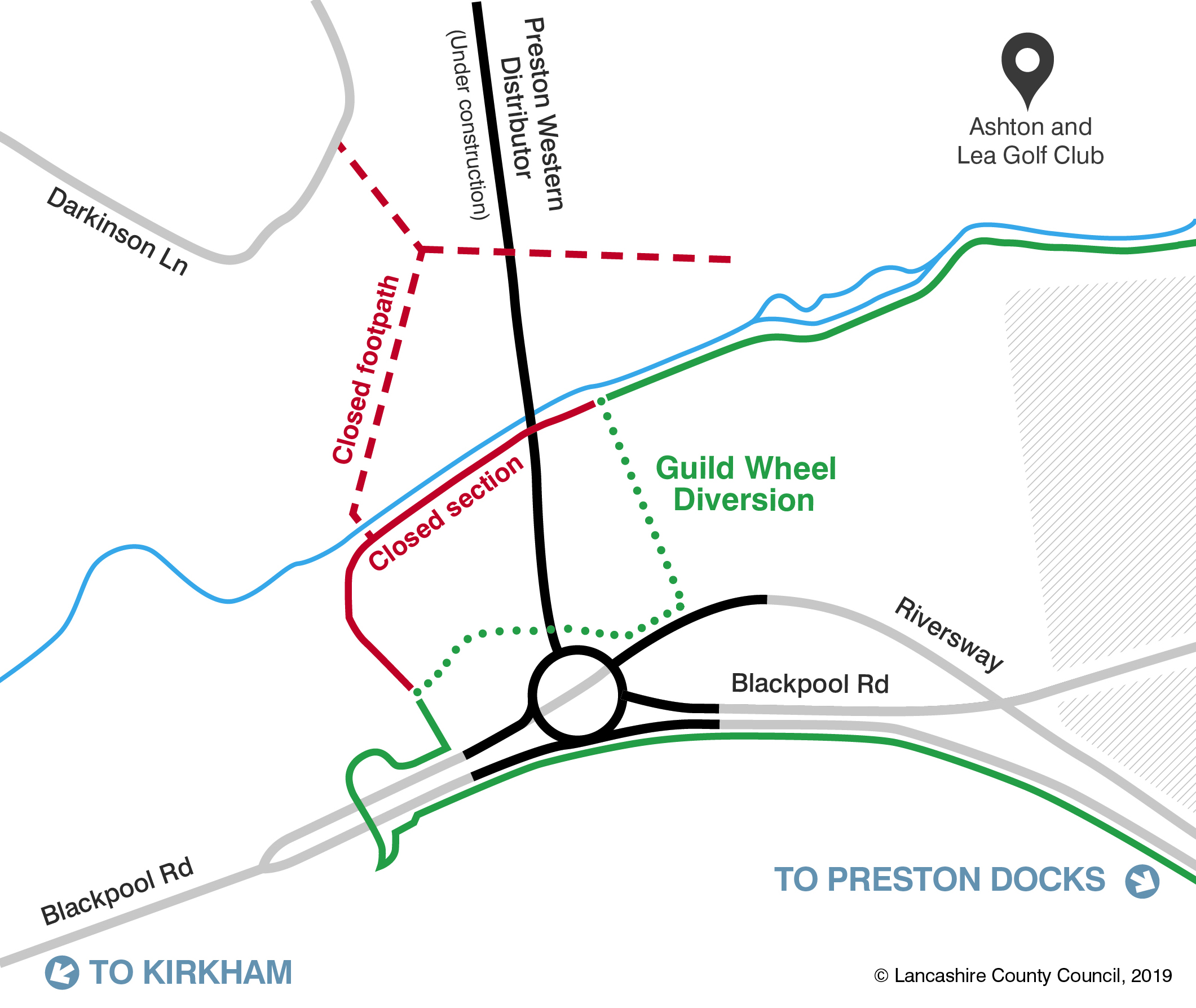 A short diversion to the Guild Wheel route on the west side of Preston is being put in place from Monday 6 January. The change is for safety reasons during construction work on the new Preston Western Distributor road scheme, near the popular walking and cycling route. This will affect people on the Guild Wheel between Savick Brook and the bridge over Blackpool Road. Coming from the bridge, the route will temporarily run towards the side of Riversway and then up towards Savick Brook. Once the construction work has finished in 2023, the Guild Wheel will be able to return to its current route.
Map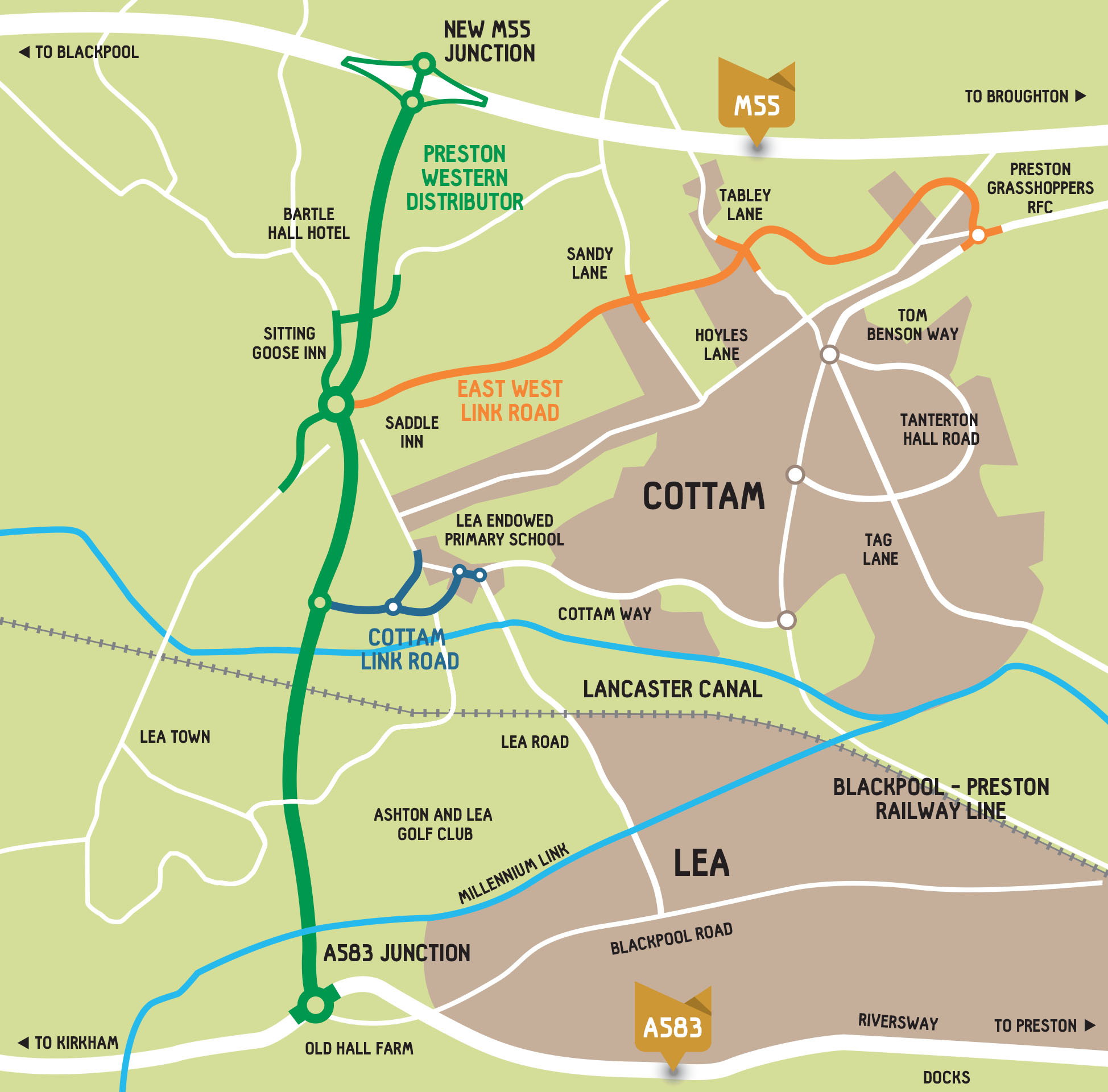 Fly-through
View the fly through of the route for the Preston Western Distributor.
Progress updates and timescales
Construction started in September 2019.
These are the latest planned timescales to complete this road programme, as with any construction project of this scale, this timetable may be vary:
| Work description | Date |
| --- | --- |
| Ecological mitigation | Early October 2019 - Summer 2020 |
| Hodder Aqueduct diversion | Early January 2020 - Summer 2020 |
| Lea Viaduct construction | Early January 2020 - Summer 2022 |
| Savick Viaduct construction | February 2020 - December 2022 |
| Motorway Bridge | Autumn 2020 - Autumn 2021 |
| Lea Viaduct construction over Railway | Christmas Day - Boxing Day 2020 |
| Bartle Lane Bridge | Summer 2021 - Summer 2022 |
| East West Link Road | Summer 2021 - Summer 2022 |
| Cottam Link Road | Autumn 2021 - Autumn 2022 |
| Road open | Spring 2023 |
Planning reports and applications
The scheme received full planning approval in November 2018 and in March 2019, the Secretary of State for Transport confirmed the Compulsory Purchase and other legal Orders necessary to enable the roads to be constructed.
Why we are building the new roads
As the working age population in Lancashire is decreasing, we need to build on the sustained economic growth to keep young people in the area and bring in more skilled workers.
The transport network serving Preston and the wider area is also becoming increasingly congested.
We need to make sure that the road infrastructure supports our ambitious plans across North West Preston including 5,500 new homes.
Building new road capacity will:
Provide direct access to new housing developments.

Provide an alternative to avoid rush hour traffic in the city centre

Improve access to the motorway from the Enterprise Zone at Warton.

Improve our existing roads and local centres.

Help to prioritise and promote walking and cycling.

Support delivery of a new parkway rail station at Cottam.
About the roads
Preston Western Distributor
2.5 mile long dual carriageway, national speed limit (70mph), with an off highway shared cycleway and footway.
New junction at A583/A5085 Blackpool Road/Riversway (which would allow for a future road link across the River Ribble).
A new roundabout junction to link to Cottam Way to a potential new Cottam Parkway rail station.
A second new roundabout serving the North West Preston development area by means of the East West Link Road and the existing local highway network by means of Lea Lane and Sidgreaves Lane.
Bridged by Bartle Lane and connects to the motorway network with a new Junction 2 on the M55 with minimal disturbance to the Bartle Wetland Biological Heritage Site.
East-West Link Road
2 mile long single carriageway, varying speed limit between 20-40mph with a shared use cycleway and footway.
New roundabout junction on Lightfoot Lane approximately 400 metres west of the Wychnor junction.
Forms a junction with Tabley Lane which avoids all residential properties.
Creates a new junction on Sandy Lane which it crosses.
Joins the new roundabout on Preston Western Distributor at the junction of Lea Lane and Sidgreaves Lane.
Cottam Link Road
Forms a short section, 0.4 mile long single carriageway linking Preston Western Distributor and Cottam Way.
Provides access to the possible location for a potential new Cottam Parkway rail station.
Avoids the loss of existing properties and removes passing traffic from the junction, and immediate vicinity of Lea Endowed CE Primary School at Sidgreaves Lane and Lea Lane.
Protecting the environment
The documents below provide information about the measures we are taking to help protect the local wildlife population and heritage of the local area:
Scheme partners
This is a City Deal scheme and has been made possible due to the partnership agreement between the Lancashire Enterprise Partnership, Lancashire County Council, Preston City Council, South Ribble Borough Council, central government and Homes England.
City Deal is helping to deliver accelerated infrastructure, homes and jobs across Preston and South Ribble, with wider benefits to Lancashire. It is supporting the creation of more than 20,000 new private sector jobs and over 17,000 new homes built across the area, along with new school places, open green spaces and new health provision to cater for a growing population and workforce.
Find out more about the Preston, South Ribble and Lancashire City Deal
Funding for these new roads is coming from the Department for Transport, Highways England, the county council, City Deal and the Lancashire Growth Deal.
The construction of the scheme is being carried out by Costain Construction, on behalf of the county council. Costain also built the Bay Gateway which links parts of Lancaster, Morecambe and Heysham with junction 34 of the M6.
Keeping you updated
You can sign up to get email updates about the scheme.
If you have any questions email: PWDhelpline@costain.com.
More information