Preston Western Distributor Road to be named after Preston Heroine
The Preston Western Distributor road will be officially known as Edith Rigby Way, in honour of Preston's most famous suffragette, who dedicated most of her life to fighting for women's rights, particularly those of working-class women. The news was announced by Preston City Council on 13 February 2022.
Preston Western Distributor: Helping people to get around
Our Preston Western Distributor road scheme will link Preston and parts of the Fylde to a new junction on the M55 motorway.
Currently being built and scheduled to open in early 2023, this £207m road scheme will link the A583 Blackpool Road and Riversway with the M55.
The aim is to reduce congestion on parts of the road network, help people to get around, and open up new opportunities for workers and businesses.
It will also improve access to the west side of Preston where new homes are being built to accommodate the growing workforce in the city.
Preston Western Distributor scheme is currently being constructed by Costain, on behalf of Lancashire County Council, as part of the Preston, South Ribble and Lancashire City Deal.
Why we're building these new roads
Building new road capacity will:
Provide direct access to new housing developments
Reducing congestion on the road network by providing new routes
Improve access to the motorway
Improve our existing roads and local centres
Promoting walking and cycling
Support delivery of a proposed railway station at Cottam
Key dates and construction
The roads are due for completion in early 2023. As with any construction project of this scale, this timetable may vary due to weather conditions and other factors.
Work is progressing well on the new roads and here are some images of the latest work:
There will be some disruption caused by construction work, which we're working hard to keep to a minimum.
You can find out more about the construction work so far on Costain's website for the scheme, including photographs of the work and road closures.
About our road scheme
The scheme includes Edith Rigby Way and two other new roads: the East-West Link Road and Cottam Link Road which will connect to new and existing housing areas of North West Preston and Cottam.
The scheme also includes two other new roads: the East-West Link Road and Cottam Link Road which will connect to new and existing housing areas of North West Preston and Cottam.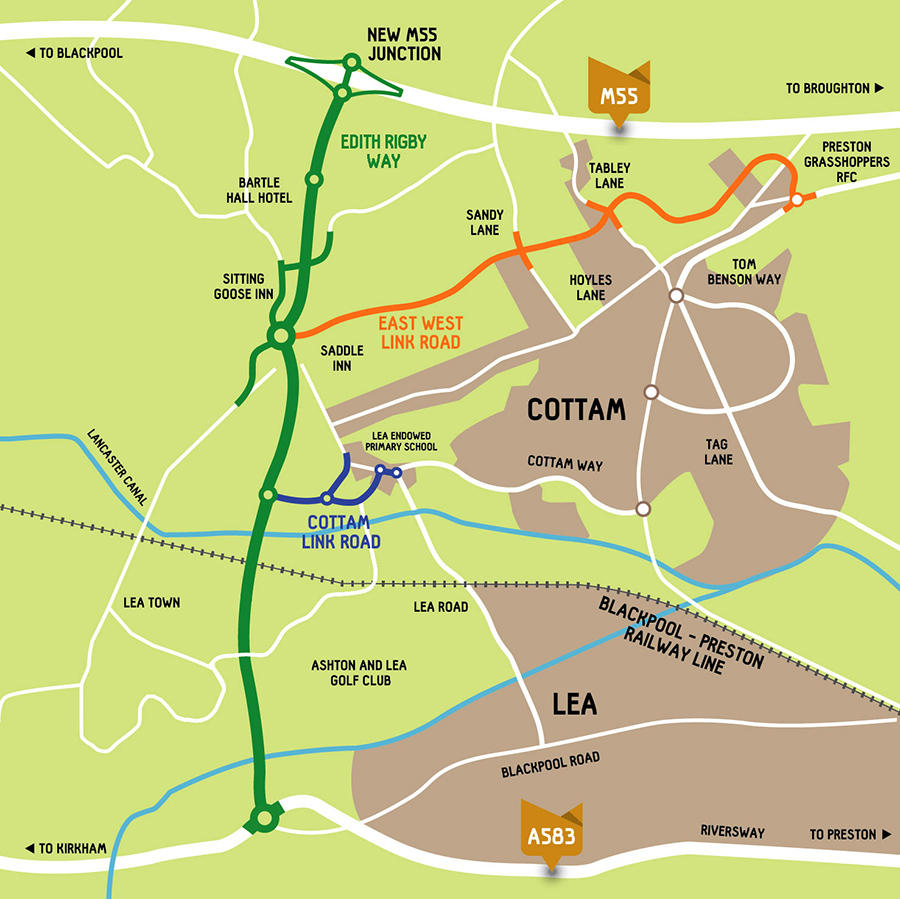 Preston Western Distributor
Shown in dark green on the map.
The longest and most significant road in this project is Edith Rigby Way (previously known as the Preston Western Distributor. It includes a new junction two on the M55 motorway.
It will be a 2.5 mile long dual carriageway with national speed limit (70mph) and a shared cycleway and footway.
There will be a new junction at Blackpool Road and Riversway, a new roundabout connecting to Cottam Way via the new Cottam Link Road and a new roundabout at the junction of Lea Lane and Sidgreaves Lane connecting to the new East-West Link Road.
East-West Link Road
Shown in orange on the map.
This road is being built between the new roundabout at the Saddle Inn and the new roundabout at Tom Benson Way/Lightfoot Lane, and junctions with Tabley Lane and Sandy Lane.
It will be a two-mile long single carriageway road, varying speed limit between 30-40mph with a shared cycleway and footway.
Cottam Link Road
Shown in dark blue on the map.
A 0.4 mile long single carriageway linking the Preston Western Distributor and Cottam Way
Removes passing traffic from the junction and immediate vicinity of Lea Endowed CE Primary School at Sidgreaves Lane and Lea Lane
The Cottam Link Road will provide convenient access to the Preston Western Distributor from Cottam Way, Lea Road and Sidgreaves Lane.
The proposed Cottam Parkway Railway Station would be accessed from a new road connected to the Cottam Link Road. This will be constructed on the west side of Sidgreaves Lane with a new bridge over the Lancaster Canal.
Working in partnership
Funding for these new roads is coming from the Department for Transport, Highways England, the county council, the Preston, South Ribble and Lancashire City Deal; and the Lancashire Growth Deal.
This is the biggest road project as part of City Deal, which is an agreement between the Lancashire Enterprise Partnership, Lancashire County Council, Preston City Council, South Ribble Borough Council, central government and Homes England.
City Deal is helping to deliver accelerated infrastructure, homes and jobs across Preston and South Ribble, with wider benefits to Lancashire. It is supporting the creation of more than 20,000 new private sector jobs and over 17,000 new homes built across the area, along with new school places, open green spaces and new health provision to cater for a growing population and workforce.
Keep updated and contact us
You can sign up to get newsletters by email about the scheme.
Our contractor Costain has a dedicated Community Relations Officer Sarah Sunderland. If you have any queries about the scheme, please email PWDHelpline@costain.com or call 01772 808 061
Planning reports and applications
The scheme received full planning approval in November 2018 and in March 2019, the Secretary of State for Transport confirmed the Compulsory Purchase and other legal Orders necessary to enable the roads to be constructed.