Coronavirus - Park and Ride update
In line with the government's  Covid -19 Roadmap to easing restrictions, both the Lancaster and Walton-Le-Dale Park and Ride bus services will resume normal operation from the first bus on Monday 12th April 2021. 
There are drive through Coronavirus testing facilities on cordoned off sections at both of the Lancaster and Walton le Dale Park and Ride sites and these remain in operation.  However, the park and ride services will operate as normal and there is clear signage on display at both sites to direct you to the open car parking areas.
The Preston, Portway Park and Ride is operated by Rotala Preston Bus Ltd on a commercial basis. This site remains closed at the moment but an update on when it is due to open with be available soon. For further information on the Portway site please visit www.prestonbus.co.uk.
Coronavirus testing facility
From first thing on Monday 4 January 2021, until further notice, the larger 'north' car park will be cordoned off for use as a drive-through coronavirus testing facility.
The park and ride service is not affected and continues to operate as normal whilst the testing facility is in place.
Parking is still available on the 'south' car park for park and ride, park and share, park and walk/cycle and for access to the Electric Vehicle Charging Points.
Clear signage will be on display at the park and ride site to direct you to the open parking area.
Lancaster park and ride
Caton Road at the Junction with the M6 J34 Sliproad.
Operated by Kirkby Lonsdale Coach Hire on behalf of Lancashire County Council.
Where?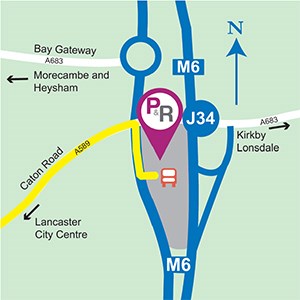 The site is located at the junction of Caton Road with the M6 J34 Sliproad offering an ideal location to those travelling to Lancaster to park outside the City Centre and finish their journey by bus.
Sat Nav Postcode – LA2 9HG
Why use it?
Avoid the stress of city centre parking with 650 spaces available on the park and ride site. Buses travel between the site and the city centre stopping at George Street, China Street and the bus station, just short walks from the Hospital, Railway Station and the City Centre respectively.
The site doesn't just cater for park and ride, it's also the perfect place to meet up for car sharing with being located right next to the M6 with easy access onto the motorway whether you're travelling north or south. With the site currently offering free parking and covered by CCTV cameras, it's a great place to leave your car and share a ride with someone else.
With the River Lune just a short distance away from the park and ride, it's an ideal location to take advantage of the free parking and enjoy walking and cycling along the river.
Opening times
The site is open 24 hours a day, 7 days a week. However the bus service does not operate 7 days a week. Please see below for details of the bus service.
Bus services
Buses operate Monday to Saturday:
|   | First bus | Last bus | Last bus leaves city centre |
| --- | --- | --- | --- |
| Mon-Fri | 6:50am | 7:20pm | 7:35pm |
| Saturday | 7:50am | 6:20pm | 6:35pm |
Park and ride bus fares
Buy your ticket from the driver on the park and ride bus. Fares are as follows:
All Day

Fares from 26 August 2018

Adult return

£1.60

Adult weekly return

£6.50

Child return

80p

Family return
Up to 2 adults travelling together with up to 3 children

£3.20

Group return
Up to 4 people travelling together in the same vehicle, returning at the same time.

£4.30

Concessions
Before 9:30am on Monday-Friday full adult fare applies.

Free after 9.30am

Disabled
Disabled pass holders are subject to a £1 fare before 9:30am on Monday – Fridays.  All other times are free of charge with a valid disabled ENCTS card.

Free after 9.30am
The route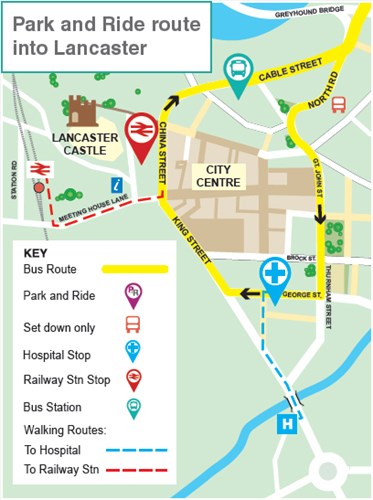 Vehicles are left at owners own risk. Lancashire County Council and Kirkby Lonsdale Coach Hire will not be held responsible for any damage or loss to any vehicle parked.
For Lost Property or any complaints please contact Kirkby Lonsdale Coach Hire on 01524 733831.