Lancaster park and ride
Caton Road at the Junction with the M6 J34 Sliproad.
Operated by Kirkby Lonsdale Coach Hire on behalf of Lancashire County Council.
Location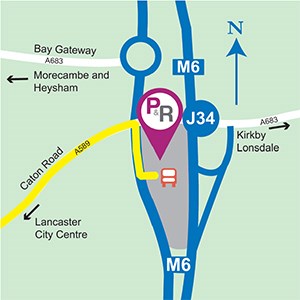 The site is located at the junction of Caton Road with the M6 J34 Sliproad offering an ideal location to those travelling to Lancaster to park outside the City Centre and finish their journey by bus.
Sat Nav Postcode – LA2 9HG
Why use it?
Avoid the stress of city centre parking with 650 spaces available on the park and ride site. Buses travel between the site and the city centre stopping at North Road (set down only), the Hospital, Queen Square, China Street and the bus station, just short walks from the Railway Station and the City Centre respectively.
The site doesn't just cater for park and ride, it's also the perfect place to meet up for car sharing as it is located right next to the M6 with easy access for travelling north or south. And, with the River Lune just a short distance away from the park and ride, it's an ideal location to take advantage of the free parking and enjoy walking and cycling along the river.
Opening times
The site is open 24 hours a day, 7 days a week. However the bus service does not operate 7 days a week. Please see below for details of the bus service.
Bus services
From Monday 17 May 2021 buses operate every 15 minutes Monday to Saturday:
| | | | |
| --- | --- | --- | --- |
|   | First bus | Last bus | Last bus leaves city centre |
| Mon-Sat | 6:05am | 9:05pm | 9:20pm |
Park and ride bus fares
Parking on the site is completely free just buy your bus ticket from the driver on the park and ride bus.
Fare
Prices
from 28 August 2022
Adult return
£1.70
Under 19 return
1.20
Under 12 return
85p
Adult weekly return
£7.00
Under 19 weekly return
£5.50
Family return
Up to 2 adults travelling together with up to 3 children
£3.40
Group return
Up to 4 people travelling together in the same vehicle, returning at the same time.
£4.60
Concessions
Before 9:30am on Monday-Friday full adult fare applies.
Free after 9.30am
Disabled
Disabled pass holders are subject to a £1.00 fare before 9.30am on Monday – Friday
All other times are free of charge with a valid disabled ENCTS card.
Free after 9.30am
Route (from Monday 17 May 2021)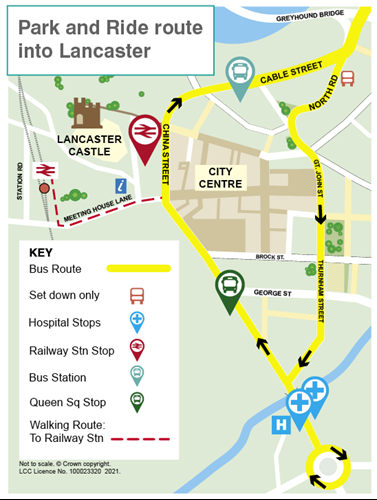 Vehicles are left at owners own risk. Lancashire County Council and Kirkby Lonsdale Coach Hire will not be held responsible for any damage or loss to any vehicle parked.
For Lost Property or any complaints please contact Kirkby Lonsdale Coach Hire on 01524 733831.
Lancaster park and ride car park order: Parking conditions
Vehicles exceeding 7.5 tonnes or vehicles exceeding 2.1m high are prohibited from both the north and south car park
There are designated bays available for motorcycles
Electric vehicle charging in designated bays (south car
A penalty charge notice may be issued for failing to comply with the parking regulations
Parking in a disabled bay without clearly displaying a valid blue badge
Parking in a restricted area
Parking beyond bay markings
Parked causing an obstruction
Parked in a parking place or area not designated for that class of vehicle
Vehicle exceeds maximum weight, height of length permitted
Using a vehicle in connection with the sale of goods or services
Parking in a place for a purpose other than that designated
Parked with engine running where prohibited
Parking in an electric vehicle bay whilst not charging (south car park only)
Parking for longer than permitted (south car park only)
Reparking within restricted time period (south car park only)