National bus strategy – Bus Back Better 2021
As part of the National bus strategy, Bus Back Better 2021 we are required to produce a Bus Service Improvement Plan.
Eligibility and how to apply or renew.
Keep up to date with changes to bus services in Lancashire.
Bus timetable, route and stop information.
Bus information via text, apps and mobile internet.
Enforcement of bus lanes, penalty notices, payments and appeals.
Find the latest public transport information and plan your journey (traveline website).
Tickets and prices for Lancashire County Council supported bus services.
Park and ride opening times, bus services and prices.
New funding for the county council's supported bus services from the Department of Transport's 'A better deal for bus users' announcement in February.
If you notice any damage to a bus shelter please let us know about it.
Transport scheme aiming to improve public transport between Accrington, Blackburn and Darwen linking in with rail lines.
Dial-a-bus door-to-door transport services.
Stop, think and plan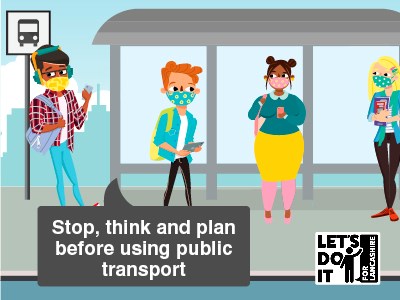 Find out how you can travel safely during the pandemic.