Developing Revision and Study Skills in Mathematics Pack
£30.00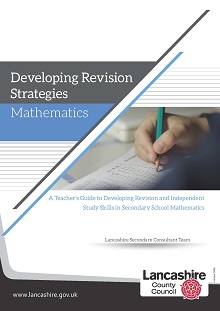 In many schools, pupils either find it difficult or just opt not to revise for mathematics assessments including GCSEs. In such cases, schools use a lot of teaching time as well as after school and weekend sessions to revise with pupils.
This along with the increase in expectation and challenge of the new curriculum and new GCSE is leaving pupils and schools vulnerable to underachievement and poor attainment.
Demands on teachers time is increasing and this lesson time could be used more productively in developing conceptual understanding and learning new skills.
The Developing Revision and Study Skills in Maths Pack is designed to support teachers in developing appropriate study skills in students and developing independent revision skills as students approach GCSE.
Lancashire schools will be charged a discounted price of £20
Please note this publication is electronic and will be sent to the email address used during purchase. If you have not received it within 5/10 minutes please check your spam/junk folder. The email link received will be live for only 10 days, please download the publication and save it to your computer.
This publication is subject to 20% VAT for non LCC Maintained Schools.