LPDS
Evidence-based CPD, Bespoke Consultancy and Primary Resources
Are you looking to improve outcomes for your children that ensure they reach their full potential? We can provide cost-effective, time-saving and manageable solutions for your school.
CPD Special Offers
View our special offer prices for a range of training sessions in 2022/23: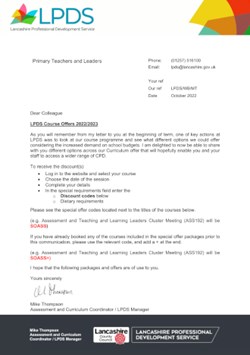 Places are limited.
Now available to download!
2022/23 Course Programme from LPDS: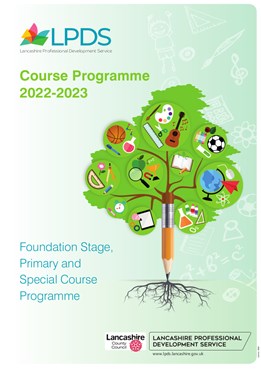 Book your CPD early and guarantee your place.
LPDS Newsletter
Don't miss out on half-termly curriculum updates, the latest CPD happening near you and new resources to save you time and enhance your classroom practice!
Also available to download!
2022/23 Governor Course Programme: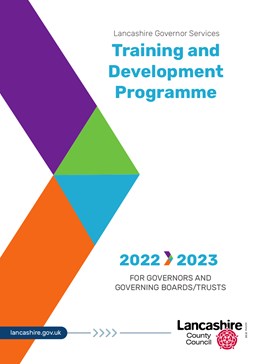 Ask your school to create you an account or to book you a course place.
Lancashire Professional Development Service have been providing high-quality, professional training and development for over twenty-five years. The team offer a comprehensive range of consultancies, courses and conferences which cover the full range of curriculum, teaching and learning, and leadership needs.
Our well established and highly regarded team of Teaching and Learning Consultants design tailor-made professional learning opportunities and consultancy packages for schools, multi-academy trusts, clusters and other settings. LPDS support is readily available across Lancashire, the North West and further afield.
The Lancashire Grid for Learning (LancsNGFL) website has recently been integrated here, providing you with a simplified and user-friendly way of accessing both CPD and subscription content*. Throughout the site you will find a wealth of information including guidance, resources, updates, best practice, links to training opportunities, and publications to use in school.
 *Paid subscription required, more information.
Recent Publications
Link to the old LancsNGFL email client.
For support please follow this link.
The Schools' Portal provides secure access to a number of online systems, including an electronic post system, traded services and a range of information aimed at supporting schools across Lancashire.