Learning and Progression Steps (LAPS) - Mathematics
£50.00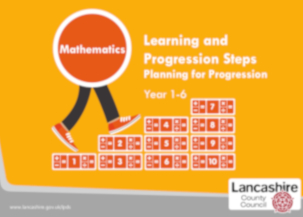 The Learning and Progression Steps (LAPS) are designed to scaffold the learning required in order to meet the expectations of the National Curriculum in Mathematics. Statements in the Lancashire Key Learning for Mathematics document have been broken down into smaller steps to support teachers in planning appropriate learning opportunities. These key pieces of learning will support pupils in becoming fluent in the knowledge and skills of the curriculum and ensure that the learning is effective and sustained.

The number of steps is dependent on the learning and do not constitute expectations for the end of each term.

The final step in the progression for each strand of learning is the end of year expectation.

The Learning and Progression Steps (LAPS) have been derived from the Lancashire Key Learning in Mathematics statements, identified primarily from the National Curriculum programmes of study.
How might Learning and Progression Steps (LAPS) in Mathematics be useful?
Learning and Progression Steps (LAPS) may be used in a number of ways. For whole class teaching, LAPS may be used to support differentiation. When planning, it may be appropriate to use LAPS statements to inform learning objectives for a session or number of sessions. Learning and Progression Steps (LAPS) in Mathematics should be selected according to the learning needs of the individual or group. Emphasis however, should always be on developing breadth and depth of learning to ensure skills, knowledge and understanding are sufficiently embedded before moving on.

The LAPS should not be used as an assessment tool, but they can inform teachers about children's progress towards the end of year expectations at the end of each term.
Please note this maths publication is electronic and will be sent to the email address used during purchase. If you have not received it within 5/10 minutes please check your spam/junk folder. The email link received will be live for only 10 days, please download the publication and save it to your computer.
This publication is subject to 20% VAT for non LCC Maintained Schools.