Lancashire Mathematics Assessment Tests - Key Stage 1 - Spring Term
£30.00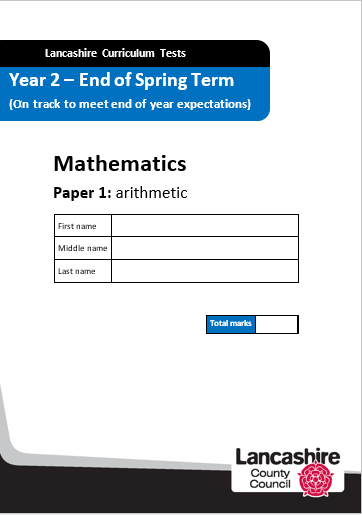 The Lancashire Mathematics Assessment Tests are designed to support teachers in confirming their teacher assessments at the end of each term.
They complement the Lancashire Mathematics Planning Support Disc, the Mathematics Learning and Progression Steps (LAPS) and also the Lancashire KLIPs Assessment system. They can, however, be used alongside any other assessment systems.
The end of Spring term tests assess only the content of the mathematics curriculum that has been covered within the Planning Support Disc for that term. The questions are also pitched against a realistic expectation of what children should have achieved up to that point in time, which corresponds to the first parts within the Learning and Progression Steps. This ensures the assessments for the end of the Spring term are not against end of year expectations.
This means that the tests will only measure whether a child is either on track to achieve the end of year expectations or whether they are not. The results will not give a precise attainment score for children working outside of the year group expectations, however, if a child in Year 2 is suspected of achieving in line with a child beginning to learn the Year 1 curriculum, then they could sit the Year 1 tests to confirm a teacher assessment of 'Entering' Year 1.
The end of Spring term tests will assess whether a child is on track to achieve the end of year expectations at that point in time. The end of Summer term tests will assess whether a child has achieved the end of year expectations for that year.
The tests are designed to resemble the national end of key stage tests in both appearance, structure and question design. They will therefore support children in becoming familiar with the national end of Key Stage tests.
The Lancashire Mathematics Team will not produce a marking threshold to indicate attainment as the tests are intended to be used to support the teacher's professional judgement of the children's abilities.
Test analysis grids will be available through our website or will be sent to schools who have purchased the tests but do not subscribe to the website.
There will be a facility for schools to submit their data to us in order that we can collate the information and make it available to schools for comparison.
Please note this maths publication is electronic and will be sent to the email address used during purchase. If you have not received it within 5/10 minutes please check your spam/junk folder. The email link received will be live for only 10 days, please download the publication and save it to your computer.
This publication is subject to 20% VAT for non LCC Maintained Schools.