Fast Track Phonics
£40.00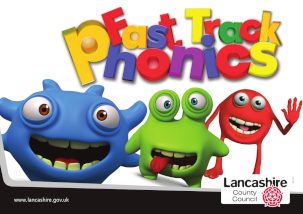 Through phonics, children will develop key skills to help them achieve as readers and writers. Most pupils will reach the expected level of understanding through following a systematic daily phonics programme. However, some pupils may have more difficulty in acquiring these skills and for these children a phonics catch up programme may be required.
Fast Track Phonics has been developed to support children in Year 2 who did not achieve at the expected level in the Year 1 Phonics Check. It is designed to address gaps in learning. It is not intended to take the place of the daily phonics session, but would ideally be run in addition. It is not for pupils who have identified special needs and a more intensive one to one programme may be more appropriate for these children.
Fast Track Phonics is a 14 week programme which focuses on the key skills of all good phonics programmes which are:
Grapheme/phoneme correspondence.
Blending to support reading.
Segmenting to support spelling.
Blending and segmenting as reversible processes.
This package consists of a hardcopy book and electronic resources. The hardcopy book will be sent via royal mail, the electronic resources will be received by return email. Please check your spam/junk folder if they are not received within 5/10 minutes.