A1 Science Posters ALL FOUR POSTERS (Postage and Packaging)
£36.00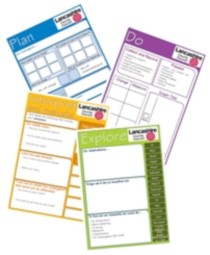 A1 Posters
These provide children with a structure to be able to carry out Fair Test investigations.
Explore:
To get the children to be inquisitive and ask questions about what they want to investigate further.
Do:
Giving children a choice of how the results could be collected
Plan:
It is only by carrying out a fair test that children can be sure that it is what has been changed (independent variable) that is affecting what is measured (dependent variable).
Interpret & Evaluate:
Scaffolded prompts to get the children thinking about what makes a scientific conclusion.
This publication is subject to 20% VAT for non LCC Maintained Schools.