Nursery On-Entry Observational Assessment
£10.00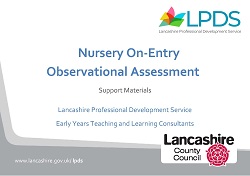 These on–entry assessment materials will support practitioners to set up relevant and appropriate provision, including resources, within the nursery classroom, to enable them to make relevant observations of what children know, understand and can do on entry to nursery. The materials offer prompts across all seven areas of learning and development and the characteristics of effective learning.
Sample activities are provided across ten areas of provision to support practitioners to choose from and engage children in open-ended but purposeful activities.
These materials can be used alongside other baseline assessment activities and will support practitioners in making an accurate judgement of a child's skills, knowledge and understanding on entry to nursery. For five term Nursey children you could focus on the prime areas and three term Nursery children both the Prime and Specific areas.
Please note this publication is electronic and will be sent to the email address used during purchase. If you have not received it within 5/10 minutes please check your spam/junk folder. The email link received will be live for only 10 days, please download the publication and save it to your computer.
This publication is subject to a charge of 20% VAT for non LCC Maintained Schools.
If your school has an SSG you can access this document for free via the LPDS website, Teaching and Learning, Early Years, SSG Content.