History Units Planning Guidance - Local Black History
£30.00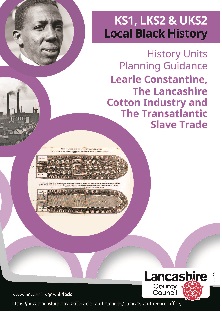 The three Local Black History units featured within this publication seek to address the lack of balance and diversity that can occur when we 'whitewash' history and neglect to tell the stories of people from different cultures and backgrounds. Children from different ethnicities and cultures, within our school communities, will feel a sense of belonging and motivation when they can 'see themselves' in history. They will be inspired by significant individuals such as Learie Constantine and Olaudah Equiano. When learning about the Lancashire Cotton Industry (including where our cotton came from) and the Transatlantic Slave Trade, pupils will begin to understand how Britain has influenced and been influenced by the wider world.
The three units presented here are deliberately connected and provide a thread that can run throughout KS1, LKS2 and UKS2. They draw attention to important concepts, frequently revisiting them whilst building in regular retrieval opportunities. When children make deliberate connections between sets of information then images, objects and sounds can trigger memories and help recall. This approach supports secure retention unlocking rapid later recognition of these key concepts and ensuring children learn and remember more.
The lives of significant individuals in the past who have contributed to national and international achievements - Learie Constantine - Key Stage 1
A study or theme in British History that extends pupils' chronollogical knowledge beyond 1066 - The Lancashire Cotton Industry - Lower Key Stage 2
A local history study - The Transatlantic Slave Trade - Upper Key Stage 2
Thank you to Lancashire Archives for their significant support in developing these materials.
This publication includes an electronic booklet of planning guidance and also an electronic folder of artefacts for use within each unit.
Please note this publication is electronic and will be sent to the email address used during purchase. If you have not received it within 5/10 minutes please check your spam/junk folder. The email link received will be live for only 10 days, please download the publication and save it to your computer.
The publication is subject to 20% VAT for non LCC Maintained Schools.