Planning for Learning - to support the EYFS Statutory Framework 2021
£25.00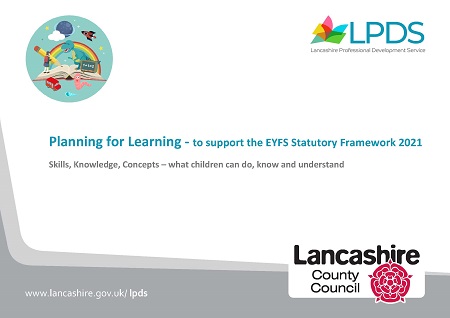 Skills, knowledge, Concepts – what children can do, know and understand.
This document has been updated to support the EYFS Statutory Framework in light of the forthcoming changes to the Early Learning Goals in 2021-2022. The document now includes the Educational Programmes and Early Learning Goals.
The purpose of this publication is to support practitioners in EYFS (nursery and reception) with planning a curriculum to meet the learning needs of the children in their school or setting. The document identifies an overview of the key learning (skills, knowledge and concepts) across all seven areas of learning and development to support learning within the EYFS phase to prepare children for their next stage of education.
Schools can reflect on the key learning outlined in this document and identify those which are appropriate for the needs of their children and, if necessary add additional skills, knowledge and concepts specific to the context of the school or a particular cohort.
As the Early Learning Goals are used to assess a child's attainment at the end of EYFS, this document will support practitioners in planning and providing a curriculum which goes beyond that which is assessed.
Also included is a leaflet that signposts the new ELG's to the appropriate 'opportunities' and 'activties' pages within the planning support framework publication (PBL555).
Please note this publication is electronic and will be sent to the email address used during purchase. If you have not received it within 5/10 minutes please check your spam/junk folder. The email link received will be live for only 10 days, please download the publication and save it to your computer.
This publication is subject to 20% VAT for non LCC Schools.