Sectors 'R-T'
Arts, entertainment, recreation and other services
Introduction
This article is one of a series that considers the employment and economic value of various sectors of the Lancashire economy. Please see the sector profiles introduction page for details of where we derive the employment and gross value added results, plus how we identify various organisations in Lancashire as belonging to particular sectors. 
Arts, entertainment and recreation activities (sector R) span both the private and public sectors. Activities range from football clubs, theatres, amusement parks, gambling and betting operations to local authority libraries, museums and leisure centres. It includes such activities as membership and professional organisations, trade unions, religious and political organisations and special interest groups, etc.
Other services activities (sector S) is a residual category that captures the activities of membership organisations, plus the repair of computers and personal and household goods. It also includes personal service activities not covered elsewhere such as hairdressing and other beauty treatment, funeral and related activities, dating services, pet care, tattooing and piercing studios etc.  
Sector T covers the activities of households such as employment of domestic personnel. Please note that sector T contains no employment numbers but does have an estimate of economic value generated.
The sectors cover the standard industrial classifications 90.0 to 98.2. 
The economic value of arts, entertainment, recreation and other services  
Gross Value Added (GVA) is generally regarded as the best measure of the sum of economic activity within an area. Local estimates of gross value added (GVA) are published by the Office for National Statistics that are split by various industrial sectors. The estimates of GVA for 2014 reveal that sector R accounted for a £487 million which represented 1.8% of the total GVA figure for the Lancashire 14-authority area. Sector S accounted for £639 million or 2.3% of the total, and sector T, £114 million or 0.4%.
Employment
Arts, entertainment, recreation and other services has had an employment total in the Lancashire-14 area of 27,200. In 2014. Working owners comprise around 900 whilst the employees show a very small bias towards more part-time than full-time employment.
Table 1 Arts, entertainment, recreation and other services, Lancashire-14 area, 2014
Employment status
2014
No
%
Full-time employees
13,100
49.8%
Part-time employees
13,200
50.2%
Total employees
26,300
100%
Total employees and working owners
27,200
---
Source ONS – Business Register and Employment Survey
Figure 1 Arts, entertainment, recreation and other services employment by district, 2014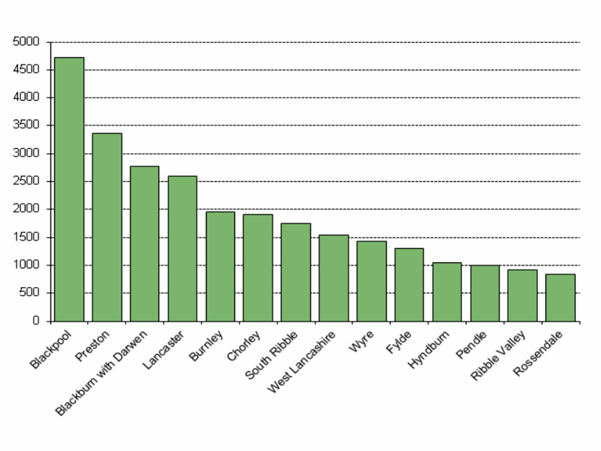 Source ONS – Business Register and Employment Survey 
Employment at the local authority level and selected businesses
At the local authority level, Blackpool, with its strong visitor and tourism economy, has the largest number in employment in the sector. In the town, larger employers include Blackpool Pleasure Beach, the Winter Gardens Complex and the Opera House theatre. The running of the Winter Gardens complex is undertaken by Crown Entertainment Centres Ltd and Blackpool Borough Council. The operation of the Blackpool Tower and Circus, Madame Tussaud's Waxworks and the Tower Ballroom is undertaken by Blackpool Borough Council and Merlin Entertainments Ltd in the resort.
Gambling activities are classified within this industry sector and the government's gambling commission website contains a web page that contains registers of licensed businesses, individuals and premises. The register of gambling premises has a search and download facility. The register of premises includes the addresses of betting shops, adult gaming centres, family entertainment centres, bingo plazas and casinos. Please note that in May 2021, that the gambling commission's web site appeared to be being developed and was not functioning properly.
Preston had an employment total of 3,400 in this sector. Two businesses in the authority that are classified to this sector are Johnsons Apparelmaster Ltd, which is within the washing and dry-cleaning of textile and fur products sub-sector. Comply Direct offers a government approved compliance scheme for packaging in line with waste regulations. The company is classified under activities of other membership organizations not elsewhere classified.
The employees of local sporting/athletic clubs, including professional football teams are allocated to this sector. The larger professional football clubs in the county can be amongst the biggest employers in an authority.
Employees working in marinas are allocated to this broad sector. The Barton Grange Group has an 80-berth marina bordering the Lancaster canal, whilst Bridge House Marina, Moons Bridge Marina and the Tewitfield Marina are also located on the Lancaster canal.  The Leeds and Liverpool canal is home to St Mary's Marina, the neighbouring Fettler's Wharf Marina in Rufford, and the nearby Scarisbrick Bridge Marina. Reedley Marina is near Burnley, and there is the nearby Lower Park Marina in Barnoldswick. BWML operates three marinas in Lancashire that include Glasson Basin. There is also  Preston Marina and Fleetwood Marina.
Local authorities employ a number of people at various establishments that are allocated to this sector. Examples include the Harris Museum and Art Gallery in Preston, the Marine Hall in Fleetwood and the Duke's Theatre in Lancaster. The Thwaites Empire Theatre in Blackburn is an example of a theatre that is managed by a charitable trust. Please also see the county council's museum service website.
Professional business organisations covered by this sector include the North West Aerospace Alliance in South Ribble district and Business and the North and Western Lancashire Chamber of Commerce.
S&S Northern on the outskirts of Chorley is involved with the design, manufacture and installation of gas pressure proving and gas detection equipment, and is classified under the generic heading of 'other service activities not elsewhere classified.'
Crow Wood Leisure Lld, operate a popular sports/leisure facility near Burnley.
Page updated October 2015 (Amended 26 May 2021)