Sectors 'L-N'
Real estate, professional, scientific and admin
Introduction
This article is one of a series that considers the employment and economic value of various sectors of the Lancashire economy. Please see the sector profiles introduction page for details of where we derive the employment and gross value added results, plus how we identify various organisations in Lancashire as belonging to particular sectors. 
Real estate, professional, scientific and technical activities, and administrative and support service activities form a largely office-based white-collar sector encompassing many professional, engineering and scientific occupations, but it also includes lower value added blue collar activities like industrial cleaning, security activities and contract packaging. The range of activities undertaken is very wide and includes such services as:
real estate
legal
accountancy, auditing and tax advice
management consultancy activities
architectural and engineering activities and related technical consultancy
advertising and market research
specialist design activities
translation and interpretation
quantity surveying
investigation and security activities
cleaning and maintenance
photographic activities/ film processing
veterinary activities
rental and leasing
travel agencies
office administrative and support
The sector covers the UK 2007 standard industrial classifications 68.10 to 82.99, or sections L, M & N.
The economic value of real estate, professional, scientific, technical, administration and support activities
Gross Value Added (GVA) is generally regarded as the best measure of the sum of economic activity within an area. Local estimates of gross value added (GVA) are published by the Office for National Statistics that are split by various industrial sectors. The estimates of GVA for 2014 reveal that sector L accounted for a sizeable £2,804 million which represented 10.1% of the total GVA figure for the broader Lancashire 14-authority area. Sector M accounted for £1,243 million or 4.5% of the total whilst £1,014 million (3.7%) was allocated to sector N.
Employment
Providing a substantial employment figure of 80,900 in 2014, real estate, professional, scientific and technical activities, along with administrative and support services are together a very important constituent of the Lancashire-14 area economy. They account for 13.0% of the total local employment, but they remain considerably under-represented compared with the 18.5% employment share for Great Britain.
The sectors encompass many high value professional jobs, but they also include jobs at the lower end of the income scale. For instance, services that have been outsourced by public and privates sector organisations such as cleaning, catering, payrolls, pensions, administration and call centres.
The spit between full-time and part-time employees (see Table 1) in Lancashire is 73.1% full-time and 26.9% part-time.
Table 1 Real estate, professional, scientific, technical, administration and support employee/employment profile by work pattern, Lancashire-14 area, 2014
Year
2014
No
%
Full-time employees
56,800
73.1%
Part-time employees
20,900
26.9%
Total employees
77,600
100%
Employees and working owners
80,900
---
 Source ONS – Business Register Employment Survey
Table 2 lists employment levels over recent years by the three main sub-sectors. 
Table 2 Employment in real estate, professional, scientific, technical, administration and support, Lancashire-14 area, 2014 
| | | | | |
| --- | --- | --- | --- | --- |
| Year | Real estate activities (Sector L) | Professional, scientific and technical activities (Sector M) | Administrative and support service activities (Sector N) | Total |
| 2014 | 8,800 | 34,600 | 37,500 | 80,900 |
Source ONS – Business Register Employment Survey
The overall importance of these three sectors to the economy is not just derived from the employment they provide, but also from the facilitating role they bestow to other sectors. As such, they impact on the competitiveness of the economy as a whole.
Sub-sectors such as cleaning and maintenance services saw strong growth during the 1980s and early 1990s as a result of a transfer of jobs from other manufacturing and service sectors. Private sector companies outsourced activities as a quick fix for an immediate problem or a simple cost-cutting exercise. In the public sector, government requirements on local authorities and the National Health Service led to the outsourcing of certain services.
Nowadays, organisations outsource activities such as cleaning, catering, security, payrolls, pensions, administration, human resources information technology and call centres. The aim is to achieve financial savings, allow a stronger focus on core business competencies, and to develop strategic alliances with suppliers or partner organisations.
Local authority level results
Preston has the largest employment number in this combined sector with 13,400, reflecting the district's importance as a sub-regional administrative and commercial centre. Fylde was in second position with 9,100, whilst Chorley had 8,600.  Together, these three authorities accounted for 38.4% of the total employment for these combined sectors in the Lancashire-14 area.
Figure 1 Real estate, professional, scientific, technical, administration and support employment by district, 2014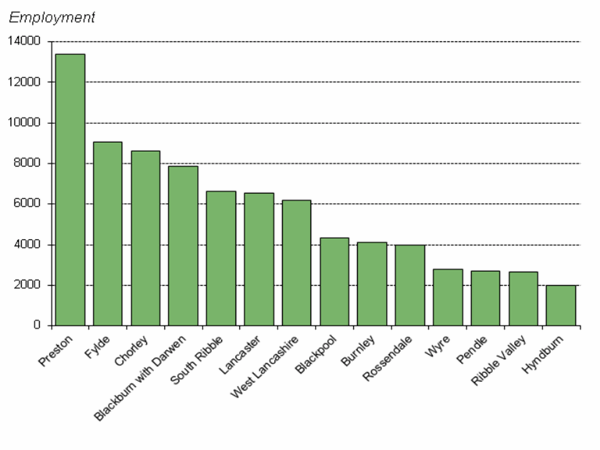 Source ONS – Business Register Employment Survey
This rather disparate group of industrial classifications contains many sub-sectors that are characterised by low entry barriers, relatively high business formation rates and intense competition. In contrast, a few sectors such as legal services, such as solicitors, are specialist areas that contain well established businesses and until recently, high barriers to entry. Recent legal reforms, such as the Jackson Reforms, reductions in legal aid funding and the implementation of the 2007 Legal Services Act in October 2011, which aims to increase competition, mean that existing companies within the legal profession are under pressure to innovate and adapt to the new environment.  Consumer law services can now be provided by non-legal businesses such as banks and supermarkets.
Selected employers
There is a wide variety of interesting businesses and activities in the Lancashire-14 area that are allocated to this sector. Millbrook, based in Bedford, owns the Leyland test facility (formerly part of the CSA Group) that provides analysis, development, testing and consultancy services across a number of sectors including aerospace, automotive, rail, military and green technologies, whilst Synexus is a clinical trials company with a site near Chorley.
Inspired Energy is said to be one of the largest energy consultants in the UK, specialising in energy procurement. Connect 2 Cleanrooms near Lancaster is a company that specialise in modular cleanrooms, and is classified under other business support services.
Azotic Technologies near Chorley is classified under sub-heading 72110: research and experimental development of biotechnology.
Within the real estate activities sub-sector, examples of local firms include Ince Williamson and Red Rose estate agents    Mortimers, Farrell Heyworth, and Dewhurst homes. Also worth a mention is the Burnley firm Petty, whilst Bailey, Deaken and Hamiltons market an extensive range of commercial properties especially in central Lancashire. Rural estate management remains at the heart of the West Lancashire firm of Ackland and Bracewell.  Pendle Projects is in Kelbrook and is involved in a number of sites in Lancashire and beyond.
The professional, scientific and technical activities section includes Cassidy & Ashton design services in Preston and Farleys Solicitors. Danbro provides accountancy and payroll services to organisations throughout the UK.
Administrative and support service activities include Assured cleaning services, a contract cleaning company based in Preston; the global strategic outsourcing and asset management company Cleanall Services, and AM Support Services
Granby Marketing Services is a Blackburn company that provides a range of integrated multi channel contact, handling, outsourcing and fulfilment services.
Fairport Engineering is classified under engineering design activities for industrial process and production the company represents a good example of how the distinction between manufacturing and service sector companies can sometimes be not that clear.
Motionlab  in Preston is a design and digital marketing agency. Also in Preston, Helloeveryone is a marketing agency that offers a range of services that include online marketing, web design and graphic design.   
Businesswise Solutions is a Nelson firm that specialises in energy procurement, cost reduction and auditing.  
NCO Europe in Preston offers debt recovery, collections and outsourcing services. 
Travel agencies/tour operators include the Welcome Cottages in Earby, Alfatravel with a site in Chorley and a well established travel agency based in East Lancashire is Althams Travel. Cruise 118 is also based in Chorley.
Advantage Waste Brokers in Preston offers a WEEE (waste electrical and electronic equipment) compliance scheme that operates across the UK. The company is listed under other business support services not elsewhere classified.
Page updated June 2016