Sectors 'H' and 'J'
Transport, storage, information and communication
Introduction
This article is one of a series that considers the employment and economic value of various sectors of the Lancashire economy. Please see the sector profiles introduction page for details of where we derive the employment and gross value added results, plus how we identify various organisations in Lancashire as belonging to particular sectors. 
Together, the sectors of transport and storage (H), plus information and communication (J), cover the standard industrial classifications 49.10 to 53.20, and 58.11 to 63.99.  
The economic value of transport, storage, information and communication
Gross Value Added (GVA) is generally regarded as the best measure of the sum of economic activity within an area. Local estimates of gross value added (GVA) are published by the Office for National Statistics that are split by various industrial sectors. The estimates of GVA for 2014 reveal that sector H accounted for a £1,084 million which represented 3.9% of the total GVA figure for the Lancashire 14-authority area. Sector J accounted for an additional £972 million or 3.5% of the total.
Employment
Within the Lancashire-14 area, the transport, storage, information and communication industry provides 35,700 jobs which represents 5.7% of the total employment figure. This share however is noticeably lower than the 8.4% recorded at the national level.
Table 1 Employment in transport, storage, information and communication, Lancashire-14 area 
| | | | |
| --- | --- | --- | --- |
|   | Transportation and storage | Information and communication | Total |
| 2009 | 20,700 | 14,000 | 34,700 |
| 2010 | 20,600 | 14,000 | 34,600 |
| 2011 | 19,400 | 16,700 | 36,100 |
| 2012 | 20,700 | 15,300 | 36,000 |
| 2013 | 21,500 | 14,400 | 35,900 |
| 2014 | 20,900 | 14,800 | 35,700 |
Source ONS – Business Register Employment Survey
Blackburn with Darwen and Preston, each had around 4,500 jobs in these two sectors in 2014, whilst South Ribble West Lancashire and Lancaster also had notable employment totals.
Figure 1 Transport, storage, information and communication, employees by district, 2014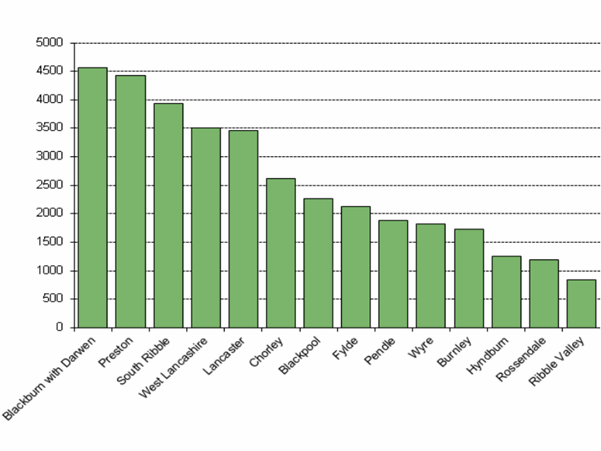 Source ONS – Business Register and Employment Survey 
Major employers
Within transportation and storage, there are a large number of courier/ road haulage companies. Examples of major local road freight logistics firms include Preston-based Montgomery Transport Ltd, Fagan & Whalley Ltd of Burnley; CSH Transport & Forwarding Ltd in Blackburn and Graylaw Freight Group based in Skelmersdale. 
Numerous public transport operators provide wide range of local scheduled bus services across the county including Transdev Lancashire, and Preston Bus. The tram system along the Fylde coast between Starr Gate and Fleetwood forms part of the operations of Blackpool Transport. There is also the Carnforth based rail operator West Coast Trains.
Heysham Port is owned by the Peel Group and the Glasson Group operates Glasson Dock to the south of Lancaster. 
Parkingeye is a Chorley firm that uses technology to monitor car parks, as well as offering more traditional parking attendant services.
The information and communication sector includes some large national and international employees. British Telecom and the Royal Mail maintain dominant positions within the communications sector and are spread across numerous sites within the county.
Elite Telecom in Chorley is a business telecoms service provider, whilst Daisy which is also a supplier of business communications and has its head office in Nelson and is a company that has seen rapid expansion over recent years. 
Well established Lancashire companies include AMA Dataset is based at Bamber Bridge near Preston and specialises in data gathering, content management, automated typesetting and online publications, and the web design and multimedia specialist Winter & Kidson Multimedia in the Ribble Valley.
Secure Assure Ltd is near Chorley and offers IT support and security services to businesses. The Kirkham company. Celerity, offers secure IT Infrastructure solutions and services to clients.  In the Lancaster area, Fat Media specialises in designing websites and digital marketing.  Accessplanit is classified under the 'other software publishing' sub-section, and Like Technologies provides software and hardware development services.
Tharstern in Colne, is a well-established company that supplies software relating to management and workflow information. SearchQuest is a Lancaster firm that offers services such as digital marketing, web design and branding.  
Page updated October 2015
Page amended 8 October 2018
Page amended 4 May 2021