Sector 'Q'
Human health and social work activities
Introduction
This article is one of a series that considers the employment and economic value of various sectors of the Lancashire economy. Please see the sector profiles introduction page for details of where we derive the employment and gross value added results, plus how we identify various organisations in Lancashire as belonging to particular sectors. 
The breadth of human health activities and providers is extremely wide and ranges from large public and private institutions like hospitals and medical nursing homes, through dental and general medical practices, to other human health activities, including those undertaken by paramedical practitioners.
There is no clear dividing line between human health and residential care, with the latter providing both charitable and non-charitable social services with accommodation including homes for the elderly and disabled, mental health and substance abuse. Social work activities without accommodation include facilities for the elderly, disabled and child-care activities.
This broad sector contains workers with a wide range of skills and responsibilities, and encompasses a large number professionally qualified staff, e.g. hospital doctors, general practitioners, nurses and ambulance staff.
The sector covers the standard industrial classifications 86.10 to 88.99. 
The economic value of the human health and social work activities
Gross Value Added (GVA) is generally regarded as the best measure of the sum of economic activity within an area. Local estimates of gross value added (GVA) are published by the Office for National Statistics that are split by various industrial sectors. The estimates of GVA for 2014 reveal that human health and social work activities accounted for £2,529 million which represented 9.1% of the total GVA figure for Lancashire 14-authority area.
Employment
Human health and social work is a major and complex economic activity in Lancashire. In terms of workforce size it is by far the largest single local employment sector with a substantial 99,100 employees and working owners in 2014. This equates to 15.9% of total employment in the Lancashire-14 area which is above the GB average of 13.1%.
Table 1 emphasises the fact that there is a large proportion of employees (42.2%) that work part-time in the Lancashire-14 area. 
Table 1 Human health and social work employee/employment profile, Lancashire-14 area, 2014 
Employment status


2014
No
%
56,300
57.8%
Full-time employees
41,100
42.2%
Part-time employees
97,400
100%
Employees and working owners
99,100
---
Source ONS - Business Register and Employment Survey
Table 2 details the human health and social work employment numbers in the Lancashire-14 area by the three main sub-sectors.
Table 2 Human health and social work employment, Lancashire-14 area, 2014 
| | | | | |
| --- | --- | --- | --- | --- |
| Year | Human health activities | Residential care activities | Social work activities without accommodation | Total  |
| 2014 | 54,400 | 18,200 | 26,600 | 99,100 |
Source ONS - Business Register and Employment Survey 
Employment at the local authority level
As a basic local service, employment has to be spread across the sub-region, but at the local authority level Preston, with an employment level of 15,000, had the largest total of any Lancashire authority. The local importance of the sector is also apparent in Blackburn with Darwen and Blackpool, where employment numbers were 13,700. In contrast, Rossendale district had 2,900 peopled allocated to the sector.
Figure 1 Human health and social work employment by district, 2014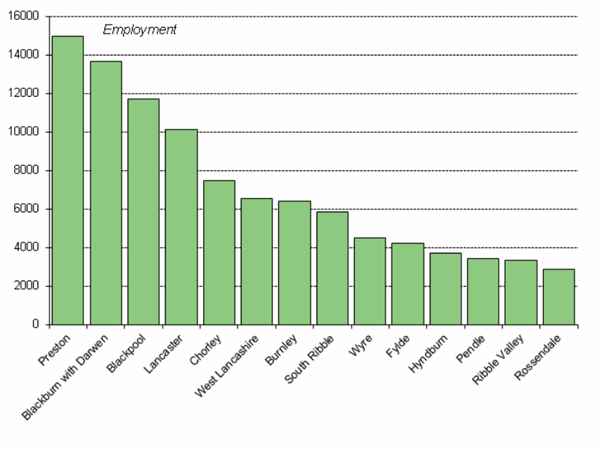 Source ONS - Business Register and Employment Survey 
NHS in Lancashire
From April 2013, there has been eight clinical commissioning groups that together cover the whole of the Lancashire-14 area.  
NHS trust hospital boundaries do not coincide with local authority boundaries. East Lancashire Hospitals, Lancashire Teaching Hospitals and Blackpool Teaching Hospitals have sites that are only in Lancashire, whilst Southport and Ormskirk; and the University Hospitals of Morecambe Bay have hospitals both within Lancashire and outside the county boundary. In addition, Wrightington Hospital in Appley Bridge is in West Lancashire district but the remaining sites in the trust are outside the county.
Other NHS trusts in Lancashire include the Lancashire Care NHS Foundation that provides mental health services for adults and older people and substance misuse services. It has a range of sites across the broader Lancashire area. 
Local authorities
A number of people who work for Lancashire County Council and the two unitary authorities of Blackburn with Darwen and Blackpool are classified to the health and social work section. In the case of the county council, the organisation provides a range of services for older people and the employees will be classified under health and social work.
The independent healthcare sector
The employment survey does not allow a distinction to be made between employees in the public, voluntary or private sector, therefore an estimation cannot be made of the scale of each sector in employment terms. Services provided by the independent (private and voluntary) healthcare sector include:
hospitals;
private doctors;
hospices;
maternity units;
services that provide mental health care and treatment;
services that terminate pregnancies;
kidney dialysis or endoscopy services;
clinics that offer cosmetic surgery; and
clinics that offer cosmetic procedures that involve lasers or intense pulsed lights.
Private sector hospitals in Lancashire include Spire Fylde Coast Hospital in Blackpool. Ramsey Healthcare has three hospitals in Lancashire in Preston, Chorley and Ormskirk. The website for BMI Healthcare states that it is the UK's Largest Private Hospital Group. The group has hospital sites in Blackburn, Lancaster and Ribble Valley.
There is very considerable private and voluntary sector provision of services and this has grown substantially over recent years with the active encouragement of government agencies. There are too many private sector providers to list in full but amongst some of the larger organisations are the Abbeyfield Society, a UK-wide volunteer led charity providing housing with support car for older people. The website lists a number of sites in the county.
The Anchor Trust offers housing support and care for older people across Lancashire. Barchester Healthcare offers nursing and personal care for older people; Century Health Care nursing and residential care; and St Catherine's Hospice provides palliative care for children and adults.
Parkwood Healthcare Ltd is part Parkwood Holdings plc and both organisations have office space in Bamber Bridge. The healthcare side of the group provides skilled nursing and care staff.
Spiral Health is a community interest company with two sites along the Fylde Coast. It represents somewhat of a mid-point between the NHS and the private-sector provision of healthcare. 
The Lancashire Care Homes Association is an organisation that represents care providers across the broader Lancashire area. The website lists a large number of care and nursing homes, along with domiciliary care agencies in the area. The details are listed to by major urban localities across the county.
Page updated October 2015