Sector 'G'
Wholesale, retail and motor vehicles
Introduction
This article is one of a series that considers the employment and economic value of various sectors of the Lancashire economy. Please see the sector profiles introduction page for details of where we derive the employment and gross value added results, plus how we identify various organisations in Lancashire as belonging to particular sectors. 
Wholesale, retail and repair of motor vehicles covers the standard industrial classification codes 45.11 to 47.99.
The economic value of the wholesale, retail and repair of motor vehicles
Gross Value Added (GVA) is generally regarded as the best measure of the sum of economic activity within an area. Local estimates of gross value added (GVA) are published by the Office for National Statistics that are split by various industrial sectors. The estimates of GVA for 2014 reveal that wholesale, retail and repair of motor vehicles accounted for approaching £3.4 billion which represented 12.5% of the total GVA figure for the broader Lancashire 14-authority area. This was the second highest percentage after the manufacturing sector.
Employment
In the Lancashire -14 area, employment in the sector whole amounted to 105,400 people in 2014. This represented a significant 16.9% of all employment in Lancashire, which is larger than the Great Britain average of 15.8%.
In the Lancashire-14 area, part-time employment accounted for 38.3% of total employment in the sector. The results also reveal that working owners make a contribution to the overall employment total of around 4,000.
Table 1 Wholesale, retail and repair of motor vehicles, Lancashire-14 area, 2014 
Employees/employers 
2014
No
%
Full-time workers
62,600 
61.7% 
Part-time workers
38,800 
38.3% 
Total employees
101,400 
100% 
Employees and working owners
105,400
---
Source: ONS – Business Register Employment Survey
At the local authority level Preston, with 15,200, had by far the largest number of jobs in this broad sector. Blackpool and Blackburn with Darwen were in second and third places respectively each with over 9,500.  Rossendale and Ribble Valley recorded the smallest totals in Lancashire, but even in these two authorities, totals of over 3,800 were recorded.
Figure 1 Wholesale, retail and repair of motor vehicles employment by district, 2014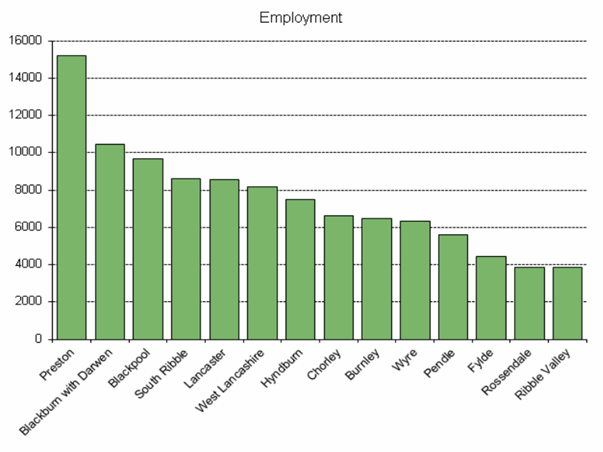 Source ONS – Business Register Employment Survey  
Selected wholesalers in Lancashire
Wholesalers in Lancashire cover an enormous range of products and services. Examples of such businesses include: Askew & Holts, suppliers of books to libraries, based in Preston; Bako North Western, bakery products ingredient suppliers; Flowtech, Skelmersdale-based catalogue distributors of fluid power and industrial products; James Hall & Co, Spar distribution for the north of England from its Preston base; HTI Group, Fleetwood toy and giftware manufacturer and distributor; Lynteck Group of Nelson, distribution of electronic security systems; Exertis, Accrington-based distribution of IT and technology products; and Sharrocks Fresh Produce, Preston wholesalers and distributors to supermarkets and caterers.
Wellocks is a Nelson firm established in 1961 that specialises in the supply of food products, and Trilanco is a specialist animal health products wholesaler.  
TVS Supply Chain solutions near Chorley specialise in providing components and products within the automotive, beverage, industrial and defence markets. SMD (Holdings) in Preston designs, manufactures and sells textiles, whilst Tom Martin & Company is a well-established non-ferrous scrap metal merchant that is classified under the sub-sector of wholesale of waste and scrap. Direct Poultry Supply near Preston is an established wholesaler of meat products.
Tom Parker Ltd, in Preston distributes a wide range of fluid power products, whilst Havwoods in Carnforth is involved in the wholesale of wood flooring. Healthpoint Ltd in Blackpool supplies health and beauty products to retailers.
Selected retailers and motor vehicle repairs in Lancashire
By far the largest single component of the retail trades in Lancashire is sales through non-specialised stores in which sales of food and drink predominate (i.e. mainly supermarkets). A well known local specialist is Booths. Amongst the general non-specialist stores (e.g. department stores) is the Lytham-based company of Stringers. Stokers is an old established furniture retailer with an outlet in Ormskirk, whilst the Clitheroe department store Dawsons has also been trading for many years.      
Mail order or home shopping in the county is represented by Studio, which has a large presence in East Lancashire.  The Original Factory Shop is a growing retail-chain that has its headquarters in Burnley. Beaverbrooks the Jewellers Ltd has its main point of contact on the web as an address in Lytham St. Annes. Ribble Cycles has its main base at Walton Summit to the south of Preston.  
Euro Garages is one of the UK's largest privately-owned forecourt operators and has its headquarters in Blackburn. The company specialises in modern petrol stations that are not just about purchasing fuel but delivering a broad retail convenience offer.
In the motor trades sector local companies include Ciceley Commercials Ltd, in Darwen, Pye Motors Ltd, Morecambe-based Ford dealers; Bowker Preston Ltd, BMW and Mini dealership; and Bay Horse Autos in Blackburn. The Bugle Inn Motor Company in Chorley owns a number of dealerships including Chorley Nissan.
Hills (Ormskirk) specialises in vehicle dismantling and the sale of vehicles and parts, whilst Willam Loughran in Preston specialises in rare and premium motor cars.
Retail employment concentrations can be found in a variety of shopping centres and major retail outlets across the county. The sites include examples of former mill premises that have found excellent new leases of life as successful retail/ leisure destinations that are popular with both residents and visitors to the county.
CME Medical in Blackpool, are classified under the retail sale of medical and orthopaedic goods in specialised stores.
The old Lancashire businesses article highlights a number of well-established Lancashire retail and wholesale firms.  
There a number of Lancashire businesses that specialise in retail sales via the internet. These include Thingimijigs Ltd in Burnley.
General characteristics
The wholesale sector in the county has seen a number of investments in strategically located warehousing on industrial sites served by good transport links. The traditional role of the wholesale sector as intermediaries or "middle men" in supplying warehousing and distribution services is still a strong and important one but has changed with the development of technology and logistics management to handle just-in-time arrangements, and improved supplier/customer relationships.
Retail is a relatively labour intensive and typically a low wage activity associated with modest skill requirements, but is nonetheless a sector that makes a substantial contribution to the national and local economy. A large proportion of a consumer's expenditure is spent in shops. Retailers operate in a competitive and low margin environment with a high level of market concentration in the hands of supermarkets and other large multiples.
The market for motor vehicle purchase and repair is generally mature and the fortunes of the sector are linked closely with those of the economy. The purchase and maintenance of cars account for a large proportion of household expenditure and partly in consequence the motor trade is a highly competitive and tight margin industry across most of its individual sectors. 
Page updated October 2015 
Page amended 4 May 2021