Employment by rural classification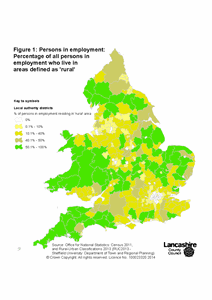 Tables have been made available from NOMISWEB which combine 2011 Census tables and the 2013 Rural-Urban Classification (RUC 2013). We have used one of the tables relating to industry of Employment (KS 605 EW) to determine persons in employment by the rural classification of their residence. The classification is made in great detail at Census Output Area level, but is summed to local authority district level. In this study we have grouped the many classifications into the main Urban and Rural splits.
In Lancashire, Blackpool has the lowest rate at just under 0.5% accounting for just 298 people in employment from rural areas. South Ribble has just over 1,000, giving a rate of 1.9%. Burnley, Rossendale, Blackburn with Darwen and Preston are grouped together in the range 6.1% to 6.5%.
Download the full document here
Page created February 2014
Small amendment March 2016