Do the right thing and use the right bin!
Recycling earns...Landfill costs
Everything that goes in your rubbish bin has a cost to collect and dispose of it. Last year in Lancashire, we collected nearly 400,000 tonnes of waste from households and our household waste recycling centres (HWRCs).
The annual cost of landfilling Lancashire's household waste is £26 million
This figure is rising every year and if we continue producing waste at the rate we currently do, it is estimated it could cost the council closer to £40 million by 2025.
We could save £4 million every year just by putting the right things in the right recycling bin – this money could be spent on delivering vital services across Lancashire.
What recycling are YOU missing? Do the right thing and use the right bin!
Watch our short animation to find out how we can all make a difference to the environment by recycling a bit more.
A-Z of recycling - What do I do with...?
Recycling is a simple idea but there are some items that you may be unsure about. Our simple A to Z guide lets you know what to do with those items you are unsure about.
Recycling around your home
So you've got a recycling routine that works for you. You know it inside and out and there's not one empty plastic milk bottle or food can in sight in the kitchen – they're all patiently waiting to be collected for recycling. The job is done! But is it really?
There are lots of items that people often forget to recycle from other rooms in the house including the bathroom, bedroom and the living room. 
The unusual suspects
By simply remembering to rinse and recycle these items, we can all make a big difference.
Bathroom
Toothpaste boxes
Toilet roll tubes
Shampoo, bleach, shower gel bottles
Bedroom
Tissue boxes
Deodorant and hairspray aerosols
Make up and perfume bottles
Living Room
Envelopes
Junk mail
Newspapers and magazines
Visit the Recycle Now website to find out about other unusual suspects hiding around your home.
Here are some simple steps to help us all recycle more across Lancashire:
Double check if anything you are going to throw in the rubbish bin can be recycled instead – either at home in your recycling bins/boxes or at your local recycling centre.
Rinse out empty food and drink containers before you recycle them.
Squash plastic bottles and flatten cardboard boxes so you can fit more in your recycling bin.
If its plastic and bottle shaped it can be recycled – don't forget the shampoo, spray cleaner and bleach bottles from your bathroom.
It is not just newspapers that you can recycle – we want wrapping paper, envelopes, toilet roll tubes and toothpaste boxes.
It might help you to get a second bin or box in your kitchen and bathroom for collecting things to recycle from around the house, before you put them into your main recycling bin.
Reduce - How do I waste less?
There are simple steps you can take to ensure that you waste less in the first place. Taking a reusable bag to the shops, reducing your food waste or donating unwanted goods to charity are all small things that make a massive difference in wasting less.

Five easy steps to help you reduce waste
Avoid wasting food – visit the Love Food Hate Waste website for lots of tips.
Think before you shop - buy things with less packaging and use reusable shopping bags.
Stop junk mail - contact the Mailing Preference Service (external website).
Your rubbish is another person's treasure - donate good quality clothing, books and unwanted gifts to a reuse or charity shop or advertise unwanted items in local papers/websites.
Re-paint - donate left-over paint to your local Community Repaint (external website).
Visit the Recycle Now website to find out more about reducing waste.
Reuse
Many of the things we throw away haven't always reached the end of their useful life. Something that you don't want any more can still be used by someone else.
Our recycling centre Reuse shops
We have two reuse shops at our recycling centres in Garstang and Preston. You can buy and take items here that you think someone else may get some use out of. The shop opens at the same time as the recycling centre.
The reuse shops accept donations and sell:
Bric-a-brac
Electrical goods
Furniture
Spare parts
Bits'n'bobs
Pre-loved bargains
Other Reuse shops in Lancashire
Here in Lancashire we are lucky to have a range of organisations who will put your unwanted items to good use:
| | | | |
| --- | --- | --- | --- |
| Reuse Shop | Location | Phone | Website |
| Emmaus | Preston | 01772 796622 | |
| Furniture Matters  | Lancaster | 01524 426622 | |
| GIFT'92  | Preston | 01772 716572 | |
| International Aid Trust | Longton | 01772 611122 | |
|   | Morecambe | 01524 413700 |   |
|   | Chorley | 01257 485114 |   |
| Open Door Furniture Recycling  | Burnley and Pendle | 01282 452400 | |
| Refurb  | Wyre and Fylde | 01253 873371 | |
| St Catherine's Hospice | South Ribble and Chorley | 01772 629171 | |
What goes in my recycling bins or boxes?
Each of the twelve district councils in Lancashire has different coloured bins/boxes/bags for collecting recycling and waste.
If you know which district council collects your bins – have a look on the relevant district council website below to remind you what you can put in each bin/bag/box or to find out which day your bins are collected.
What can I put in my bins and boxes?
What happens to your waste?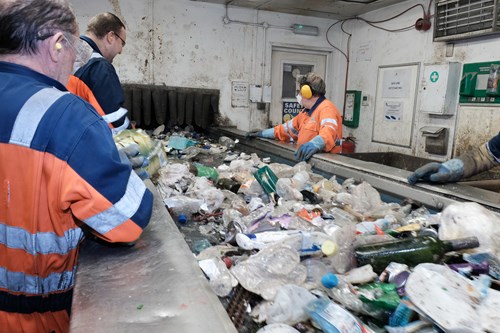 Ever wondered what happens after your recycling bins are collected or you drop something off at the recycling centre in Lancashire?
Waste and recycling collected from your doorstep or taken to one of our recycling centres is either recycled, made into compost or can even be turned into electricity.
Your district council collects the waste and recycling from your home and takes it to a waste transfer station. The county council then transports it for further processing.
If you would like to find out more about:
How we are doing in Lancashire
How your waste and recycling is sorted
What happens to the recycled materials after they have been sorted
Local recycling schemes
Visit our website to find out more about what happens to your waste