Sentence Construction, Grammar and Punctuation Exemplification
£6.00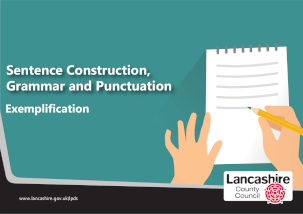 This document provides examples of the application of grammar and punctuation within sentence construction linked to the National Curriculum and Lancashire's Key Learning documents.
It illustrates progression from Reception to Y6 for all sentence types required across KS1 and KS2. Teachers and Teaching Assistants may find this a useful resource when planning for the whole class, group sessions or intervention. It can also be used as a reference tool when assessing writing in each year group.
Please note this publication is electronic and will be sent to the email address used during purchase. If you have not received it within 5/10 minutes please check your spam/junk folder. The email link received will be live for only 10 days, please download the publication and save it to your computer.
This publication is subject to a charge of 20% VAT for non LCC Maintained Schools.