Helmshore Mills Textile Museum
Holcombe Road, Helmshore, Rossendale, Lancashire, BB4 4NP
---
Wild Woodland Exhibition
2 August 2019 - 3 November 2019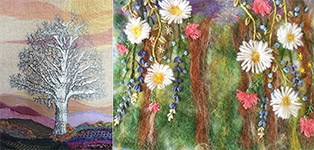 We are celebrating the 100th anniversary of the Forestry Commission, in the Wild Woodland exhibition.
The Phoenix Textile Art Group decided to celebrate their love for trees, and all the magic of forests and nature through their amazing art. Woodlands, and the wildlife they sustain, hold great meaning to the group. Flora and fauna has always been a rich source of inspiration to them.
So much of nature is endangered, and the planet needs forests full of trees to survive! We hope you will join us in enjoying this vibrant exhibition celebrating all things growing and living around us.
Nestling side by side in the quiet village of Helmshore in the stunning Rossendale Valley are two original Lancashire textile mills, Higher Mill and Whitaker's Mill, together known as Helmshore Mills Textile Museum.
You can:
Soak up the atmosphere of the historic mills and witness original machinery at work.
Follow a journey to discover how raw wool and cotton were transformed into yarn, ready to be woven into cloth
Experience the Revolution gallery, where you can follow the story of Lancashire's unique role in the industrial revolution
Imagine how the grand and mighty waterwheel powered the stocks as they thumped the wet woollen cloth
Have fun and learn in an exceptional environment, at our many activities, events and special exhibitions
Opening times
29th March 2019 - 27th October 2019
Day
Times

Friday

12:00

16:00

Saturday

12:00

16:00

Sunday

12:00

16:00
Outside of these public opening hours, schools are still welcome to book all learning sessions and pre-booked groups can be arranged for guided tours.
For more information ring 01706 226459 or email helmshoremuseum@lancashire.gov.uk.
Negotiations remain underway in the long term to identify a new operator ~ Exploring the future