Helmshore Mills Textile Museum
Helmshore Mills Textile Museum
Helmshore Mills Textile Museum
Visit a place where Lancashire's industrial past is brought to life through a multi-sensory experience like no other. Witness our spellbinding historic machinery in action; where the noisy clicks, clunks, thumps and distinctive scents will transport you to another era.

Nestled in a stunning rural location, the museum consists of two historic working mills: Higher Mill a wool-fulling mill and Whitaker Mill a cotton mill. Explore the site to learn about an industry that shaped local Lancashire lives and the industrial heritage of Britain.
There is lots to discover to feed curious minds of all ages. Don't miss our amazing working original machinery demonstrations!
Photo gallery
Discover the magic of the mills
Plan your visit
Helmshore Mills Textile Museum is open on Friday, Saturday and Sunday from 12noon to 4pm until Sunday 31 October 2021. 
A full experience of the mills will take around ninety minutes.
We are a Covid safe venue. Read more before you visit Helmshore Mills.
Admission charges
Adults £4
Concessions £3 

(

over 65, people with a disability, carers, unwaged and students)

Accompanied children free (up to 16 years old)
For group bookings or guided tours please contact us to discuss your needs
How to find us
Helmshore Mills Textile Museum, 
Holcombe Road, 
Helmshore,
Rossendale,
BB4 4NP.
Plan your journey and view bus timetables for your area. 
By car
Helmshore is one mile south of Haslingden on the B6235.
By bus
X41 Manchester – Helmshore – Accrington service, come off at Gregory Fold/Helmshore Road stop.
Facilities, access and contact details
Facilities
Car park

Café 

Gift shop
Assistance dogs welcome
Full disabled access 
Access
The museum is widely accessible with ramps and lifts, the old flag floors are however uneven as are the outdoor areas. 
See the access statement (PDF KB) for more detail or please ring us if you have any questions.
Contact us
Tel: 01706 226 459 
If you've visited us recently, don't forget to leave us a TripAdvisor review.
Discover more of Lancashire's diverse history and visit one of our other Lancashire Museums. Which of our museums will you visit next?
Things to see and do
Two huge mills, one great space to fire the imagination and stimulate the senses.
Nestling side by side in the quiet village of Helmshore in the stunning Rossendale Valley are two original Lancashire textile mills, Higher Mill and Whitaker's Mill, together known as Helmshore Mills Textile Museum.
Discover the people and stories behind the industrial revolution
The museum divides its collections into two themed areas, representing the wool story and the cotton story. Experience our family friendly, hands-on interactives and see textile history brought to life with the waterwheel, carding engines and spinning mules. Learn how life would have been for the workers and see the spectacular spinning floor with all the same machinery as when they walked the creaking wooden floors.
Filming projects
Helmshore Mills Textile Museum has been used as a backdrop for numerous filming projects – from documentary, factual, topical to drama productions. See where some of your TV favourites were filmed including:
The Adventures of Greyfriars Bobby
North and South
Celebrity Antiques Road Trip
Robson Green: How the North Was Built
Great British Bake Off
The English Game
Here's what some of our visitors had to say:
"A great afternoon. Full of information and touches of humour."
"Lovely, informative, very friendly staff, a great place to visit"
"Amazing museum, very engaging for a 3-yr-old, a 41 yr-old and a grandma!"
"Wonderful day – informative staff, excellent displays & good tea and cakes! Five stars."
"Fantastic! Loved every minute!"
"Fabulous tour, absolutely amazing stories – will be back!!"
"Wonderful to see so much local history retained here and to see the machinery actually working."
"An absolute gem! This is a vital museum for understanding Lancashire history. Wonderful info & incredible machines!"
Higher Mill was constructed in 1789 and Whitaker's Mill in the 1820s by the Turner family, textile manufacturers from the Blackburn area. While Higher Mill has always been a wool fulling mill, Whitaker's Mill for the first century of its existence alternated between working wool and cotton; but by the late 1920s it was solely working recycled cotton. In 1967 Higher Mill closed and  was taken over by the Higher Mills Trust who maintained it as a museum.
Although a considerable part of Whitaker's Mill was destroyed in a fire in 1857, it was rebuilt shortly afterwards and continued to be in operation until 1978. It was then acquired by the council, who by then had taken over running Higher Mill on behalf of the Trust, and the two mills were joined as one museum.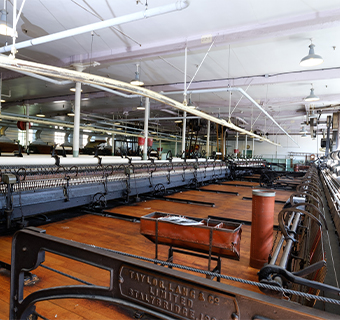 Helmshore's railway line was constructed in 1849, but the route went right through the East corner of Higher Mill! The owner at the time, William Turner (1793 - 1852), however happily agreed to the plan as he received around £5000 in compensation (that's equivalent to around £400,000 in today's money!) With this, he was able to replace the two small waterwheels powering the fulling machinery with a single bigger (and more efficient) breast shot waterwheel, which is still in use today!
On the ground floor of Higher Mill is the fully operational, large waterwheel which used to drive five pairs of fulling stocks and all the other machinery in Higher Mill.
Our current waterwheel is a big high breast shot wheel, which replaced two smaller ones, and is fed by a large mill pond. Power is generated by the weight of the water in the buckets of the wheel, which each holds about 70 gallons (300 litres), turning the wheel through gravity rather than by the flow of a watercourse. The heavier the load of water, the greater the power generated.
The wheel includes original metalwork which dates back to the late 1840s, while the wood dates back to various repair and restoration projects over the wheel's long life. The latest restoration project was in 2014, when the large central oak spokes were all replaced to ensure that the wheel will keep operating for many more decades to come.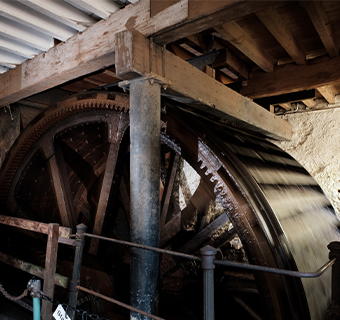 If you've visited us, what was your favourite thing you learnt about the mill? Let us know by sharing your experiences on Twitter using #HelmshoreMills and don't forget to tag in @LancsMuseums on Twitter and @LancsMuseums on Facebook.
What's on: events and exhibitions
Events and exhibitions at Helmshore Mills Textile Museum
October 2021 visit to see an installation for the British Textile Biennial. James Fox's Rights, Riots and Routes includes trademark hard-hitting embroideries and prints plus a new film collaboration with Maxine Peake presenting the tragic continuum of women's experience of the criminal justice system over two centuries. Find out more on the What's On website.
Search for the latest events at Helmshore Mills Textile Museum. If there are no current events listed check back for new events soon. We look forward to seeing you.
Previous events include special event days, seasonal fairs, exhibitions, walks, trails, talks, workshops, murder mysteries, and live music events.
Simply Schools
We also offer workshop sessions for schools, where pupils are immersed in the sights, sounds and smells of mill life as they witness original machinery at work. Discover how raw wool and cotton were transformed into yarn ready to be woven into cloth and how life; both then and now, was shaped by famous local inventors.
Our Heritage Learning Team's aim is to give pupils the opportunity to explore and appreciate Lancashire's rich heritage through access to our unique collections and stimulating sites such as our historic mill.
School sessions can be tailored to complement your curriculum. We work closely with teachers to meet individual needs and reinforce classroom learning.
Find out more about Learning with Lancashire Museums.