Mouth and tooth care
Mouth and teeth care is vital for children. They need their teeth for eating, drinking, smiling, talking, singing and shouting. This does not happen on its own and they need your help to look after their teeth.
Top tips
Brush with a family fluoride toothpaste as soon as you see their first tooth.
Brush your child's teeth twice a day; always brush before bedtime and at least one other time during the day.
Use a smear of toothpaste on the brush if your child is under three years of age or a small pea-sized amount if over the age of three.
Use a family toothpaste having between 1350ppm – 1500ppm fluoride content. This information can be found on the product box and tube.
Help your child to brush their teeth up to the age of seven.
Encourage your child to spit out the excess toothpaste. This is hard for under threes to spit so don't worry. Do not rinse with water.
Plain, none-sweetened milk (not flavoured or milkshakes) or plain, still water is safe to drink in between meals.
Sugar-free foods, such as chopped pieces of fruit or vegetables are safe to snack on between meals.
From the age of 12 months give drinks in an open or free-flow lidded cup instead of a bottle or Sippy cup.
If they have fruit juices and/or dried fruit, have them at mealtimes only as they have lots of natural sugars and are acidic, which is bad for teeth.
Fruit juice should be given mixed with water, 1 part juice, 10 parts water. Don't brush teeth straight after juice wait 20 minutes before brushing.
At night-time, after your child has brushed their teeth, only let them have water to drink as milk has natural sugar in too.
If you are entitled to NHS Healthy Start, collect your vitamins for your children (Includes Vitamin D for heathy teeth and bones). If in doubt, ask your health visitor.
For access to NHS dental services in the first instance  see Find a dentist - NHS (www.nhs.uk) alternatively Dental Choices » Find an NHS dentist taking new NHS patients. We appreciate that NHS dental services can be limited in some areas, hence the need to #LetGetLancashireBrushing. Protecting your children's teeth for the future.' If your child requires urgent dental treatment or advice and you do not have access to your own dentist please contact the Lancashire and South Cumbria dental helpline. It is charged at your local rate. Call 0300 1234010 between 8am and 9pm Monday to Friday, 10am to 5pm weekends and bank holidays. Outside of these hours, for urgent dental support call 111.
For additional information visit:
Toothbrush packs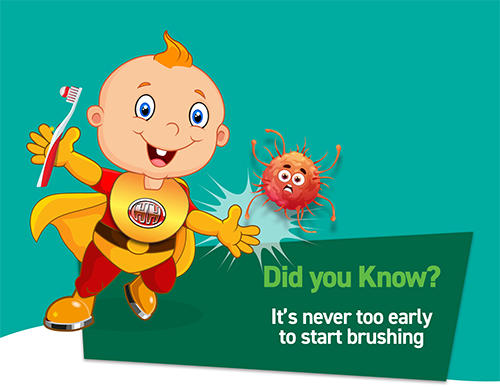 Toothbrush packs for children are available free of charge from Lancashire's Healthy Young People and Families Service. The packs have a toothbrush and toothpaste along with a top tips leaflet. Everything you need to start your child on their toothbrushing journey!
Ask your health visitor for a toothbrush pack during the following visits,  
6 - 8 weeks review
12-month review
2- 2½ year review
Lancashire's Healthy Young People and Families Service is here to help you and your family from before baby is born through to your child turning 19 or 25 if they have SEND.
Helping children in nurseries to brush teeth
Children in nurseries across Lancashire starting with nurseries in parts of Burnley, Hyndburn, Pendle and Preston are being asked to take part in toothbrushing. Staff will be watching and guiding children, as they take part in learning how to brush their teeth as part of their nursery routine.  This will not replace your child's toothbrushing at home.
Children who start brushing at a young age tend to have healthier teeth as they get older. We hope to help you form habits with your children that will last a lifetime and help prevent the need for filings and lost teeth.