Name a gritter competition
Look out for the latest additions to our fleet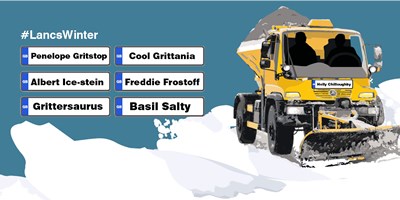 In 2019 we announced the six winners of our 'Name a gritter' competition and the latest additions to our fleet. After receiving hundreds of suggestions via social media and email our #LancsWinter judges whittled down the list of wintry wonders to six.
We had some brrrr-illiant suggestions but the final decision on the snowy six was a snow-brainer. The new gritters joined our fleet of 45 wagons who work around the county when the cold weather strikes. This includes 'Holly Chilloughby' after Holly Willoughby mentioned on This Morning that she didn't have a gritter named after her.
Here's a round-up of our 'best in snow' (in no particular order):
Penelope Gritstop
Cool Grittania
Albert Ice-stein
Freddie Frostoff
Grittersaurus
Basil Salty
As the gritting season is upon us look out for Holly and her pals on #LancsWinter duty!
About the competition
In the 2018-19 winter season we added 7 new gritters to our fleet of 45 wagons and we gave Lancashire residents the chance to name them.
We were one of the first councils to run a 'name the gritter' competition back in 2011 and as some of our fleet are already named we decided to name the new gritters too.
Phillip Schofield and Holly Willoughby were recently discussing gritters on This Morning. Phillip proudly talked about his namesake gritter, Phillip Snowfield which is already on the road in another county. Holly exclaimed, "C'mon! It's only a matter of time! (until I have a gritter)" Hearing Holly's plight, we knew what our #LancsWinter team had to do...
Remember Phillip Snowfield?
Look what happened next...
Here's Holly and Phil's reaction to our #LancsWinterGritter - Holly Chilloughby!