Name a gritter competition - winners announced!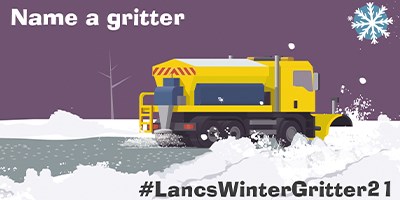 Thanks to everyone who got involved in our recent name-a-gritter competition and put forward a suggestion for our nine new gritters.

We were snowed in with brrrr-illiant suggestions via social media and email and our #LancsWinter judges have whittled down the list of wintry wonders to nine.

We've been giving clues about the winning names on our Facebook page and can now reveal our 'best in snow' (in no particular order):
Gritty Gritty Bang Bang
Sir David Attenbrrrrough
Aunty Freeze
Melton John
Bobby Snowball
Freezy Rider
Snow Be Gone Kenobi
Snowella de Vil
Wall-ice and Gromit
The new gritters have already joined our fleet of 45 frontline wagons which work around the county when the cold weather strikes, and we'll be putting the new names on the doors very shortly. With temperatures starting to turn much colder, keep an eye on our gritting updates page for the latest gritting action near you, as well as an update on how Sir David and his frosty friends are getting on.