Key Learning Indicators of Performance (KLIPs) - Reading and Writing
£60.00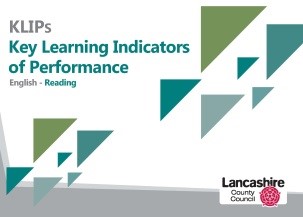 The KLIPs, or Key Learning Indicators of Performance, have been developed from Lancashire's National Curriculum Support Materials, which detail the key learning in reading and writing for each year group. These key learning grids for each year group can be used to provide:
Detailed assessment information for the teacher to use to inform their future planning of next steps (formative).
Overall judgements which can be made more summatively (for example once a term), to enable senior leadership teams to track progress across the school, during the year. This will assist schools with self-evaluation and in informing discussions with others e.g. inspection teams, about attainment and progress.
A means of informing parents about attainment and progress.
The underlined statements on the grids have been identified as Key Learning Indicators of Performance (KLIPs) as these have the greatest impact on the further development of skills and subsequent learning. Consequently, the Key Learning Indicators of Performance (KLIPs) play a particularly significant role in the assessment process.
Please note this English publication is electronic and will be sent to the email address used during purchase. If you have not received it within 5/10 minutes please check your spam/junk folder. The email link received will be live for only 10 days, please download the publication and save it to your computer.
This publication is subject to 20% VAT for non LCC Schools.