Key Learning in Reading, Writing, Maths and Spoken Language
£30.00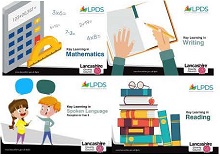 The Key Learning documents are based on the programmes of study from the National Curriculum and pinpoint the key pieces of learning in each year group for Y1 to Y6.
They build upon the statutory elements to provide teachers with more specific guidance, further examples or additional and relevant objectives to ensure clarity, cohesion and continuity.
This package will enable you to identify the Key Learning within English and Mathematics. The subjects included are as follows:
English (Reading)
English (Writing)
Mathematics
Spoken Language
Please note - two additional objectives for Year 1 have been added to Key Learning in Mathematics. There are no updates to Key Learning in Reading and Key Learning in Writing since the previous version.
Please note this publication is electronic and will be sent to the email address used during purchase. If you have not received it within 5/10 minutes please check your spam/junk folder. The email link received will be live for only 10 days, please download the publication and save it to your computer.
This publication is subject to 20% VAT for non LCC Maintained Schools.