Red Rose Letters and Sounds Planning Document
£350.00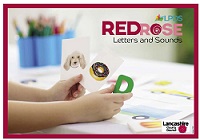 The Primary English and Literacy Team at Lancashire Professional Development Service (LPDS) have developed a new systematic, synthetic phonics planning programme using the Letters and Sounds approach titled Red Rose Letters and Sounds. This planning programme has been developed, continuously evaluated and refined over several years, using the expertise of effective classroom practitioners and phonics experts at LPDS.
The programme includes planning from Phase 2 to Phase 5 with specific daily sessions and a very rigorous approach to meet, and exceed. expectations based on the Early Learning Goals and the National Curriculum for Year One.
The programme includes:
overviews for each phase with termly expectations
comprehensive daily planning following revisit/review, teach, practise, apply
carefully sequenced tricky words and high frequency words with high expectations for application into reading and spelling
application opportunities planned throughout to ensure blending and segmenting of words and sentences
word banks that directly match the teaching of focus graphemes
additional word banks to broaden and deepen vocabulary in order to provide stretch and challenge
regular consolidation and assessment points to support the identification of children on track, and those falling behind.
This publication is subject to 20% VAT for non LCC Maintained schools.
Please note this publication is electronic and will be sent to the email address used during purchase. If you have not received it within 5/10 minutes please check your spam/junk folder. The email link received will be live for only 10 days, please download the resources and save to your computer.