Year 2 Last Push Pack for Reading and Writing
£30.00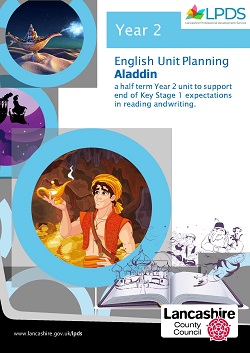 This 4-5 week 'last push pack' based on Aladdin, facilitates a range of reading and writing opportunities linked to the STA Key Stage 1 Teacher Assessment Framework. Using a quality text and supporting film material, this motivating and engaging unit incorporates narrative, non-fiction and poetry, equipping teachers with a complete unit of work to enhance quality outcomes and aid transition into Key Stage 2.
A reading and writing skills overview is provided within the unit, together with daily lesson plans. A balance of modelled and independent writing opportunities are also included throughout the sequence.
Whilst reference is made to numerous texts, the key text shared throughout the unit is Animated Classics Disney Aladdin (text adapted by Lily Murray) 2019.
To find out more please watch our short clip
Please note this publication is electronic and will be sent to the email address used during purchase. If you have not received it within 5/10 minutes please check your spam/junk folder. The email link received will be live for only 10 days, please download the publication and save it to your computer.
This publication is subject to 20% VAT for non LCC Maintained Schools.