Year 5 into Year 6 Bridging Unit - The Nowhere Emporium
£30.00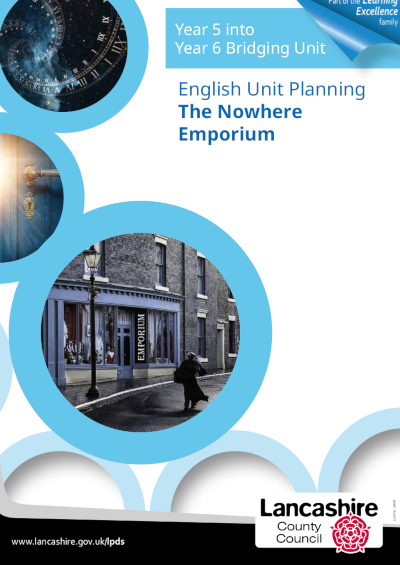 The Nowhere Emporium by Ross MacKenzie
Themed around magic, mystery and much more, both the narrative and non-fiction units within this publication, interweave reading and writing skills from Year 5 and Year 6.
Children will be taken on a magical journey whilst reading Ross MacKenzie's award-winning The Nowhere Emporium. Regular short and long writing opportunities are embedded throughout the sequence - with opportunities for further challenge and independent writing also signposted – whilst the final written outcome is an extended narrative based around the plot of The Nowhere Emporium.
This is followed by a non-fiction unit, flexibly themed around magic or the circus – it's your choice! Following research, children will work towards producing a hybrid information text in the form of a magazine page. This includes a mini biography, a discussion text and a non-chronological report. The children could be finding out about the history of magic, researching a famous magician or discussing whether animals should be allowed to perform in a circus. Lots of interesting facts to find and discussions to have!
Please note this publication is electronic and will be sent to the email address used during purchase. If you have not received it within 5/10 minutes please check your spam/junk folder. The email link received will be live for only 10 days, please download the attachments and save to your computer.
This publication is subject to 20% VAT for non LCC Maintained Schools.
Please click here to view sample pages