Lancashire Conservation Studios
A comprehensive range of services for the care and interpretation of cultural heritage from specialists in conservation, curation, collection management and design.
Get support for your museum, gallery, heritage organisation or personal project from our experienced experts.
To make an enquiry about contracting any of our services please contact Conservation.Unit@lancashire.gov.uk.
Find out more:
Conservation
We are professionally qualified specialists in the care of easel paintings, sculpture, natural history, decorative arts and objects.
We can support your collections care and conservation needs including preventative and remedial conservation, collections surveying and emergency response.
Training
If you're interested in conservation, try one of our training courses:
Introduction to Collection Care
Handling and Packing of Collections
Care of Taxidermy
Natural History Collections 
Or tell us your requirements for bespoke courses.
Technical services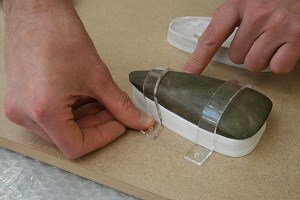 We understand the specific needs of heritage collections. From the transportation of one challenging object to the redisplay of a gallery or a full storage move.
Our technical team work with our other specialist services to plan and install exhibitions, and design bespoke mounts for display.
Design
We create innovative and engaging exhibitions for the heritage and culture sector.
From conception to completion, we will help to deliver your project, designing each element from layout to graphical content.
Our designers will work together with our curators to complete your project with content including story-lining, object selection and interpretation.
We could support you to:
upgrade your permanent galleries
design a temporary exhibition
create an adaptive touring exhibition
change up your branding and promotional materials
Curation and collection management
With extensive expertise in the heritage of Lancashire we can help with the research and interpretation of your collection. 
Get support to develop your new exhibition or existing gallery including exhibition story-lining, object selection and display, audience development and evaluation.
Or for your collections management projects we can support you with:
documenting your collection
applying for grant funding
achieving accreditation
writing policies, plans and procedures
Visit the studios
The studios are located within a Grade II listed Victorian church in Preston City Centre. If you are interested in arranging a tour of the conservation studios for eight or more people contact Conservation.Unit@lancashire.gov.uk.
The studios also has conference facilities for hire.
Map
The Conservation Studios is situated in a converted church at the back of the Museum of Lancashire. Access is via St Mary's Street