We are continuing to work with colleagues in the NHS and Public Health England to do everything we can to delay the spread of coronavirus and ensure the people of Lancashire are protected.
As of 9 August 2020, Public Health England reported 7,441 confirmed cases of coronavirus in Lancashire - see regional breakdown of cases in England. 
Find out what the government is doing to tackle coronavirus.
New restrictions in Lancashire
An outbreak of coronavirus (COVID-19) has been identified in parts of Greater Manchester, East Lancashire, Preston and West Yorkshire. The government and relevant local authorities are acting together to control the spread of the virus. 
If you live in these parts of Lancashire you should follow new government restrictions:
Blackburn with Darwen
Burnley
Hyndburn
Pendle
Preston
Rossendale
What you can and cannot do
If you live in one of the affected areas, you should not:
meet people you do not live with inside a private home or garden, except where you have formed a support bubble (or for other limited exemptions to be specified in law).
visit someone else's home or garden even if they live outside of the affected areas.
socialise with people you do not live with in other indoor public venues – such as pubs, restaurants, cafes, shops, places of worship, community centres, leisure and entertainment venues, or visitor attractions. You may attend these venues with people you live with (or are in a support bubble with), but should avoid interaction with others. If you run such a business, you should take steps to ensure people do not interact with people they do not live with, in line with COVID-19 Secure guidance.

Walk or cycle for regular journeys, such as going to work, or to the shop. 
Let's do it for Lancashire
Coronavirus is still with us and although we are seeing a reduction in new infections in certain parts of Lancashire, the infection rate is still high.
We all have a part to play to combat the virus
By continuing to take simple steps we can reduce our risk of infection and help protect ourselves, our families and our communities. Let's do this for Lancashire.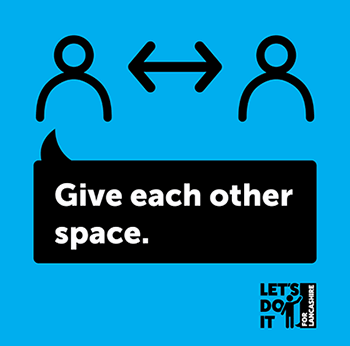 Social distancing is key
As we get the chance to go out and about more, and meet friends and loved ones, we must abide by social distancing.
That means keeping our distance from people not in our households or our "bubbles".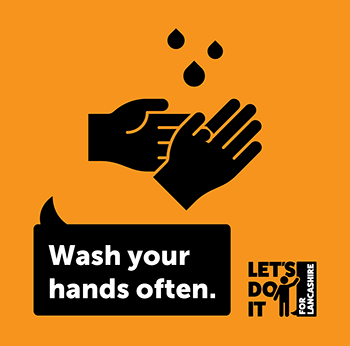 Wash your hands
Regular thorough hand-washing for 20 seconds is a something we can all do to combat the virus.
It's simple and effective.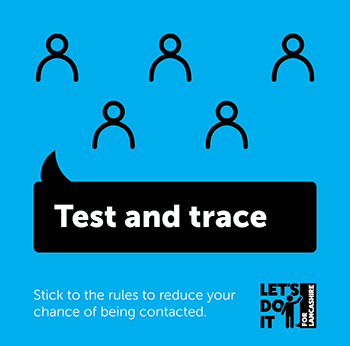 Stay at home if you have symptoms - don't be a contact
If you have a new cough, a fever, or have lost your sense of smell or taste, stay at home and get a test. If you're contacted by NHS Test and Trace because one of your contacts is displaying symptoms, you must follow the advice they give you. 
What do I need to Know
Please follow government advice:
The most important thing we can do is to stay alert, control the virus, and in doing so, save lives.
Changes to our services
Our focus is on providing the essential services which support the most vulnerable people in Lancashire.
The following services have been affected by the coronavirus, and there will be some changes to what we are able to provide: 
We will continue to carefully evaluate each service given the unprecedented and changing circumstances we are facing. We will update the information on a regular basis.
Help for residents
We are working closely with local authority partners, as well as the community and voluntary sectors across Lancashire, to be able to provide help to those who need it.
Community Hubs
Community hubs have been created in each district across Lancashire to coordinate support and help which is available for those in need.
Volunteer support
If you feel isolated, vulnerable and in need of volunteer support you can fill out a community support referral form and a member of the Lancashire Volunteer Partnership will contact you.
If you are a group or organisation that can help support vulnerable people at this time please visit Our Lancashire.
Talkzone advice and information line
Families can get support, advice and information online and over the phone through our Talkzone service. Talkzone is open from 8.30am to 10pm each weekday, and from 2pm to 10pm on weekends.
Support for clinically extremely vulnerable people
If you have a medical condition that makes you extremely vulnerable to coronavirus, you can register with gov.uk for support. You'll be able to ask for help, for example, getting deliveries of essential supplies like food or medicine.
Register for yourself or on someone else's behalf.  GOV.UK: Get coronavirus support as a clinically extremely vulnerable person
If you consider yourself vulnerable but don't meet this criteria there is still help available through the Community Hubs.
Age UK Lancashire
Age UK Lancashire provides an information and Advice Line for:
Information on sources of local support, including referrals to emergency food supplies, where available;
Advice on a range of issues, including: benefits, housing options, health & community care;
A Welfare Benefits check over the telephone
Call Age UK on 0300 303 1234 or visit the Age UK Lancashire website. 
Age Concern
The Age Concern Coronavirus Support Service is aimed at helping those within self-isolation and their carers to access: 
Shopping trips
Free food parcels / welfare 'goodie' bags
Regular telephone calls / befriending service
Information and advice – incl. benefits assessments and links to wider public/voluntary sector support
Specialist dementia care and support
Selected Dementia Products available through our website.  
A collection of free online Resources through our website
Various levels of support are available across Lancashire.
To refer in to the service or to enquire about volunteering, please contact Age Concern Central Lancashire through the Coronavirus Helpline: (01772) 552850 (Option Zero) or visit the website: https://www.ageisjustanumber.org.uk/covid-19-referral/
If you are struggling with your mental health, then the NHS Every Mind Matters website has lots of tips and advice to help you.
Guidance is also available on how to look after your mental health and wellbeing during the coronavirus (COVID-19) outbreak
More information
Public Health England and government departments have provided additional guidance about coronavirus for: 
Employers and business
If your business has been affected by the coronavirus Boost Business Lancashire has a dedicated #AskForHelp team ready to assist.
If you have a business or organisation that could offer spare safety equipment, then please get in touch. Any donated equipment would be used to protect key workers from various organisations.
Community organisations
If your organisation has been affected by the coronavirus Boost Business Lancashire may also be able to assist. Contact their #AskForHelp team for more information.
Education
We have produced some guidance for education providers which follows government guidance. This will be regularly updated:
We have also pulled together some online educational resources for parents to help children to learn at home.
Care providers
We have produced some guidance for care providers, which follows government guidance. This will be regularly updated:
Managing coronavirus in the county
Privacy notice supplements relating to coronavirus
As part of Lancashire County Council's coronavirus response, we have a need to process your personal data in order to effectively respond to the current crisis.
We have dedicated privacy notices that set out the ways in which we may process your personal data as part of our response.