Online invoice payment service
Paying by card
You can pay Lancashire County Council invoices online, using the following credit, or debit cards:
Mastercard, Maestro, Visa and Electron.

Lancashire County Council does not currently levy charges for paying online
using debit or credit cards.
Council Tax
You cannot pay your Council Tax here. Council Tax is administered and collected by the 12 borough, city or district councils.
Lancashire County Council invoices
There are two types of Lancashire County Council invoices, which can be paid by debit or credit card.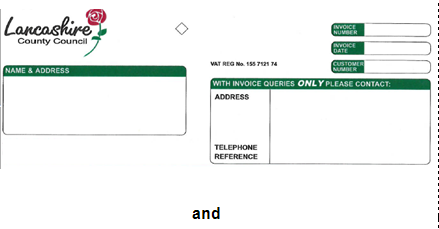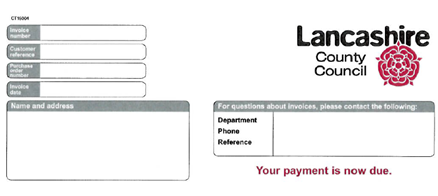 Making a payment
To use this service, you will need the following details from the invoice to be paid
invoice number
customer number/customer reference
We only accept payments in pounds sterling and the transaction value must be less than £30,000.
To receive an emailed confirmation of your payment you will need to supply us with a valid email address. This email will give you an order number and authorisation code, which should be quoted if you have any queries.
If you do not have an email address, note the order number and authorisation code displayed when your card payment has been accepted. These references will be required, should you need to query your payment, with Lancashire County Council. If you require a printed copy for your records, please select Download online receipt.
Payments by phone
Credit and debit card payments can be taken by ringing us directly on 0300
123 6702 Monday to Friday between 9.00am and 5.00pm.
Query about an invoice
If you have a query about the invoice or the amount you are being charged, you
should contact the section which raised the invoice.  Their contact details are
shown on your invoice
If the online screen show that the invoice is unpaid
After receiving confirmation that your payment has been accepted, Lancashire County Council's systems are updated overnight.  It can take up to 5 working days for a card payment made by the Web Site to be recorded against your invoice.  If you have a query after this time, contact 0300 123 6702with your order number and authorisation code details.
If you have made the payment by another route, this will take longer to appear against your account.  If your payment is not recorded against your invoice after 15 working days, contact 0300 123 6702with details of when and how your payment was made.
Mistakes while paying
Contact 0300 123 6702, with the order number details and this will be
investigated.  Where appropriate a refund will be issued.  We reserve the right
to refund you, using another method rather than onto your card.
Payment refused or cancelled
This type of response means that your card issuer/bank has not authorised the payment.
Lancashire County Council are not informed of the reason why the transaction has been refused.  If the problem persists, please contact your card issuer/bank to find out more information.
If this means you cannot pay using your chosen payment method, please refer to the invoice to find out how else you might pay.
If your payment is cancelled you should double check
the address and post code match the information held by your card issuer
the card verification code is correct
Disclaimer
If the card payment is declined, the invoice is still outstanding and is not settled until an alternative successful payment has been received.