Design announced for Preston Youth Zone and bus station improvements
17/05/2016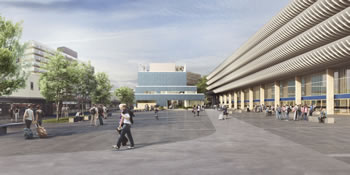 A revised design has been announced for the new Preston Youth Zone and improvements to Preston Bus Station.
The plans will see a multi-million pound investment in the Grade II listed bus station site, to create a vibrant public space and become home to the new Preston Youth Zone - while preserving the building's unique brutalist architecture.
Get involved and visit Stand 3 in the bus station to view the latest plans for the revised design for the Preston Youth Zone and bus station improvements at a pre-consultation event, 19 May – 21 May 2016. 
It will be on from 8:30am to 5:30pm on Thursday and Friday; and 8:30am to 12:30pm on Saturday.
If you can't make it down to Stand 3 you can also see the plans and give your views online until 5pm on Wednesday 25 May.
Planning approval will be required for the youth zone. A planning application will be put in later this year, subject to approval from the county council's Cabinet on 9 June. This will include formal consultation as part of the usual planning process.
Some repair and maintenance work is already taking place on the bus station, with the main youth zone and other development work following, if planning approval is given.
Once completed, the new building will be operated by OnSide Youth Zones, a national charity dedicated to providing modern youth facilities so you can enjoy affordable access to a wide range of programmes, services and activities including sports, arts, music, employability and mentoring.
The new youth zone will be open seven-days-a-week, offering 20 activities every session for young people aged 8-19, or up to 25 for those with a disability.
Preston Youth Zone will contribute £1m towards the construction costs.
The earliest that work could start on site is mid-September, subject to planning approval, with completion in early 2019.
Share: