We're recruiting carers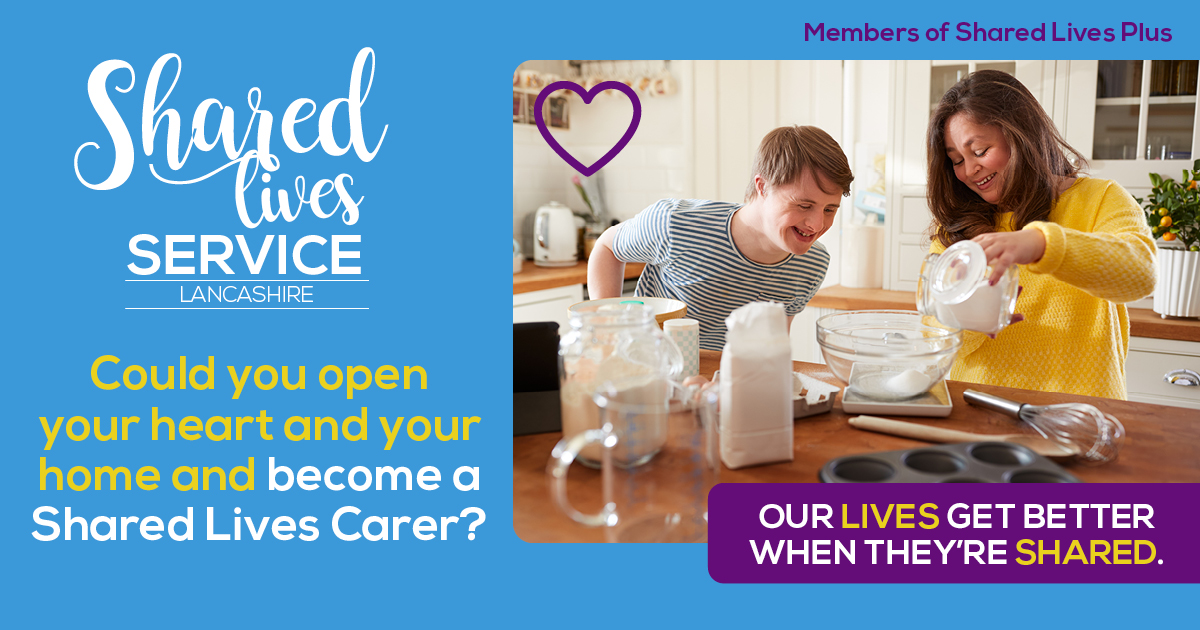 Could you share your home, family life and activities you love doing with an adult who needs extra support due to age, illness or disability?
We're looking for people to join our 'Outstanding' Shared Lives service as a carer.
Being a Shared Lives carer is rewarding and you can offer as much or little time as you can, in return we offer a generous monthly allowance.
You don't need any previous experience and we'll provide all the training you need.
Shared Lives has been a huge success nationally and the people living in Shared Lives say they feel more settled, valued and make friends more easily than with traditional types of care.
We want to make the service available to more people and you could help us by becoming a Shared Lives carer.
What is Shared Lives?
The Shared Lives concept is similar to foster care for adults, where carers share their home and family life with an adult who needs help or support to live well.
People you support could come from any background and everyone needs a different level of care. Some people just require advice and guidance whilst others might want more direct support with daily tasks such as cooking, laundry and managing money or budgets.
Find out more about Shared Lives.
Who uses the Shared Lives service?
The scheme is open to any adult who has a social care assessment that indicates they are eligible for, and would benefit from, the Shared Lives service. This includes adults with learning disabilities, physical disabilities, older people and/or mental health needs.
Who can be a Shared Lives carer?
Our Shared Lives carers come from all walks of life and they do a superb job. They are friendly, have lots of enthusiasm for the people they look after and find it very rewarding.
If you have plenty of patience, flexibility, dedication, commitment and a spare room for the person you support to live in, you could join our team and become a Shared Lives carer.
Find out more about becoming a carer.
What does the work involve?
This will depend upon the person you are supporting. You might need to assist with:
Accompanying people to appointments
Providing transport to leisure activities or work placements
Holidays and outings
Encouraging them to get involved with their local community and increase social contact
Helping to manage finances and safekeeping of medication
Where are carers based?
Shared Lives carers work from their own homes to provide day care, short term respite or long term live in arrangements for adults who have social care needs.
Find out about the different types of placements.
What support would I get as a Shared Lives carer?
If you are suitable, you'll be given all the training and support you need by our Shared Lives team.
You will also get a financial allowance ranging from £15,600-£23,800 a year (£300-£450 a week), based on the needs of the person you are caring for.
Find out more about the support available for our carers.
What is the recruitment process?
All of our carers go through a thorough assessment process which involves an application form, home visits, and an interview with an individual representative.
You may also be asked to complete the Care Certificate. Our approval panel will make the final decision. This approval process usually takes about three months.
Please don't let this put you off - our friendly team are here to support you every step of the way.
Find out more about the approval process.
Who decides who I will be caring for?
All of our Shared Lives carers and the people they support are matched carefully to make sure that they feel comfortable with each other before agreeing to spend time together. Our team works really hard to identify shared interests, pets, hobbies and places that will help build a bond and rapport.
How do I become a Shared Lives carer?
Take the next step today and enquire about becoming a Shared Lives carer in Lancashire by using our online enquiry form. 
If you want to find out more about the service please give our friendly team a call on 01772 531326 or email sharedlives@lancashire.gov.uk and we will be happy to help.
Enquire now
Join our team of 'Outstanding' Shared Lives Carers.
It could be the most rewarding thing you'll ever do.
Meet our carers
Meet our carers and some of the people who use our Shared Lives service.