Does my heart look big in this?
Sinead's story
When Sinead wanted to move out of her parents' home, the only option offered to her was a residential care home, but at 26 years old, she didn't want to live with people who were so much older than her.
Mary used to be a learning disability nurse. She had already brought up a large family, adopted two boys, and a chicken coop full of ex-battery cage hens! Her home - and her heart - weren't quite full up yet though.
She had enough room to share and enjoy life with another person. That's when Mary and Sinead met. The result was two ordinary people coming together to share an extraordinary life.
Arabella Weir meets Sinead and Mary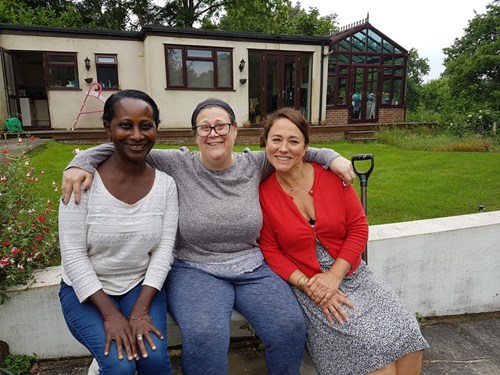 Arabella Weir, actor of the Fast Show and Two Doors Down, visited Sinead and Mary who are part of the Royal Greenwich Shared Lives Scheme to find out what Shared Lives care is about.
Sinead says, "I love it here, I fought to stay here. Ever since I met her, she's lovely."
Mary says, "I would recommend anyone to become a Shared Lives carer – and give people a richer life."
What is Shared Lives?
Shared Lives is an alternative to care homes, home care and day centres.
Shared Lives carers open their homes and lives to someone who needs a little care and support to live life to the full. 
You could be helping with shopping, continuing rehab after an operation, providing a consistent relationship after a breakdown, or becoming the joint champions at your local bowling alley or pub quiz!
It sounds ordinary, but Shared Lives care is the highest rated type of social care, inspected by the Care Quality Commission in England, with 96% of schemes rated good or outstanding. 
Lancashire's Shared Lives service is the largest in the country supporting 11% of the population of adults with a learning disability in the county. The service was recognised as 'Outstanding' by the Care Quality Commission (CQC) in 2016.
Why you should consider becoming a Shared Lives carer in Lancashire...
14,000 people across the UK already visit or live with a Shared Lives carer enjoying the extraordinary benefits of an ordinary home, family and community life. 
People can face a lot of closed doors in our health and social care system. Shared Lives carers open them.
We offer all of our Shared Lives carers full training, support and a generous monthly allowance.
The main thing you need is a big enough heart and a zest for life. Through the highs and lows, Shared Lives carers are there to help people recover and enjoy life together.
Get in touch and find out more
If you think you could offer a warm, friendly home and your heart is big enough - please give us a call on 01772 531326 or email sharedlives@lancashire.gov.uk and our friendly team will be happy to help.