JM & JI Pye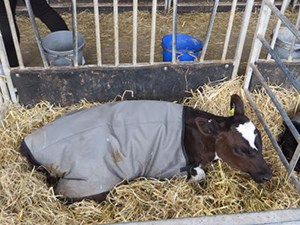 Ian Pye owns and runs an organic dairy enterprise near to Garstang, Lancashire.  It totals 165 acres, with 120 cows, growing some arable crops for livestock feed too.  The farm hosts school visits with approximately 1,250 schoolchildren visiting per year.  Ian also owns Old Holly Ltd, which includes a farm shop, tearooms and indoor children's play area. A separate on-site unit is also rented out that makes ice cream using milk from the farm, this is run as a separate business by a third party - Cool Cow Ice Cream.
Under the Welfare of Farmed Animals (England) Regulations 2000, livestock must have a number of freedoms. Freedom from discomfort includes providing an appropriate environment including shelter and a comfortable resting area. Stress can lead to poor welfare levels which can lead to adverse metabolic changes in the dairy cow and can have significant effects on their health and productivity.
Ian sought £10,331 of Leader funding to provide a high welfare calving area for the farm, alongside ventilation fans and LED lights. These changes and additions have had a positive effect on the health, fertility, welfare and productivity of the dairy cattle, as well as reducing vet bills.  The project created 1 full-time member of staff.
As a result of the funding Ian won the McDonald's UK Supply Chain Awards Ceremony - Farmer Innovation Award 2016.  The reason Ian won was due to his forward thinking approach and passion for educating the public as to where their food comes from.