AW & MA Webster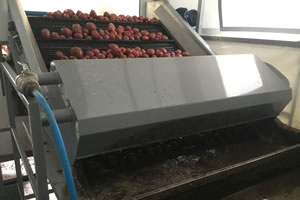 Margaret and Andrew Webster received £46,164. This was 40% of the total cost of a potato washing facility at Hollin House Green Farm in Aughton, West Lancashire.
They supply potatoes for the crisping industry. Recent changes in the industry meant that soil and dirt from the potatoes needed to remain on the farm and not disposed of, on delivery.
This meant that they would need to wash the potatoes.
To remain competitive, the Webster's had to invest in the new washing facility. This would enable them to meet the ever demanding specifications of their customer.
The machine is water and energy efficient, clean and easy to use. With an output of 30 tonnes per hour it allows them increased flexibility to their workload. Another added advantage is that they have been able to wash potatoes for other local growers. This gives them an extra income stream.
We awarded the funding via the Farming theme. The project introduced one new technique and will create two new full-time jobs on the farm.